The sun is shining over South Carolina again. Ordinarily this is not such a telling statement, but after the recent flooding rains, a breakthrough of sunshine is a wondrous thing.
About a week before the rains began I made a sweep through South Carolina, beginning in Greenville at the foot of the Blue Ridge Mountains, then down to the state capital in Columbia, and out to the coastal playground of Hilton Head. Summer turned to fall while I was in South Carolina, but you would never have known by the warm days and balmy nights.
Greenville is a town that hails its past with a nod to the future. Once just another Southern textile town, by the 1960s Greenville was decaying from main street blight, its young people were not returning from university, and the river that cut through town was wickedly polluted from the nearby textile mills. Along came Max Heller, a Jewish immigrant who escaped the Holocaust and settled in the friendly town of Greenville. Heller became mayor in 1971 and embarked upon an ambitious plan to revitalize the town. From his childhood and subsequent travels to Europe, he inspired residents with his vision for outdoor meeting and eating spaces; safe, walkable streets; public greenscapes, and community recreation areas. International investment followed when BMW and Michelin moved into the area. Today Greenville boasts a thriving economy; a pristine downtown shopping, dining and business center; a dozen or more haute cuisine restaurants, and a riverfront park and walking trail where people of all ages gather to enjoy the cascading waters of the crystal clear Reedy River.

Greenville's Riverfront Park has greenspaces and walking/biking trails along the Reedy River. Photo: Carolyn Burns Bass
Greenville is a town that like to party. You'll find a festival, sports event, golf tournament or fundraising event nearly every week of the year in Greenville. With BMW nearby, it's no surprise that Greenville hosts the EuroAuto Festival each October. There's a Fall Festival and Holiday Market that draws artisans and purveyors of craft food, brews and spirits from throughout the region. In May people come from miles around to launch their rubber ducks in the Reedy River. Sponsored by the Greenville Rotary Club, the Rubber Duck Derby benefits several local charities with funds raised in the family-friendly event. Art, drama and music take over Greenville in May with Artisphere, a celebration of arts, culture and life that draws talent and visitors from all over North America. Performance stages are set up in various areas of town, along with an arts and craft marketplace; a juried art exhibit; food centers, and craft beer and wine tents. The world class Euphoria food, beverage and music festival happens every September.
This year marked the tenth anniversary of Euphoria. The inspiration of two local boys, one renowned for his platinum-selling music and the other for his culinary empire, singer/songwriter Edwin McCain and restauranteur Carl Sobocinski, partnered up to throw a food and music festival like no other. They formed a non-profit organization called Local Boys Do Good (LBDG) to organize the event and act as patrons to distribute festival earnings to food, health and education organizations in upcountry South Carolina.
I've made it to Greenville for Euphoria two years in a row. The name of the event perfectly matches the spirit of all that goes on during the four-day festival. If you purchase one of the all-event VIP tickets, you won't be hungry from Thursday night to Sunday night. Even if you purchase event tickets a la carte, the value of these separate options, joined with the exposure to incredible food prepared by leading chefs, is worth every bite.
Edwin McCain had stepped away from performing at Euphoria in 2013, but came back for this year's tenth anniversary festival. In perhaps one of the most intimate music settings I've ever attended, the opening night Songwriter's Recipe event, McCain, along with songwriters Tim Nichols and Marv Green, spent two hours before a small crowd with only their guitars and their voices. Each songwriter introduced his song with the backstory of its creation--its recipe--then sang their version of the songs made famous by other recording artists. Or in McCain's case, one of the chart-topping songs that have lined his walls with platinum albums. McCain performed at another VIP event on Friday, then headlined the main stage during Friday night's Taste of the South.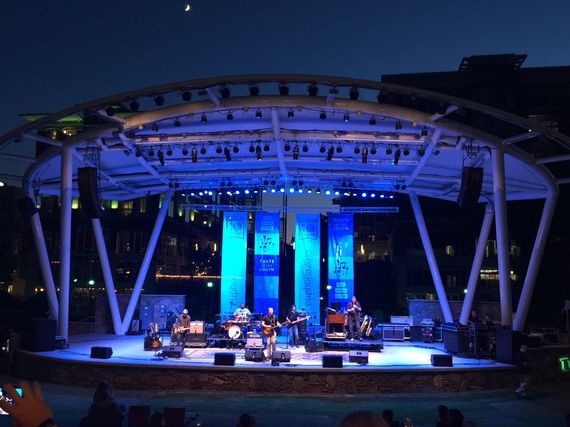 Edwin McCain and band perform under a Carolina moon during Euphoria's Taste of the South event. Photo: Carolyn Burns Bass
Along with the various food tastings, seminars, a kid's cooking event, a food truck rodeo, and music stages, two other events stand out for sheer brilliance. Saturday night offered guest chef dinners at several locations throughout Greenville. I attended the State Dinner at High Cotton, where a team of chefs from throughout South Carolina, including Steven Andrew Jankowski, the executive chef at the South Carolina Governor's Mansion, created a spectacular array of foods. This was not called a state dinner for nothing--even the governor of South Carolina, Nikki Haley, was here to welcome guests to South Carolina.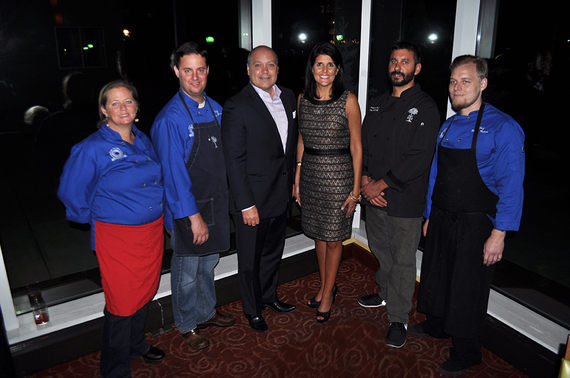 South Carolina governor Nikki Haley welcomed guests and congratulated chefs at the State Dinner at High Cotton. Pictured here (l-r) are: Chef Heidi Tull, Chef Cooper Thomas, Governor Haley's husband Michael Haley, Governor Nikki Haley, Chef Steven Jankowski, and Chef Brian Waters. Photo: Carolyn Burns Bass
The Sunday Supper is the capstone event for Euphoria. Set inside the spectacular, open-air Wyche Pavilion--the gorgeous brick remains of the former Duke Mayonnaise factory--the Sunday Supper is served family style at long banquet tables. While a team of ten visiting chefs prepare their signature plates in a 30-foot-long exhibition kitchen, guests visit with one another, listen to the bluegrass band playing in the corner, and pass plates of culinary distinction.


A sampler of Sunday Supper delights (l-r): a tuna crudo plate with avocado, pickled garlic and topped with fried blue potato chips; fire-roasted butternut squash, and wood-fired brisket. Photo: Carolyn Burns Bass
It's not hard to get to Greenville; just fly into Greenville/Spartanburg airport and pick up one of the convenient shuttles for a 15-minute ride to the city center. You don't need a rental car during Euphoria; all of the Euphoria events are within walkable distance if you stay at one of the downtown hotels. Although Euphoria partners with several downtown hotels for special rates, these being Courtyard Marriott, Hampton Inn and Suites, Hyatt Regency and the historic Westin Poinsett, the Hyatt Regency is the hub for all things Euphoria.
From the Mountains to the Sea
Four days of non-stop partying can take a toll on a person. I hooked up with a group heading to the mountains for a visit to Caesar's Head in nearby Cleveland, S.C. From the visitor's center, we picked up a guide and hiked down a short trail to view the rocky outcrop called "Caesar's Head," which overlooks the vast valley below the Blue Ridge Mountains. Trees and shrubs have grown so heavy around the rock formation, it's hard to see a "face" in the rocky promontory, but with the guide's direction and a little bit of imagination, a profile resembling the native American on the Indian head nickel, a "Caesar" (a derivative of the Cherokee word "Sachem," for chieftan) can be seen.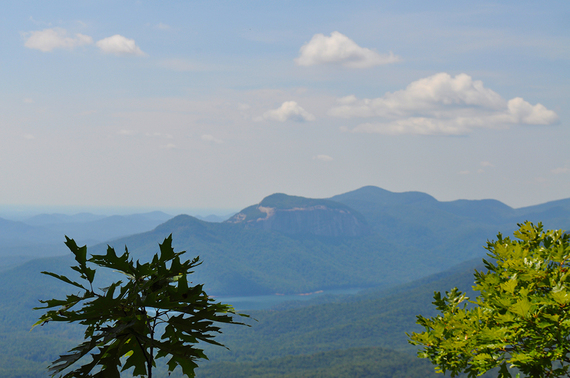 From the promontory called "Caesar's Head," hikers can see a panoramic view of the valley floor and the Blue Ridge escarpment in the distance. Photo: Carolyn Burns Bass
On the way down to Hilton Head, our group stopped for an exciting turn at the BMW Performance Center in nearby Spartanburg. This two-hour session teamed our group with a former racecar driver turned certified BMW driving instructor. We began in a classroom learning a few elementary defensive driving techniques and a whole lot of BMW model specifications. Those specs were useful later when we drove five different BMW models over rugged terrain and curvy flat tracks. Our first outing was in a BMW X3 SUV model, where the instructor talked us over boulders, sideways across hills, up rocky inclines, and down steep grades with our hands off the wheel and trusting the X3's automated hill descent control. Next up were the five-minute laps around the flat track in five different BMW models. While the idea of driving full-bore around a closed track in a BMW high performance automobile excited the speed demon in me, the experience left me wanting more. The course was so constrained that we could never get the throaty cars faster than 70 mph before having to brake for the next turn. (In the weeks of pre-event anticipation, I had imagined taking one of the cars up to 100 mph on a closed straightaway with no obstacles but my own ambition.) This course was configured without that long straightaway, the lengths not long enough to fully floor it before having to brake before a turn. In the hot lap driven by the instructor, he made it only to 85, but the braking turns, the water sliding, and the 360-degree spin drew hoots and squeals I usually spend on roller coasters.
A stop for lunch and a tour of the South Carolina state house in Columbia provided a sense of history about the Palmetto state, its people and the place it holds in today's global society. We dined at The Oak Table, across from the state house, where the floor, decorative wooden panels, ceiling, and furnishings are recycled from a 19th century log cabin. You'd think a restaurant named The Oak Table across from the capital building would be stuffy, dark and old world. It's far from it. Light and airy, the menu features seasonal selections of locally sourced new American choices such as roasted bone marrow, along with Southern favorites such as pimento cheese, fried oysters and smoked pork shoulder.
In Hilton Head I rejuvenated for two days in the salt and sand therapy at the beautiful Sonesta Resort. My early morning walks on the beach, snapping photos of the sunrise, gathering seashells exposed in the low tide, dipping my toes in the warm Atlantic waves, evoked a serenity I find only where the earth meets the sea.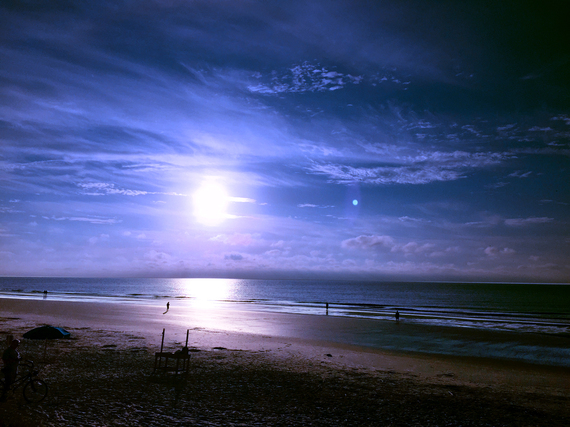 The sun rising over the Atlantic from the beach at Hilton Head's Sonesta Resort suggests the beginning of a perfect day. Photo: Carolyn Burns Bass

After a lovely poolside breakfast at the Sonesta Resort's Heyward's Restaurant, our group took a tour of the Coastal Discovery Museum. The grounds of the museum are lush with shrubs and trees dripping with lacy Spanish moss. A museum docent provided a fascinating look into the salt marsh ecosystem that surrounds Hilton Head and walked us through the butterfly house where dozens of indigenous butterflies flutter about the local flora. The various grasses that make up the marshes teem with birds, mammals, reptiles and sea life. The endangered loggerhead turtle lays eggs in the coastal sands, where caretakers mark nests and monitor them through the 40-50-day incubation period. The city of Hilton Head has stringent lighting regulations along the shoreline, as the newly hatched loggerheads follow the light of the moon reflecting off the waves to navigate their journey to sea.
Inside the museum, we watched local basket-weaver, Michael Smalls, create one of the intricate sweetgrass baskets for which the Gullah people of lowcountry South Carolina are renowned. A dying art, the woven grass technique brought to America by enslaved African people have been perfected through three centuries of generation-to-generation artisanship. Smalls learned the weaving technique from his grandmother, but has no children to train in the next generation. Children of his own, that is. He shares his story and demonstrates the weaving technique daily at the Coastal Discovery Museum and in local schools.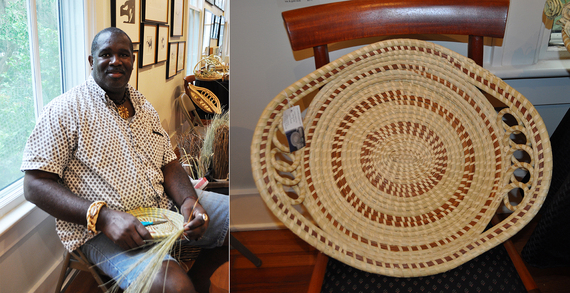 Basket-weaving artisan Michael Smalls tells the story of the baskets and demonstrates at the Coastal Discovery Museum in Hilton Head. A sample of his work is pictured at right. Photo: Carolyn Burns Bass
Hilton Head is a sportsman's paradise. Acres and acres of the island are covered with golf courses, tennis courts, and biking/walking trails. The island is surrounded by marinas with moorings to accommodate small craft and mega-yachts. You'll find rentals of kayaks, wave-runners, surfing gear and snorkel/scuba equipment. After a tasty luncheon at Poseidon Coastal Cuisine, we headed out on a dolphin cruise aboard the Vagabond. We had barely left the dock when the Vagabond's captain pointed out the first sighting of dolphins. The Atlantic bottle nosed dolphin makes its home in the warm waters off America's East Coast and is frequently spotted off Hilton Head beaches and from the many pleasure boats that cruise the waters around the island. We lost count of the pods of dolphins that splashed and frolicked around the Vagabond during our 90-minute excursion.
You'd think that after four days of dining indulgence in Greenville, I would be taking it easy in Hilton Head. Not so. The island is a seafood haven, drawing much of its local catch from the waters directly off the island. The local white shrimp can't be beat for its distinctive sweet meat, while oysters are plentiful in the mud-flats surrounding Hilton Head and its neighbors. The night we arrived in Hilton Head our group dined at The Old Oyster Factory, where we began with a plate of two types of oysters, Atlantics and Connecticut blue points, then went on to a variety of seafood. The next night we began with cocktails at Wise Guys Restaurant and Wine Bar, then stepped next door to Frankie Bones for another family style feast. Plate after plate of pasta, twice-baked potato casserole, lobster mac and cheese, meats and several sumptuous desserts were laid before us, then passed around for individual servings.
After a final morning walk on the beach, I packed for my flight out of Savannah/Hilton Head International Airport. There is a small airport on Hilton Head island, but only two major carriers--US Air (American) and United--offer flights and they are few. Savannah/Hilton Head International Airport is less than an hour away and offers international flights to locations throughout North America.
South Carolina is in the news for its recent deluge of rain, but tomorrow you can be sure it will be sunny skies and fair winds, the ideal place to escape the frigid Northern winter that nips on the heels of today.
Related