Australia is in. The USA and Italy are out. World Cup qualifiers are now over and the final teams are set to square off.
Just a few weeks ago, I was dismayed, nay heartbroken, when Trinidad and Tobago topped the US Men's National Team—knocking our guys from World Cup contention for the first time in more than 30 years. And though I tip my cap to the deserving Soca Warriors, there's now a certain sting to the mark of "eliminated" that sits at odds with my day job in global health.
Let me explain. In World Cup terms, "eliminated" means your team is out of the competition. They are completely done and pose no danger to any other team. With the US men eliminated, no potential competitors at World Cup 2018 in Russia will fear a Clint Dempsey free kick, or worry about having Tim Howard outwit them on a penalty kick. They won't prepare for the speed of DeAndre Yedlin on the wing or the creativity of Christian Pulisic in the middle.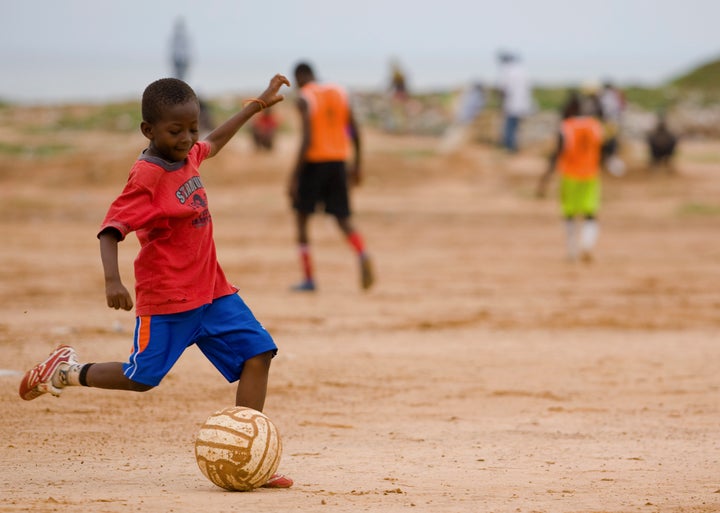 In global immunization, we use the term "eliminated" quite differently. Take measles, for example. You may have recently heard that measles was eliminated from the United Kingdom or New Zealand. These announcements are legitimate cause for celebration as they mark major public health achievements and indicate both countries have vaccinated enough people to cease local transmission of the measles virus.
However, despite worthy celebration, the achievement of eliminating measles is not the same as eliminating a national soccer team from competition. Measles is still very much "in the game" and warrants concern. We still need to vaccinate against it, continue detection to find cases, and prepare to treat people if they become ill.
Because if measles exists anywhere, it's a threat everywhere. Measles still claims the lives of far too many children and adults. Case in point: more than half of all unvaccinated children live in just six countries in Asia and Africa, and as recently as April 2017, the European Centre for Disease Control and Prevention reported that six European countries—Belgium, France, Germany, Italy, Poland, and Romania—still had ongoing local transmission of the measles virus. Furthermore, nearly 21 million children globally still miss their first dose of measles vaccine, and global measles immunization coverage has stalled at nearly 85 percent since 2008, far short of the 95 percent coverage needed to stop the spread of infection. The risk of backsliding comes into view when noting recent outbreaks in Europe and North America.
In response, concerned public health practitioners ask themselves many questions. What can we do to improve equity and reach that next 10 to 15 percent of coverage? How can we not only maintain, but grow demand for vaccines that are already proven safe and effective? And how can we safeguard progress combatting endemic measles in one region from the importation of measles elsewhere?
Without question, we should celebrate our tremendous advancements and the "elimination" of measles from any country. But we must also stay on guard and not equate measles elimination with World Cup-style elimination. Doing the latter risks that we fall prey to complacency. In practical terms, this starts with continuing our efforts to improve routine immunization and strengthen health systems. It requires maintaining commitment for innovative partners working in global immunization, like Gavi, the Vaccine Alliance and Lions Clubs International.
But it also means having a clear understanding of what elimination truly represents and what it doesn't. The stakes in this game amount to much more than a mere gold trophy to the victor. The stakes are the lives of children everywhere.
Popular in the Community