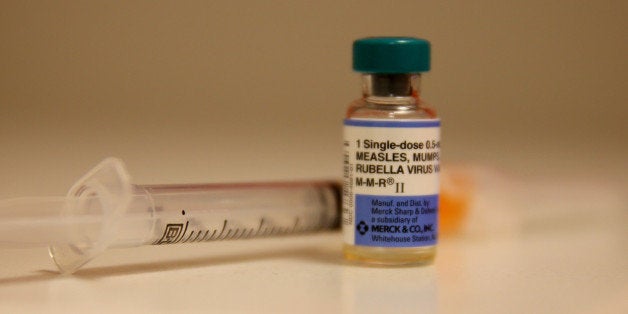 Welcome to this week's ALL TOGETHER, the podcast dedicated to exploring how ethics, religion and spiritual practice is informing our personal lives, our communities and our world. ALL TOGETHER is hosted by Paul Brandeis Raushenbush, the executive editor of HuffPost Religion and the host of All Together. You can download All Together on iTunes, or Stitcher.
"In an hour, she was unconscious. In twelve hours she was dead. The measles had turned into a terrible thing called measles encephalitis and there was nothing the doctors could do to save her."
Those words were written by Roald Dahl, who wrote Charlie and the Chocolate Factory and James and the Giant Peach. As Matthew Herper reported at Forbes.com, Dahl wrote those words about his own daughter who died at the age of 7 in 1962.
Dahl was hoping to influence those in the UK to follow America's example of compulsory immunization that had resulted in measles being virtually wiped out
In early January, health officials began to trace an outbreak of measles to people who had visited Disneyland. Many of those infected turned out never to have been vaccinated against the disease, which raised the puzzling, and frankly, enraging question of why this is happening when measles had essentially been eradicated in America.
The answer is that a rising number of parents choosing to not have their children vaccinated, despite the risks that poses, not only to their own children, but to others around them who for health reasons are not able to be vaccinated.
Those who do not vaccinate must ask for a religious exemption or an exemption based on personal belief. This week on ALL TOGETHER Raushenbush and his guests talk into the importance of vaccinations and the role religion is and could be playing.
Joining Raushenbush in this important discussion is Dr. Claire McCarthy who is a mother and pediatrician at Boston Children's Hospital. In a recent piece on The Huffington Post, McCarthy broke down why this measles outbreak is so worrisome. She writes:
Measles is extremely contagious; if someone has it, they will infect 90 percent of the people around them who aren't immunized. It's scary, because measles can be dangerous. 1 in 20 people who get it will get pneumonia. 1 in 1,000 will get encephalitis, a brain inflammation that can lead to seizures and brain damage. 1 or 2 in 1,000 will die.
Also joining the discussion is Dr. Robert Klitzman, who is a professor and Director of the Bioethics Program at Columbia School of Public Health. Dr. Robert Klitzman is no stranger to debates on vaccines. He literally wrote the book on it with his book Ethics of HIV Vaccine Trials. Dr. Klitzman's new book is called The Ethics Police?: The Struggle to Make Human Research Safe and he explains how patients should have agency in their own health care, and that of their children. But, it is equally necessary that doctors explain to the public the importance of protecting society with vaccines.
One of the interesting elements of the vaccine debate is how one can apply to be exempt, not just through religious means but through personal belief. Kara Lowentheil, directs the Public Rights/Private Conscience Project at Columbia Law School and explains a bit of the history behind religious exemptions and how they can be used, and abused.
And Sally Steenland who is the Director of the Faith and Progressive Policy Initiative at the Center for American Progress, joined Raushenbush to talk about why this is not a religious liberty issue and together they come up with an idea for role religion really should be playing in the vaccination crisis.
Jesus commands to love our neighbor as ourselves. This gets to the heart of the vaccination issue. It's not just about loving your own family. It is also about caring for the well-being of your neighbors and your community. Everyone should vaccinate their children as an act of love.
Calling all HuffPost superfans!
Sign up for membership to become a founding member and help shape HuffPost's next chapter