NORTH HOLLYWOOD -- They expose their flesh for the sake of sexual fantasy.
But on Sunday, actors from the adult film industry held a rally to remind the general public that they also are taxpayers, parents and patrons of local businesses who are against Measure B because they say it would have a ripple effect on Southern California's economy as well as on public health.
"As a tax payer, if I wasn't in the porn industry, I would be aghast at how much was being spent on supporting Measure B," said Amber Lynn, an adult film actress, model and exotic dancer who has worked in the industry since 1984.
"That's money that could have gone to supporting sex education, or help those suffering with HIV."
If passed by voters on Tuesday, Measure B would require actors to wear condoms during porn shoots. The measure would also require the Los Angeles County Department of Public Health to lead inspections and enforcement efforts.
Lynn and others at the rally she had organized at Dejavu strip club in North Hollywood said that Michael Weinstein, executive director of the AIDS Healthcare Foundation and primary proponent of Measure B, has spread misinformation about performers.
Weinstein has said the adult film industry's current testing methods have contributed to an epidemic of sexually transmitted diseases. He has also said that performers are not medically insured, which means tax payers front the bills for their healthcare.
"Our goal is to protect performers, and I understand if they disagree with us," Weinstein responded on Sunday.
"But I've said all along that people have their own opinions, but not their own facts."
However, opponents, including the Valley Industry and Commerce Association, Free Speech Coalition, and No on Government Waste, say the mandate could chase the industry from Los Angeles, taking billions of dollars and 10,000 jobs away.
"The idea of allowing a government employee to come and examine our genitalia while we're on set is atrocious," said Lynn.
She and a dozen other actors at the rally wanted to answer attacks from Measure B proponents and to defend a health protocol within the industry in which adult-film performers must test for HIV, gonorrhea and chlamydia every 14 to 28 days.
Lynn said there are many production companies that offer actors a choice to use condoms.
"I'm for free speech, pro choice and artistic expression," she said.
An independent study released by AHF last week found undiagnosed sexually transmitted diseases may be more common in the adult film industry than previously reported. The study, to be published in December in the Journal of Sexually Transmitted Diseases, found that roughly a third of the 168 adult film actors who participated in the research project were found to have a previously undiagnosed STD.
"I would call that an epidemic," Weinstein said. "We're in the business of promoting condoms. I've been called a condom Nazi and it doesn't faze me."
He has also pointed to a recent syphilis scare among a reported nine actors that shut the industry down for several days this summer. One performer, known as Mr. Marcus, doctored his test results and lied to producers.
Mr. Marcus hasn't worked since, Lynn said, and the industry has worked on better reporting methods as a result.
Weinstein has spent more than $1.6 million on Measure B, according to October figures released by the Los Angeles County Registrar-Recorder's office.
Lynn and others have said the health program has been the industry's best deterrent. If condoms are used as they are in gay porn, then that testing may stop.
"We are an industry that takes responsibility for itself," Lynn said. "We are proactive when it comes to finding the best tests for HIV. Some of us have been here for 30 years. If there was really an epidemic in the industry, we'd be dead."
Actress, producer and sex educator Nina Hartely said she also is against Measure B. She called it human experimentation, because no one knows for sure if condoms on porn sets would deter any infections.
"Our system works well," she said.
"Measure B is also unconstitutional because it's delivering someone else's message into our movies. Let Weinstein make his own movies."
Others called Measure B misguided and politically motivated.
Technically, condom use on porn sites already is required under state and city law. But the state law is only enforced based on complaints.
Tatiyana Foxx, 21, has been in the industry for a year, and said she feels comfortable on set asking actors for proof of their last STD exam.
"I do feel safe," she said. "We're all tested. In the real world, there are not as many people who are tested as much."
William Margold, an adult film actor who began working in the industry in the 1970s and who also is a director and activist, has said porn is about fantasy. Making actors wear condoms would make the movies too realistic, and that's not why people turn to porn.
"We're entertainment. We provide a thrill," Margold said. "Would you go to the Coliseum to see touch football?"
(c)2012 the San Bernardino County Sun (San Bernardino, Calif.)
Related
Before You Go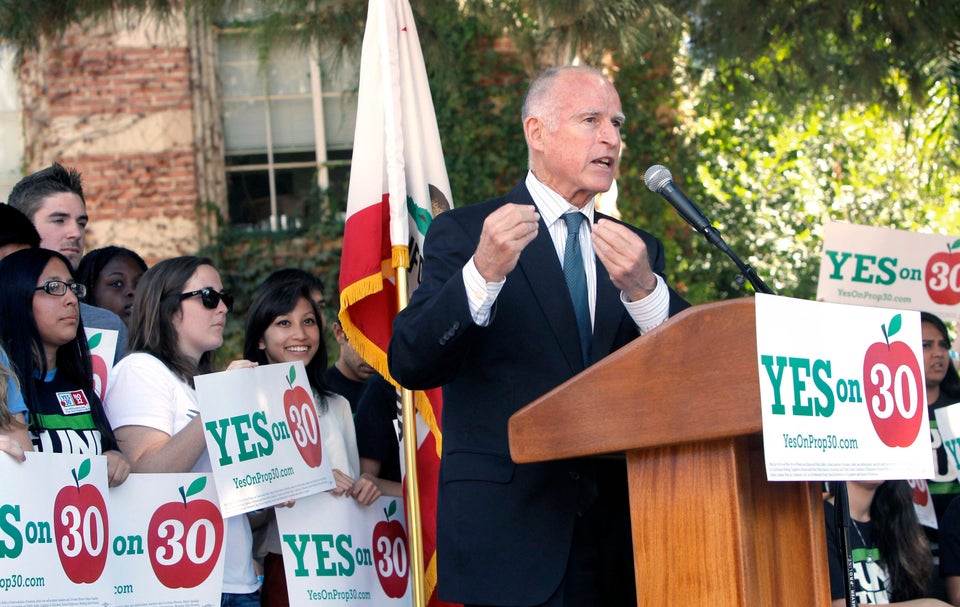 California 2012 Propositions
Popular in the Community