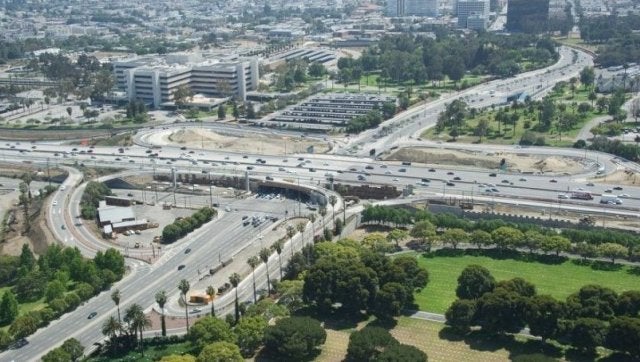 By Denny Zane and Gloria Ohland, Move LA
Los Angeles is the future -- watch your back New York! That's what the New York Post told readers a month ago, and it wasn't tongue in cheek. Writers Andy Wang and David Landsel were effusive in their praise for L.A.'s transformation: "A decade of building real transit... Of creating truly walkable neighborhoods... For the first time in generations you will soon be able to travel by rail between downtown and Santa Monica. Soon after expect a subway stop on Rodeo Drive."
It wasn't the only such story. In April, an Atlantic Cities story asked "Is SoCal America's Next Environmental Success Story?" And a story on Slate speculated whether Los Angeles was becoming "America's next great mass-transit city." Apparently the media noticed there were three transit lines under construction this year for the first time in LA County history, or at least since Henry Huntington was building the Pacific Red Car lines a century ago. Next year work on three more lines begins.
Measure J -- on the ballot next Tuesday -- would usher in this new era with a bang, making L.A. County more healthy, prosperous and sustainable, with cleaner air, in about a decade. Measure J would construct seven iconic transit lines and eight highway improvement projects all over L.A. County in 13 years instead of 27, as is currently planned under Measure R.
These projects include a rail line to LAX, a transit corridor up the notoriously jammed I-405 freeway to the San Fernando Valley, the subway to the Westside, the Regional Connector project in downtown LA that will provide "one-seat rides" from the beaches to the inland valleys, and highway improvement projects that promise traffic relief on every LA County freeway and we have a lot of them -- the 5, 10, 15, 60, 101, 110, 138, 210, 405 and the 605!
Measure J does this not by raising taxes but by extending Measure R for another 30 years, allowing L.A. Metro to use the longer revenue stream to finance construction now, when the cost of financing and construction is at historic lows.
Here's the kicker: speeding up all 15 transit and highway projects is expected to accelerate the creation of 250,000 jobs over 13 years. Think of the economic impact of all those paychecks, boosting retail sales and tax revenues -- it's as if LA County voters could create their own economic stimulus package and put friends and neighbors back to work at the same time.
Jobs and traffic relief wrapped up in the same package is a hard proposition to turn down in Los Angeles, where commute times haven't decreased -- or increased -- in a decade and where unemployment remains painfully high (10.6 percent). Which is why Measure J has won endorsements from all nine major L.A. County newspapers, from the Los Angeles Times to the Daily News, from La Opinion to the Los Angeles Sentinel.
Measure J has created a stunning coalition: business associations are standing in solidarity with labor and environmental organizations, progressives with conservatives, Republicans with Democrats. Endorsers of Measure J range across the spectrum, from the L.A. Area Chamber of Commerce and the Valley Industry and Commerce Association to the L.A./O.C. Building Trades and L.A. County Federation of Labor, from the American Lung Association and the Sierra Club to the American Jewish Committee and the LA Dodgers!
Even the San Gabriel Valley, which opposed Measure R, is on board with endorsements from 10 cities as well as the subregional council of governments.
Measure J also provides an additional 30 years of funding for bus and rail service (20 percent for bus and five percent for rail) at a time when financially strapped transit agencies across the county have cut service and raise fares. And it provides an additional 30 years of "Local Return" funding (15 percent) to cities and unincorporated parts of L.A. County to fill potholes, improve safety, synchronize traffic signals, repair sidewalks, build bike lanes and fund local bus service.
All of this for an estimated cost of about $25 per person per year, in a state where sales taxes are not regressive and exempt rent, food, medicine, gasoline and utilities. Yes Measure J would extend the sales tax to 2069, but these are projects that would serve current as well as future generations -- our children and our children's children.
It's a well-crafted measure, offering something for everyone, which is what is required to pass a county sales tax measure that requires a two-thirds majority vote.
Denny Zane is executive director of the nonprofit Move LA. Gloria Ohland is policy and communications director of Move LA.
Popular in the Community