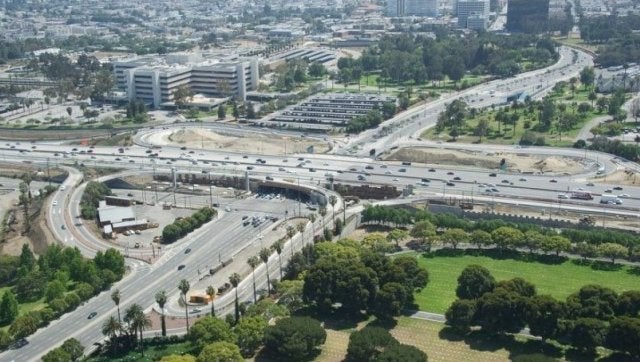 While the nation debates how to put Americans back to work, Los Angeles' business, labor, civic, and political leaders have forged a bold plan to jump-start the area's economy. On Tuesday, Los Angeles County voters will decide the fate of this idea -- Measure J -- which will generate as many as 250,000 new local jobs by investing in public transportation.
Measure J's supporters include an unlikely coalition, including the Los Angeles Area Chamber of Commerce and its regional affiliates; the LA County Federation of Labor, Unite HERE and many other labor unions; the Sierra Club, the Natural Resources Defense Council, the American Lung Association, the League of Conservation Voters, Move LA, the LA County Bicycle Coalition, LA Voice, Pacoima Beautiful, the Southern California Association Non-Profit Housing, the Los Angeles Times, Los Angeles Daily News and other major papers, and a Who's Who of elected officials from the Los Angeles region.
The plan is designed not only to help greater Los Angeles literally dig its way out of its recession but also to help improve the environment by getting more Angelenos out of their cars and into the region's growing subway, light rail, and bus services.
In 2008, at the start of the nation's economic meltdown, LA County residents voted, by a 68 percent margin, to raise their own taxes. They supported Measure R, which increased the county sales tax by half a cent on the dollar to pay for new public transit projects and transportation improvements through 2039. It was a bold move by LA Mayor Antonio Villaraigosa and the city's business establishment and labor movement, but a vigorous campaign paid off with strong voter support.
Now, four years later, an even broader coalition is coming back to voters, asking them to extend that tax until 2069. With that guaranteed source of future revenue, local officials will accelerate the use of the money to construct major new public transit projects as well as improve local roads and highways. These projects would begin construction within five years and be completed in about ten years, providing Los Angeles County with traffic relief and new transportation choices. Measure J will put 250,000 of the 400,000 jobs created by Measure R on the fast track, putting people to work within a decade.
The best part is that Measure J won't increase anybody's taxes. It would simply extend the tax approved under Measure R (which costs residents an average only $25 per person each year) for another 30 years. It means, as the Los Angeles Daily News observed, that "the projects could be completed in a matter of years rather than decades."
If voters approve Measure J on Tuesday, the victory will be a testament to the creative thinking of local politicians, community, labor and environmental activists, and business leaders. They understand that with an unemployment rate of 11 percent in Los Angeles County, the local economy needs a jump-start. The paychecks for the construction workers who will be building the transit projects will be spent locally, having dramatic ripple effects on the entire regional economy, catalyzing jobs in many other sectors.
After voters approved Measure R in 2008 the Los Angeles Alliance for a New Economy (LAANE) and the L.A.-Orange Counties Building & Construction Trades Council persuaded L.A. Metro, the regional transit agency, to agree to a "Project Labor Agreement" with the Building Trades Council to use skilled crafts workers on Measure R projects. This guarantees that the transportation construction jobs will be good jobs.
With the help of UCLA researchers, LAANE convinced L.A. Metro to adopt a "Construction Careers Policy" that will open a door for people traditionally shut out of good construction jobs. Thanks to this program, 40 percent of the construction work will be done by people from low-income communities, the very places with the highest poverty and jobless rates. Another 10 percent of the work must be done by "disadvantaged workers," who have a hard time getting work in a good economy and little hope in a bad one.
Measure J funds will speed up construction of several key light rail, subway, and rapid-transit bus lines that will help unclog traffic and connect people from their homes to their jobs. The projects include rail extensions to Los Angeles International Airport, the Eastside, the Westside, and the South Bay, and rapid bus service through the San Fernando Valley. The Green Line - which now ends in Redondo Beach - would be extended into the South Bay by 2020, 15 years earlier than initially promised. The Gold Line eastside extension to San Bernardino County would be completed by 2022 -- 13 years earlier than projected.
Measure J funds will also be used for such traffic relief projects as pothole repairs, signal synchronization, bikeway and pedestrian improvements and projects, local roadway and bridge safety improvements, carpool and rideshare programs, discounted transit fares, and funds to many of the county's 88 cities for local transit services.
LA's transit officials have already demonstrated that they know how to use public funds wisely and efficiently. Since Measure R was passed, L.A. Metro has made progress on the Crenshaw and Exposition rail lines, the Orange Line bus lane extensions, and three highway improvement projects.
Los Angeles vies with Houston as the most polluted urban area in the country as well as one of the most congested, with many motorists sitting in their cars for hours as they inch along during their morning and evening commutes. In addition to Measure J's role as a jobs stimulator, it will also have positive environmental consequences. The subways and light-rail lines built by Measures R and J will be around for more than a century. As future generations become more public transit-friendly, their behavior will help to protect the environment and wean America off foreign oil used to power our cars.
Calling all HuffPost superfans!
Sign up for membership to become a founding member and help shape HuffPost's next chapter