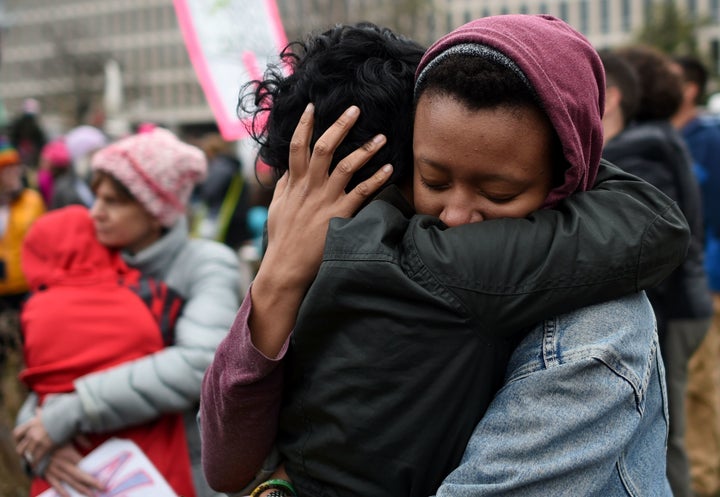 I often find myself pondering how to measure my own life in the chaos of 2017. I'm a 20-year-old disabled woman living in Donald Trump's America. In the last month, I have watched as my own life-threatening disease has returned and attempted to take everything from me. In the last year, I have watched my country struggle for its soul. I have seen America change firsthand ― in the faces of my friends and family members; in protest marches and on social media.
For the sake of my own sanity, I've been trying to find a reasonable unit of measurement to fathom it all. At first, I couldn't find one. I tried seconds, minutes, and hours. I tried tweets and Facebook posts. I thought about natural disasters and the DOW Jones. In my own 20 year old life, I thought about semesters and grades. I thought about sex. But no matter what I did, I couldn't find something that fit it all.
Until I thought about hugs.
I must break the experience of living in chaos into smaller moments, because that's the reality of the American experience. The truth of the resistance ― holding onto people that I love and others that I will never know. Standing in the rain, on the side of the road, proclaiming that Black Lives Matter to whoever will listen. Holding hands with strangers in 100 degree heat in Washington D.C. Laying on the floor at an airport. Standing in the Cobo center in Detroit at the Women's Convention, listening to Senator Kirsten Gillibrand Speak. Holding open the doors to Senator Rob Portman's office while ADAPT activists sneak through. Making a phone call with tears in my eyes just to say, "Please, don't take my life." Looking at another woman in the hallway on my college campus, pulling her aside, and saying, "Me too."
These are the smaller moments that make up our civil rights movement ― the everyday nods to a stranger propel us forward into the future. The world outside is complicated. The news and social media make it overwhelming, and, at times, far too much to handle. But there are millions of simple moments behind the headlines. Real people that inch reality forward into what we want it to be.
I am so scared for the uncertainty of my future that sometimes I can hardly move. But every once in a while someone reaches out their hands, and in that moment I can find some sense of peace. So that's how I just measure my year ― my life. My future. The comfort of others.
Calling all HuffPost superfans!
Sign up for membership to become a founding member and help shape HuffPost's next chapter
BEFORE YOU GO