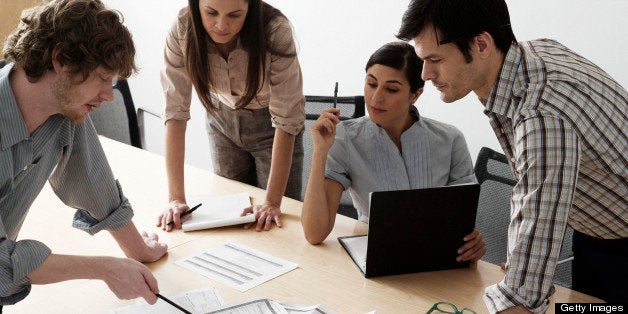 Today, consumers receive information and engage with brands in more places than ever before -- online, offline, across multiple platforms and screens. Time Warner research recently found that "digital natives" switch screens a whopping 27 times per hour.
With so many moving targets and evolving channels, how can we know and show that communications strategies and messages are making an impact?
Technology allows public relations professionals to monitor and measure more information, more quickly and more accurately than ever before. In some cases, that makes our job easier (we can track a lot of stuff). In other cases, that makes our job more difficult (choosing proper metrics, making correlations, connecting to the bottom line). But in all cases, measurement is critical for effective communication planning, execution and evaluation.
Earlier this year, I had the opportunity to speak on a panel with Jeremy Epstein, Vice President of Marketing and Social Navigator at Sprinklr, and Andy Weitz, U.S. President and CEO at Hill+Knowlton Strategies, at the Ragan measurement conference in Washington, D.C. Over the course of the two-day conference, I also had the opportunity to visit with public relations professionals from large corporations and big consumer brands to government agencies and nonprofits.
Regardless of the organization size or type, the most common questions I heard were:
What if what I'm doing can't be measured?
What if we don't have budget to measure?
What if my company only cares about advertising value equivalency (AVE)?
While there is no "one size fits all" for effective measurement, we know that incorporating measurement into the planning process leads to smarter, more focused, and more effective communication strategies. At
s, we strive to consistently monitor, measure and report in order to:
Make informed decisions - We stay abreast of news, trends, opportunities and risks.
Achieve client goals - We continually evaluate performance to maximize results.
Demonstrate our value - We illustrate the business value of PR through quantitative and qualitative results.
If you want to establish effective habits for measuring the ROI of your work and results, try these simple tips to set you on the right path.
6 TIPS FOR MEASURING PUBLIC RELATIONS & SOCIAL MEDIA
1. Mission & Objectives - Goals first, creativity second.
Start by identifying your goals and stakeholders. Beyond news coverage, what exactly are you trying to achieve, who are you trying to reach, what does success look like?
2. Strategic Planning - Develop programs that can be measured.
Be open-minded about your approach. Historically, PR professionals have focused their energy on traditional media. But with all the tools and channels at your disposal, traditional media isn't your only option. Carefully craft programs that meet your specific business goals. Add elements that can be clearly measured.
3. Metrics & Benchmarking - First things first.
Too often, organizations wait until a program is over to measure the results, only to find that they don't know where they started, they don't have the right tools to do the job, and they haven't been capturing the right data. Before you begin a program, identify metrics to measure against; establish benchmarks to track progress; if necessary, conduct upfront surveys or research; and, make sure you have the right tools in place.
4. Frequency & Formats - Report for the future, not the past.
Establish a monitoring and reporting schedule to ensure you are getting data when it's needed to maximize results (real-time, daily, weekly, monthly, quarterly). Reports should not be a history lesson, but rather a roadmap for continually improving your strategy and maximizing results. Report in a format that can be easily understood and shared with key stakeholders.
5. Tools - Test before you invest.
Measure what matters to you and your organization, not what the tools allow you to measure. It's easy to get caught up in the bells and whistles of today's measurement tools. They've come a long way over the last several years. Before you even start looking at tools, make a list of what you need to track. Select a tool that meets your specific needs. If budget is an issue, experiment with mix of free tools before graduating to more robust options.
6. Analysis - The tools don't manage themselves.
The tools aren't perfect. They provide data, but they can't tell you what to do next. Manage your tools closely and interpret your data to deliver valuable business intelligence. Have the sense to know when the tool is missing the mark. There is no tool that understands your business better than you do.
For all of the tools and techniques at our disposal, most organizations have only begun to scratch the surface of measuring the power and potential of public relations and social media. But without demonstrating ROI, you risk leaving valuable resources on the table and devaluing practices that can help the bottom line.
What strategies and tools work best for measuring and proving results for your organization?
Calling all HuffPost superfans!
Sign up for membership to become a founding member and help shape HuffPost's next chapter