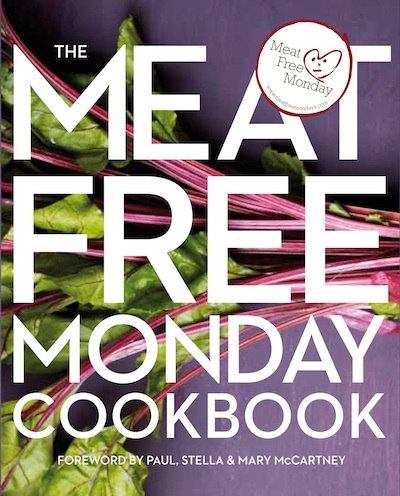 In 2009, Paul, Stella and Mary McCartney introduced their Meat Free Monday campaign in the United Kingdom, joining the United States Meatless Monday and fueling the growth of the movement around the world. Now Sir Paul is bringing his inspiration across the pond with The Meat Free Monday Cookbook: A Full Menu for Every Monday of the Year. The hardcover book is edited by Chef Annie Rigg and includes menus for each of the 52 weeks of the year. The cookbook offers contributions from the McCartneys, as well as celebrity and chef supporters of the campaign like Kevin Spacey, Twiggy, Woody Harrelson, Pamela Anderson and Mario Batali.
I spoke with Annie Rigg, the long time chef for McCartney and author of Gifts from the Kitchen, about the inspiration for the cookbook and how she made meatless meals enticing to Sir Paul's crew on his recent worldwide tour.
Peggy Neu: This is one of the most beautiful cookbooks I've seen, but it's also very practical with ideas for everything from packed lunches to fancy dinners.
Annie Rigg: Sometimes people's vegetarian repertoire is limited, so their enthusiasm for a meat free Monday wanes. We wanted to give inspiration and guidance to people who care about their health and the environment to keep it going all year round.
PN: OK, I have to get this out of the way. Could you tell us what Sir Paul's favorite recipes are?
AR: He's really keen on the Lentil and Chickpea burger. He also quite likes exotic, quite spicy dishes, so the Chickpea Tagine is a big favorite.
PN: I'm really impressed that you managed to keep Sir Paul's road crew happy with vegetarian fare for a whole year. It's one thing for a long time vegetarian to like tofu, but a truck driver?
AR: Ninety percent of the 120 roadies and crew on tour were hardcore meat eaters, so it was a challenge, but when you have great flavors and fresh vegetables, people don't notice the difference. The most popular dishes were Asian and Indian food, because there are already so many non-veggie options, like curries and stir-fry. I also cooked dishes that were similar to our Sunday lunch traditions in England, like roast veggie stews with all the condiments like mint jelly.
PN: Sir Paul is one of the world's most famous vegetarians. Why does he support the one-day-a-week idea, rather than convincing people to go veg every day?

AR: It's all about small steps. If you campaign too hard, people don't listen. He believes if you can get people to make small changes in their lives, it can have far reaching effects for everyone.
SICILIAN CAULIFLOWER PASTA
From The Meat Free Monday Cookbook: A Full Menu for Every Monday of the Year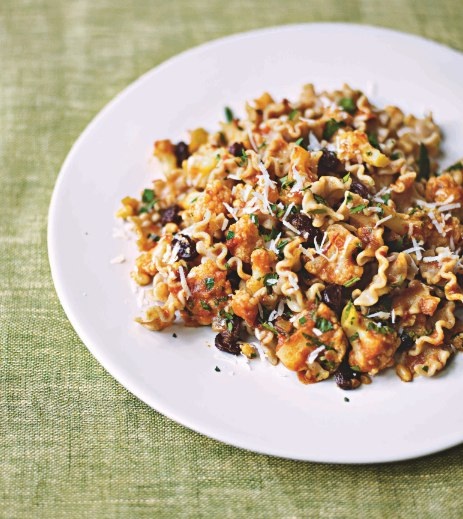 SERVES 4
A pinch of saffron threads
1 small-medium cauliflower, chopped into small florets
3 tablespoons olive oil
1 onion, finely chopped
2 fat garlic cloves, minced
A pinch of red pepper flakes
1/3 cup raisins
1/2 cup pine nuts
2 tablespoons sun-dried tomato paste
1 bay leaf
14 ounces whole-wheat mafalda corta pasta
1 tablespoon lemon juice
2 heaping tablespoons freshly chopped
Flat-leaf parsley
Freshly grated vegetarian Parmesan to serve
Salt and freshly ground black pepper
Soak the saffron threads in 2 tablespoons boiling water and set aside.
Cook the cauliflower florets in a large pan of boiling salted water for about 4 minutes until
tender. Scoop the cauliflower out of the pan, drain, and set aside, and reserve the water.
Heat the olive oil in a large sauté pan, add the onion, and cook over medium heat until tender
but not colored. Add the garlic and chile and cook for an additional minute. Add the raisins and pine nuts to the pan and continue to cook until the pine nuts are toasted and lightly golden.
Add the cauliflower, steeped saffron, sun-dried tomato paste, and bay leaf to the pan along
with 1/2 cup of the cauliflower cooking water. Season and cook over low to medium heat for
about 5 minutes, lightly mashing the cauliflower with the back of a wooden spoon to make a
sauce and adding more water if necessary if it starts to look dry.
Meanwhile, cook the mafalda corta in the cauliflower water according to the package
instructions. Drain, reserving 1 cup of the water, and put the pasta into the sauté pan with the
cauliflower sauce. Add the lemon juice and chopped parsley and stir to combine. Add some of
the reserved water if needed. Serve with lots of freshly grated Parmesan.
REAL LIFE. REAL NEWS. REAL VOICES.
Help us tell more of the stories that matter from voices that too often remain unheard.