"How food is produced is a huge issue," says David Lively, vice president of the organic distributor Organically Grown Company and co-founder of the biennial conference Organicology. "How agriculture is carried out affects biodiversity, species preservation, pollution, health and food. It's essential."

Organicology happens February 2 through 4 in -- where else? -- Portland, Oregon, Mecca for sustainability. Dennis Weaver of the organic marketing company Change Your Food, Change Your Life who's been participating since 2011 and says, "Organicology serves three days of the best delish over-the-top organic good food ever."
The conference vibe is as warm and energizing as Weaver himself, "but it's not just designed for you to hang out and have a good time," says Lively. Organicology brands itself as a study for a sustainable food future, and the presenters and attendees take it seriously. "You've got homework," says Lively. "You've got to have your act together coming in. We're trying to move an ongoing agenda."
An organic producer since 1980, Lively has seen organic go from crunchy granola amateur hour "when most people thought it was goofy or weird or unnecessary" to the point where most people "comprehend organic as being a natural farming system and have a favorable view." More than that, organics now commands 15 percent of the overall consumer market. Organicology's enormous trade show component proves just how big an industry organic has become, with organic products from nut butter to gin. Even the live entertainment, Septimus, has an organic-themed playlist.
For Weaver, Organicology is an organic celebration. Lively, though, feels an urgency to do more and do it fast, especially under a new administration which denies climate change and has a questionable commitment to organics. "We need to make people understand the issues with conventional agriculture, the degree of degradation to the environment and human health."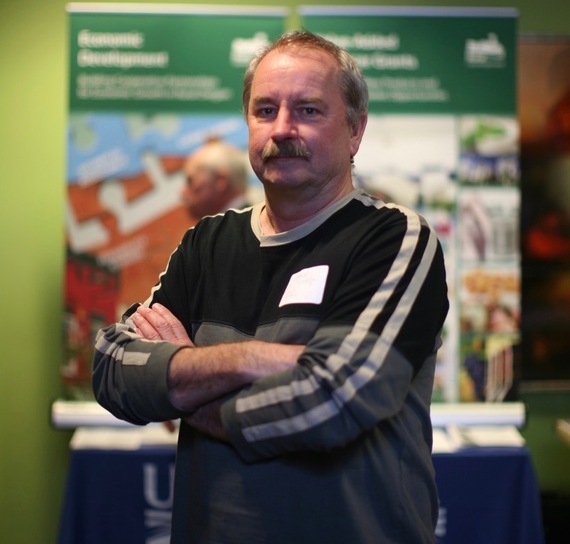 Sound like yada-yada? Maybe you'd feel differently if you realized there's glyphosphates in Cheerios, Oreos and other foods you and your family enjoy. Monsanto's weed killer has been banned in Europe. So what's it doing in your cereal? The chemical pesticide sprayed on wheat as it grows leached into the soil and into what you eat.
"People, this is not working," Lively says. "We're going to have to change what we're doing." Change is the goal of Organicology, launched in 2009 as a collaboration between Organically Grown Company, the Sustainable Food Trade Association, Organic Seed Alliance and the organic advocacy and certification nonprofit Oregon Tilth. The whole idea behind Organicology is to bring together all these voices and agendas for an organic food system.
"I wanted an event, where all the different players were present, to become aware of the much broader landscape and agenda," says Lively. "Policy people, the seed producers, the materials people, the growers, people worried about pollinators, to be in the same place and have the same conversation."
If you can't be part of the conversation at Organicology, there's plenty you can do. "Buy organic. Dollars are votes," says Lively. "Be an an organic eater. You can do it relatively affordably. Eat a lot of organic fruits and vegetables and beans and grains." Although not a vegetarian, "I eat meatless meals every day. There's too many of us consuming it. People have to cut back. If you're concerned about the price of organics, cut down on meat."
Lively has the mind of a businessman and the soul of an environmentalist. "Personally," he says, "I'd rather put my money on organic food that video games or high-end coffee. We're paying a lot for conventional food, tremendous costs we're not aware of, like subsidizing pollution. We're on our way to ecological collapse." The challenge is getting people to act, to choose organic "before the shit hits the fan."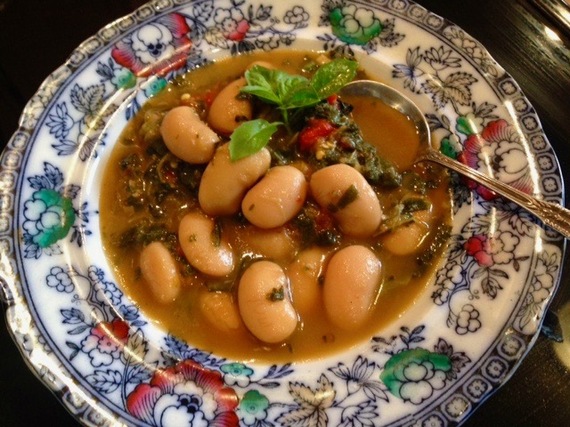 Minestra Organica

Red peppers and leafy greens are two key ingredients in this Italian-inspired warming winter soup. They also rank among the Environmental Working Group's dirty dozen, the crops with the highest pesticide residue. You owe it to yourself and the planet to choose organic produce.
1 pound dried fasolia gigantes, royal coronas or similar large limas, soaked overnight in plenty of water
3 quarts water or vegetable broth
4 garlic cloves, whole
1 bay leaf
1 small dried red pepper, crumbled or a pinch of dried red pepper flakes
2 tablespoons olive oil
2 large onions, chopped
2 carrots, chopped
2 stalks celery, chopped
4 large red peppers*
1 tablespoon sherry vinegar or balsamic vinegar
1 bunch chard or other winter greens, such as kale or spinach, tough stems discarded
1 tablespoons olive oil
2 cloves garlic, chopped
1 handful fresh basil, chopped fine
sea salt and fresh ground pepper to taste
Drain and rinse the fasolia gigantes, pour them into a generous soup pot with the water or broth and bring to a high boil. Drop in the whole garlic, bay leaf and dried red peppers.
Meanwhile, heat the 2 tablespoons of olive oil in a skillet over medium-high heat. Add the chopped onions, carrots and celery. Give the vegetables a quick sauté, until they just start to soften, about 5 minutes. When the beans have been on the boil for about 15 minutes, sweep the vegetables into the bean pot, reduce the heat to low and cover to let everyone simmer.
As the beans simmer, roast the peppers. If you have a gas range, good for you. Otherwise, place the peppers on a baking sheet lined with parchment and set your oven on broil. Place the baking sheet close to the heat source and let the peppers blister, about 8 to 10 minutes. Then turn the peppers and blister on the other side for another 10 minutes.
Remove from the oven and pour the peppers into a paper bag. Seal the bag. Alternately, pour the peppers into a pot with a tight-fitting lid. Let the peppers cool for at least half an hour, or until they're cool enough to handle. Their skins should peel off easily. Peel the skins, remove the seeds and chop the peppers small. Pour into a small bowl and toss with the sherry or balsamic vinegar. Set aside.
Check the beans after about 90 minutes. They should hold their shape but be delightfully tender when you bite them. Set the soup aside to cool. Remove the bay leaf and red pepper. The garlic cloves should have melted into the soup.
If you want, you can call it a day at this point. When the soup has cooled sufficiently, pour into a large airtight container and refrigerate overnight.
When you're ready for soup, take 2 cups of the beans and 1 cup of the broth and whizz together in a blender or food processor until smooth, creamy and pale, about 2 minutes. Pour back into the bean pot, along with the chopped peppers. Season generously with sea salt and freshly ground pepper and bring to a boil.
Heat the remaining tablespoon of olive oil in a skillet over medium-high heat and add the chopped garlic. As it starts to soften and darken, after about 3 or 4 minutes, add the chopped chard or kale by the handful. Stir gently just until the greens soften and wilt but keep their bright color, just a few minutes for kale or chard, one minute tops for spinach. Stir the greens into the bean pot.
Add the chopped basil and taste again for salt.
Serves 6 to 8. Keeps covered and refrigerated for several days, and like all bean soups, gets more luscious as the flavors have time to develop.

* In a pinch, you can use an 8-ounce jar of roasted red peppers, drained, chopped and tossed with the sherry or balsamic vinegar. Add them at the end, along with the chopped basil, otherwise they'll dissolve into mush.
REAL LIFE. REAL NEWS. REAL VOICES.
Help us tell more of the stories that matter from voices that too often remain unheard.