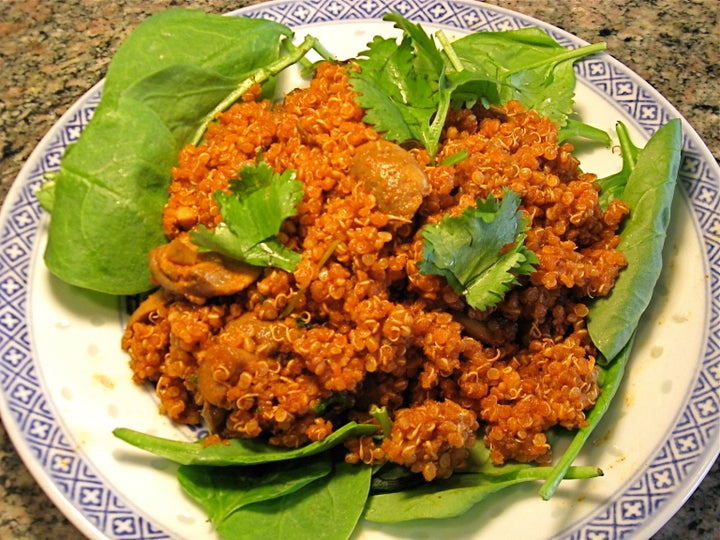 "What did they live on?" said Alice, who always took a great interest in questions of eating and drinking.

Lewis Carroll

Alice's Adventures in Wonderland


A week after the fact and I am still in Expo East afterglow. Its actual name is Natural Products Expo and it's a big-ass trade show of natural and organic products, from dog food to laundry detergent, but mostly it is food -- aisles and aisles of organic eats and meatless munchies. For one fab weekend, the spacious but contained world of the Baltimore Convention Center became a Wonderland of all things organic, where I never had to apologize for being vegan or explain what it means. Coming from meatcentric Miami, I've got to tell you, it was nice.
Full disclosure -- Natural Products Expo sponsor New Hope Media flew me up to speak as part of a media panel, which included nutritionist Ashley Koff and Consumer Reports maven Julie Levine. This alone was fabulous. But while I was there, I got to traverse and taste my way through the trade show itself with over 1,450 exhibitors from 80 countries, including 355 first-time exhibitors and 20,000 progressive-minded peeps.
I should not get too misty. Selling organic food and plant-based products is no different from selling any commodity. Marketing is still marketing -- it's pretty packaging and pretty words. Expo East is an awesome Alice in Wonderland Eat Me/Drink Me experience -- vegan cheese! vegan chocolate! It is also a total education from a sociological standpoint, a reflection of the market through the loony looking glass world of consumer demand. The question is, what is it we're demanding?
New Hope Media's Heather Smith has been attending and organizing Expos since 2003. She bears out my impression that we're moving away from whole foods and demanding more in the way of snack foods and convenience items. "It resonates well with me as a mom that these options are available and it's a plus to anyone looking for natural and organic packaged goods."
This is true, but it is still processed food. Expo boasted sustainable and organic companies and organic initiatives , but mostly there was product, a lot of it snack food. And processed food, organic or otherwise, is a little like this year's budget bill -- desirable ingredients may be bundled together with some you just wonder about. We need to take responsibility for what we're eating.
Overall, the chips, the bars, the smoothies at Natural Products Expo are "less refined, healthier," but, as Smith says, "we still need to look at the ingredient label." As much as we talk about the benefits of local and sustainable, the trend towards convenience foods means we cook less, outsource more.
Look, I understand our lives are such that we require convenience, that short of a miracle, we are never going back to preparing all our food ourselves. I cook dinner six nights a week and prepare what I eat during the day, but I do not make my own almond milk or tofu.
Consumer demand does drive what's on the market. Natural products raked in $36 billion last year. The vast array of products, edible and otherwise at Expo East bears out the kind of consumer activism Michael Pollan espouses. We vote with our forks and our wallets.
Expo East showed me how hungry we are. And we're hungry for more than chips, whether they're made with kale or corn. We're hungry for health, connection, transparency and the sense we're doing the right thing, if only by eating and buying the right food. It's up to us to determine what "right" is.
Have Expo East envy? Expo West's almost three times as big, babe, and set for Anaheim in March.

Smoky Quinoa With Mushrooms

Sultry, sexy and awesome for autumn, this dish requires some cooking time, but does so on its own, without you fussing. The recipe doubles easily, so you can make it tonight and enjoy leftovers tomorrow.

4 teaspoons olive oil
3 cloves garlic, minced
1 pound mushrooms, sliced
juice of 1 lemon
2 tablespoons smoked paprika
1 teaspoon cumin
3 tablespoons tomato paste
1 cup water or broth
3/4 cup quinoa
4 cups fresh spinach
1/2 cup cilantro, chopped, for garnish

Heat olive oil in a large pot over medium-high heat. Add minced garlic and sliced mushrooms. Toss to coat. Saute for 8 minutes, until vegetables soften. Cover and reduce to low. Continue cooking for 30 minutes.

The mushrooms will have produced a lot of juice. This is good. Stir tomato paste, lemon juice, paprika and cumin to form a thick sauce.

Rinse quinoa in cold water twice so it's free of saponin, quinoa's natural bitter coating. Add to mushrooms. Stir in broth.

Cover and simmer another 30 minutes, until the quinoa has absorbed all the liquid. Stir gently so mushrooms and quinoa combine.

Arrange spinach on a platter. Mound quinoa on top. Garnish with chopped cilantro.

Serves 4.
REAL LIFE. REAL NEWS. REAL VOICES.
Help us tell more of the stories that matter from voices that too often remain unheard.