"Being vegan changed my entire world view," says Allison Rivers Samson. But it didn't stop her from loving dessert. "My sweet tooth in the driver's seat," she says. That's why she created Allison's Gourmet, her online confectionary and bakery of vegan, organic and ethically sourced cookies, candies and more.
"I'm an innovator. I do things differently," says the Nia blackbelt. An e-commerce pioneer, Samson launched her online business in 1997. "Hardly anyone was on the Internet." But she knew there were people out there who wanted chocolate, cookies and caramels with the added sweetness of being pure, made from clean ingredients and that come right to your door. And she knew they would find her. One of the best things about being vegan, says Samson, "is community, sharing veganism with other people."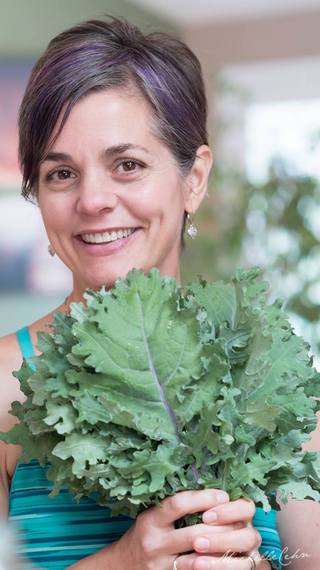 She credits other vegans for supporting her as she transitioned to eating plant-based and away from the "steak-ums, devilled ham and canned junk" of Samson's youth. Not surprisingly, she came from a family afflicted with what she calls fork and mouth disease -- all the illnesses linked to diet. "I wanted to be healthier and then I learned by being vegan, I could be kinder to animals and gentler on the earth. I could accomplish so many of my values with one action," she says. "It was like bowling a strike."
All very nice, but what about dessert? Back in those dark days, commercial vegan sweets were few and many weren't yummy. Samson commenced learning to bake. "I was living by myself and my kitchen was full of baked goods." Bringing cookies and brownies to work upped her popularity with co-workers. "They'd say, 'This is what vegan tastes like? These are amazing. You should sell this.' That led me to create my business." And quit her day job.
You don't have to be vegan to love Allison's Gourmet. Many of her regular customers aren't. "They love the ingredients and how it tastes." Samson is committed to organic, fair-trade and of course, cruelty-free, "the cleanest ingredients," she says. "When we eat things that are ultra-refined with junky ingredients, we eat them very quickly, it doesn't register in the brain, so we eat more to feel good. If we stop and savor those things, they don't taste good."
In addition to offering door- to-door delights, Samson's written "Comfortably Yum," an e-cookbook offering vegan versions of your favorite comfort foods, including a remade mac and cheese, food that delivers soulful satisfaction but also feeds what she sees as a growing awareness. "There's a shift -- people are feeling empowered to eat healthier." Are any of Allison's Gourmet products sugar-free, gluten-free and oil-free? "There's already a product on the market," she says, sweetly. "It's called a rice cake."
Rather than giving up foods that offer pleasure, "embrace crowding out the unhealthy on your plate by adding more vegetables." At home, she and her husband and daughter "eat tons of beans and vegetables. When I want something sweet" -- and Samson usually does -- "I eat only the best. Go for the highest quality, eat a little and you'll feel satisfied."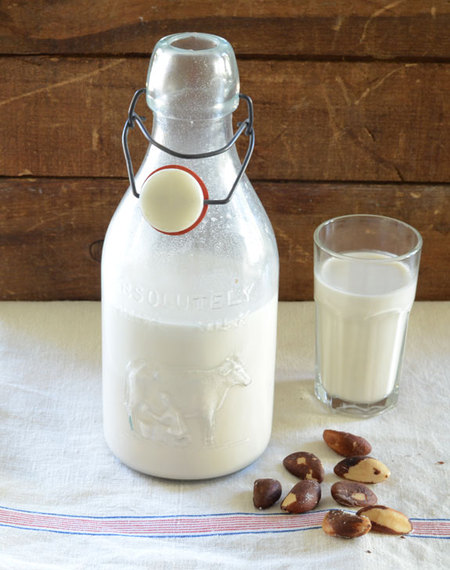 Homemade Vegan Milk
By Allison Rivers Samson

Makes 3-4 cups

1 part nuts or seeds, soaked overnight
3-4 parts water

In a large container, cover the nuts or seeds with 6 inches of water. Store overnight in the refrigerator to make them quick and ready to go when you are. Discard soaking water, rinse, and replace with fresh water. For a full-bodied, creamy consistency, use 3 parts water. For a lighter milk, use 4 parts water.

Process in a high speed blender for 1 to 2 minutes or in a standard blender for 2 to 4 minutes. Test for smoothness by rubbing a little milk between your thumb and index finger. If it feels mostly smooth and creamy, with very fine bits of pulp, it's done. (For cashew cream, the milk will be completely smooth when done; no straining necessary.)

After blending, pour contents into a nut milk bag or very fine mesh cloth placed in a strainer, suspended above a wide mouthed container. Gently squeeze the milk from the pulp for a perfectly smooth texture.

Use your homemade milk immediately or store in the refrigerator for up to 3 days.
Calling all HuffPost superfans!
Sign up for membership to become a founding member and help shape HuffPost's next chapter