Bon appetit -- it's French for good appetite -- for food, of course, but also for life. Julia Child made it her trilling sign-off at the end of each episode of her pioneering TV show, "The French Chef." She'd be 103 on Sunday. The Julia we celebrate is not the pate-pushing, lobster-boiling Julia, but the chatty, approachable Julia with her appetite for life and her talent for making use of everything in the kitchen and wasting nothing.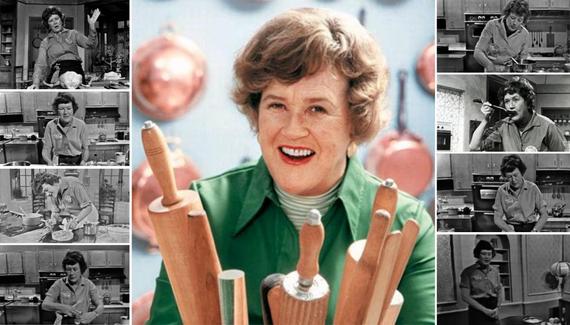 That's the Julia Dan and Annie Shannon celebrate, too, with their new book, "Mastering the Art of Vegan Cooking."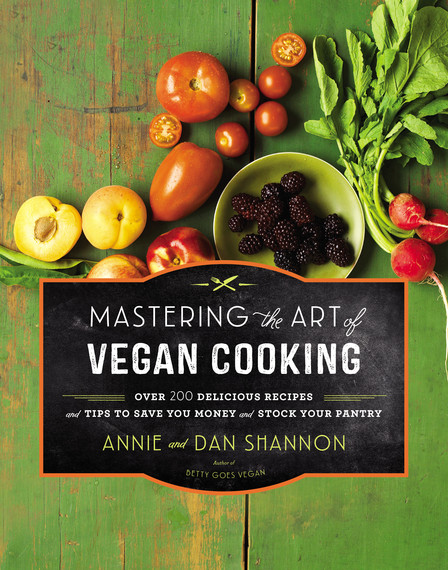 It's like Julia's classic tome, "Mastering the Art of French Cooking," but without the fussy French technique, the meat, the eggs, the butter and the dairy. What it does have is more of the winning sensibility of the Shannons' first cookbook, "Betty Goes Vegan," with over 200 plant-based versions of classic comfort food like sloppy joel pie (sloppy joes, hold the sloppy, hold the meat). "We can be what is fair and kind in the world while eating pretty damn well in the process," says Annie Shannon.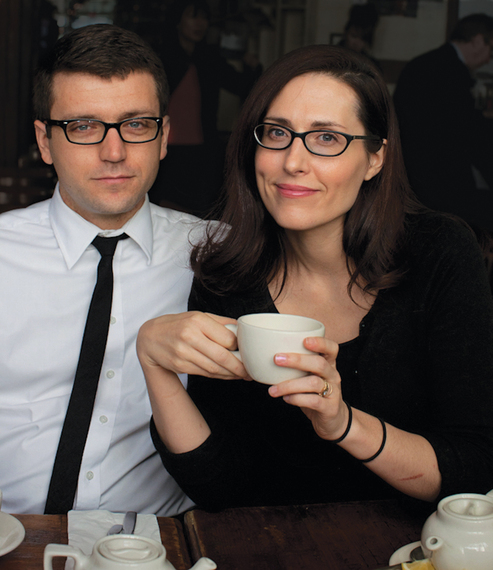 Photo credit: Vanessa Rees
Unlike Julia who didn't start cooking till her thirties, Annie, from a food-focused Italian family, started as a kid. She gives props to Julia's seminal book and television show, but it's the '80s-era Julia she relates to, the boisterous hostess of "Dinner With Julia," who invited friends and celebs to her table for a meal.
Annie, too, loves to gather people at her table for a vegan meal. "I like being the hostess, inviting people over and feeding them five different appetizers," she says. "I feel like that's part of my personality." It also gives her a way to "introduce my passion and explain why animal advocacy is an important cause. It's great to meet other people and spark their passion."
You don't need a fat bank account to create a bountiful, convivial table. Julia didn't have one when she first fell in love with France and with French cuisine after World War II. "I found that very inspiring," says Annie. "She found a passion and pursued it even though it wasn't easy at the time."
That's something the Shannons understand first-hand. When "Betty Goes Vegan" won VegNews ' 2013 Cookbook of the Year, the couple should have been riding high. Instead, they were in the throes of personal tragedy. Annie, five months pregnant and radiantly looking forward to being a mother, had suffered a miscarriage.
Julia said if a recipe doesn't come out perfectly, serve it anyway, who's to know? The Shannons, though, decided to share their loss in the intro to "Mastering the Art of Vegan Cooking." "We set out to master the way of a compassionate lifestyle. Part of that is being kind to other people. We made the choice, just be real," says Annie. "This is part of being kind."
Not only do the recipes in "Mastering the Art of Vegan Cooking" work for home cooks without Julia's expertise, the Shannons' story has "a very happy ending." They're the happy parents of Sadie, their "beautiful, smart, fabulous daughter," who just turned one. "Writing 'Mastering the Art' helped us save enough enough money to have her," says Annie. "It also helped us. Instead of focusing on what we lost, it gave us hope, a goal, something to strive for."
Julia said she could never be vegetarian. Of course that was back in the early days of meatless cookery. "It would be wonderful to treat her to Beyond Chicken and show her how far we've come from wheat germ," says Annie. Sparking some meatless passion in Julia would be "a dream come true."
These days, though, Annie's more interested in feeding Sadie, her most important critic and fan. "It's make everything so much fun, like watching her having a strawberry for the first time. Coconut milk puts a huge smile on her face. And the marinara sauce in our new book -- she loves it," says Annie. "Sometimes she'll stick her hand in and lick it. It's one of the greaterst compliments I've ever had."
Photo credit: Annie Shannon

Pasta with DIY Marinara  

Recipe from "Mastering the Art of Vegan Cooking," by Annie and Dan Shannon, copyright 2015. Reprinted by permission of Grand Central Life & Style.

Serves 4 to 6.
 
Annie Shannon's Italian, so she knows "how to make traditional Italian marinara from scratch. It is undeniably faster to use a jar of premade sauce, but there's something downright soulful about making your own marinara for the people you love."


DIY Marinara Sauce

3 tablespoons olive oil
1 red onion, diced 
3 cloves garlic, minced
31⁄2 pounds Roma tomatoes, chopped
1⁄3 cup red wine
1⁄3 cup water
2 tablespoons soy sauce or Bragg's Liquid Aminos
1⁄2 teaspoon celery seed
21⁄2 teaspoons dried oregano
1⁄4 teaspoon dried marjoram
1 teaspoon crushed rosemary 
1⁄4 teaspoon crushed black peppercorns, plus more as needed 
sea salt to taste 

Pasta 

1 (16-ounce) package spaghetti 
1⁄2 cup whole fresh basil leaves 
1 (15-ounce) can artichoke hearts, drained (optional) 
vegan Parmesan cheese, for sprinkling

In your largest Dutch oven or stew pot, heat the oil over medium heat. Toss in the onion and garlic and use a large spoon to toss them a few times to make sure they get a light coating of hot oil. Once the onion is tender, toss in the chopped tomatoes and stir to combine. Pour the wine and water into the pot while stirring continuously. Reduce the heat to maintain a simmer, cover, and simmer for 4 to 5 minutes.

Stir in the soy sauce, celery seed, oregano, marjoram, rosemary, pepper, and salt to taste. Cover and let simmer, stirring occasionally, for another hour.

Use a large spoon to mash any large pieces of tomato that are still hanging around. If you have a lot of larger pieces, use an immersion blender or food processor to puree the sauce. Give the sauce a taste test and add salt and pepper as needed.

While the sauce is simmering, bring a large pot of water to a boil and prepare the pasta following the instructions on the package. 

Right before serving, stir in the basil leaves and artichoke hearts. 

Serve the pasta hot, with marinara sauce ladled over the top and sprinkled with vegan Parmesan cheese. 
Calling all HuffPost superfans!
Sign up for membership to become a founding member and help shape HuffPost's next chapter