These are challenging days for those of us who eat. Food's expensive. The climate change we're experiencing is killing our crops and is going to make things even worse. The House Agriculture Committee's proposed Farm Bill takes a $16 billion chunk out of the Supplemental Nutrition Assistance Program (or SNAP, formerly known as food stamps progam). These are "near draconian cuts," as Wholesome Wave CEO Michel Nischan says. "In its current form the proposal would deny food-assistance to millions of people, many of them children."
"I normally don't consider the price when it comes to food. I buy what I want," says Rory Freedman , author of the mega-bestselling Skinny Bitch. Working with the Physicians Committee for Responsible Medicine, Freedman took the SNAP challenge, spending $33 for a week's worth of food for her family.
The organic produce she usually gets wasn't an option. Likewise, sweet treats like organic fair-trade chocolate. On a $33 food budget, "there's nothing extra for indulgences." Standing in the checkout line, "holding my breath, wondering, am I going to have enough money for this, or do the walk of shame and put something back on the shelf -- that was an entirely new experience."
According to a new Oxfam America study, eight out of ten American women -- most often the family decision-makers when it comes to meals -- are willing to make changes when they understand the broader impact of what they eat. That includes going meatless once a week. Meat production sucks up 8% of our global water supply. Even a single meal where you swap beans for beef saves gallons upon gallons of water.
Going meatless saves money, too. It's why Freedman was able to meet the SNAP challenge. Her grocery bill came in at a tight $32.55. "I eat a lot of whole foods," she says. Her week's worth of groceries consisted of "fruits and vegetables, whole grains like brown rice, whole wheat pasta, beans."
Every culture has a beloved beany dish that feeds people in lean times, be it Cuban black beans and rice or Middle Eastern mjeddrah, lentil and rice pilaf. The processed food that makes up the majority of what Americans eat, the boxes and cans that clutter our shelves and our diets, the food Tracie McMillan writes about in The American Way of Eating, was not around three and four generations back. Poverty was, whether it was the Great Depression of the 1930s, the recession of the 1970s or the economic collapse of 2008.
When I put my husband through grad school, our weekly food budget was less than you'd pay for a single restaurant meal -- under $25. We did not see many -- or maybe any -- restaurant meals, but a homemade summer corn and tomato stew stands out in fond memory -- cheap, seasonal and local. Otherwise, it was a lot of rice and beans. I still have a real love for them. They're comfort foods that come from the earth, not out of a box. They're filling, nourishing, shelf-stable and cheap. They've sustained mankind for eons. They'll come through for us now.
As Freedman says, "We can eat healthy plant-based food on a very limited budget." Being vegan makes things a little easier. So do initiatives like Wholesome Wave's Double Value Coupon Program, doubling the SNAP dollars at local farmers markets so people can get twice as much fresh, local produce. The program is all the more precious now, with potential SNAP cuts looming.
Nischan and Freedman both believe consumer advocacy can help drive policy change and create a healthy, sustainable food system. I hope they're right. But we can't wait for the government's help. "We all need to take personal responsibility," says Freedman. It begins with what we eat.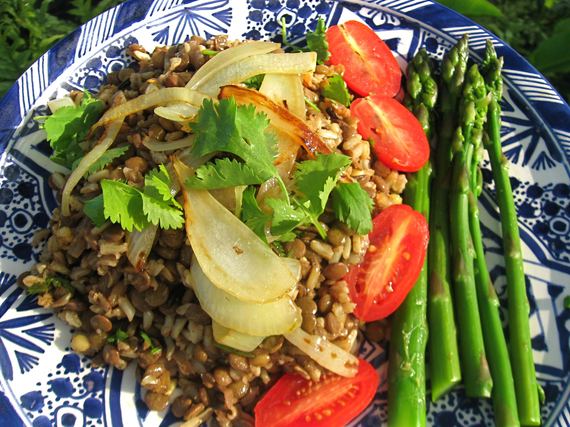 Mjeddrah

1 cup brown rice
1 cup lentils
4 cups water or vegetable broth
1 bay leaf
2 tablespoons olive oil
1 large onion or two small, sliced thin
1 teaspoon cumin, optional
sea salt and fresh ground pepper to taste

Pour lentils into a small bowl. Pick out discard any stems or stones. Cover with cold water. Do the same with the rice, in a separate bowl. Leave 'em to soak for 30 minutes at a minimum, for 2 hours, if you've got the time.

The lentils and rice don't need any fussing with, just let them sit.

Bring water or vegetable broth to boil into a large saucepan. Strain lentils into a sieve. Rinse in cold water. Add to broth. Do the same with the brown rice. Toss in bay leaf. Reduce heat to low and cook, covered, for 30 to 40 minutes, until lentils and rice are soft and fluffy and have soaked up all the liquid. Remove cover, remove from heat and set aside.

Just before serving, heat oil in a large skillet over medium-high heat. Add sliced onion and cook, stirring, for 3 to 5 minutes, until onions start to soften and turn golden and fragrant. Reduce heat to medium, and cook, stirring, another 10 minutes or so, until onions are brown and tender. Season with sea salt and fresh ground pepper.

Stir lentils and rice together gently. Remove bay leaf and season generously with sea salt, fresh ground pepper and optional cumin.

Serve pilaf lavishly topped with onions.

Serves 6 to 8.
Calling all HuffPost superfans!
Sign up for membership to become a founding member and help shape HuffPost's next chapter