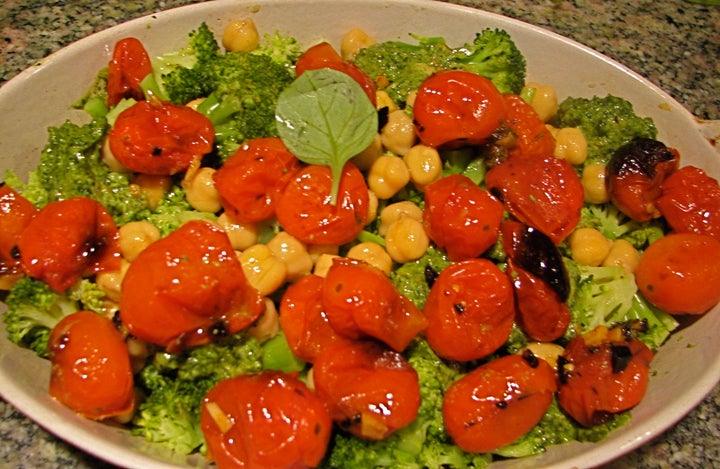 It's time to get your party on. We're two weeks away from US VegWeek. Sponsored by the animal-friendly folks at Compassion Over Killing, it begins on Earth Day, Monday, April 22 and offers a week of celebration, with meatless giveaways, screenings of vegan flicks, cooking demos, potlucks and specials at your favorite restaurants, all for a great cause. Compassion Over Killing calls US VegWeek "a nationwide effort encouraging people choose meat-free foods as a way to build a kinder, cleaner, and healthier world."
The backstory -- VegWeek began in 2009, in Compassion Over Killing's home turf, Takoma Park, Maryland. The inspiration came from a government official. Really. Senator Jamie Raskin thought it would be a great idea to take the nonprofit's vegan message and make it into a citywide celebration. Raskin even pledged to go veg for the entire week. He kept his vow that week and ever since.
You can pledge, too. Take the 7-Day VegPledge, and every day, Compassion Over Killing will send you meatless how-tos, recipes and if you sign up now, they'll mail you a starter packet of info plus coupons for fabulous meatless products. Even better, you get to be part of US VegWeek's happy community, over 3,000 pledges strong.
I pledged, and I'm already vegan. That's right, I'm meatless not just on Monday but every day of the week, every week of the year. Why pledge, then? Because I value Compassion Over Killing and I value community. Once upon a time in the not-too-distant past, there was little nationwide meatless community, support or appreciation. So much positive change has taken place in the past few years. More community leaders have joined Senator Raskin in getting behind US VegWeek and taking the 7-Day VegPledge. For the first time in eight years, Americans are eating less meat. It's a real tipping point in connecting what we eat with how we live. And that's reason to celebrate.
My own hometown, meatcentric Miami, is participating in US VegWeek, including a great local restaurant offering a vegan special and Florida Heart Research Institute's Heart of a Chef Festival offering a vegan cooking demo by "Feeding the Hungry Ghost" author, um, me.
I don't want to miss the party. I don't want you to miss it, either. So get in on it. Have a vegan potluck. Get your favorite local eatery on the map by asking them to offer a plant-based HS VegWeek special. And get ready, get set, pledge.

US VegWeek Tricolore

I created this super-easy, super-healthful, basil-intense vegan springtime triumvirate of beans, broccoli and tomato to celebrate VegWeek. Enjoy it now and make it on into the summer, too.

For vegan pesto:

2 cups basil leaves
2 cloves garlic
2 tablespoons nutritional yeast
1/4 cup olive oil
pinch sea salt

In a food processor, pulse basil, garlic and nutritional yeast until mixture forms a heady, aromatic but very thick paste.

Now drizzle in the olive oil in a slow stream. Mixture will still be quite thick. Add sea salt to taste and combine.

This makes more pesto than you need for this recipe, so you can enjoy the rest in other ways, on roasted vegetables, stirred into cooked quinoa or tossed with pasta. May be made up to a week in advance. Keep covered and refrigerated.

For vegetables:

1 pint grape or cherry tomatoes, halved if large
2 cloves garlic, minced
2 teaspoons olive oil, plus a smidge more for oiling the pan
2 cups (about half a head) broccoli florets and stems, cooked, cooled and chopped into bite-sized bits
1 15-ounce can white beans or garbanzos, drained (or 2 cups cooked white beans or garbanzos)
sea salt and fresh ground pepper to taste

Preheat oven to 400.

Spread tomatoes in a large, rimmed baking dish. Sprinkle with minced garlic, sea salt and fresh ground pepper. Drizzle with olive oil. Give tomatoes a stir so they're lightly coated with the oil.

Roast for 30 minutes, stirring tomatoes occasionally to keep them from burning.
Remove from the oven and let them cool.

Lightly oil a 6-cup oven-proof casserole. Spread broccoli on the bottom. Top with one third of the beans. Dot evenly (more or less) with 2 tablespoons of the pesto.

Spread tomatoes on top, and sprinkle everything with some sea salt and pepper.

Reduce oven temperature heat to 350. Bake uncovered, for about 20 minutes, or until heated through. May also be enjoyed at room temperature.

Serves 4 to 6.
Popular in the Community