In our increasingly challenging world, thank God for pasta — it's as elemental as it is eternal. Wednesday is World Pasta Day, a perfect opportunity to come together to share something we love.
Pasta not only brings us together, it's the happy meeting point of food that's craveable, nourishing and sustainable. Eating pasta makes us happy — it's scientifically proven. It's also proven to boost our health by boosting our intake of fiber, protein, potassium and other key nutrients. The durum wheat in pasta is low-carbon crop with low environmental impact and in most cases, it's GMO-free. It's further proof we can treat ourselves right and treat the planet right, too. They think about these things at Barilla Center for Food and Nutrition.
Among their research and outreach efforts:
the double pyramid, illustrating a direct correlation between the most sustainably grown foods and the ones that provide us the most nutrition
a global study of nutrition and sustainability (America ranks a dismal #11. You wanna make America great again, Mr. President? Start with a cleaner food system.)
their Media Award for reportage dedicated to revealing — and improving — our food system
their international forum on food and nutrition
You probably know the name Barilla — they're Italy's #1 brand of pasta. But clearly, they're interested in more than selling spaghetti. Honoring the past and looking to the future comes naturally for this family-owned company dating back 140 years.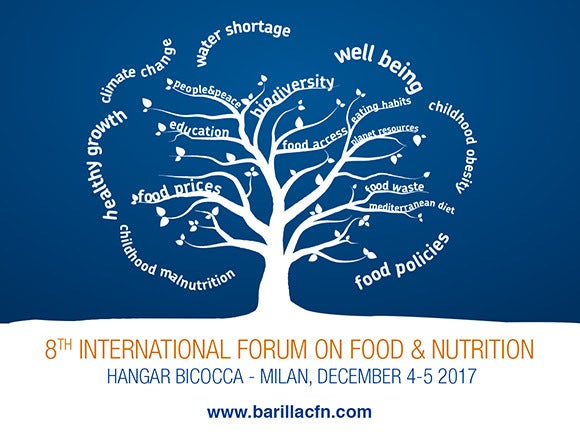 There's a lot on our plates right now — sustainability, nutritrion, distribution, world hunger, obesity, global food policy, waste, wellness, carbon output, climate change, food costs, GMOs, the future of farming and more. Working towards a healthier, happier world for all of us is easier and more fun than you think. Let's start with a plate of pasta.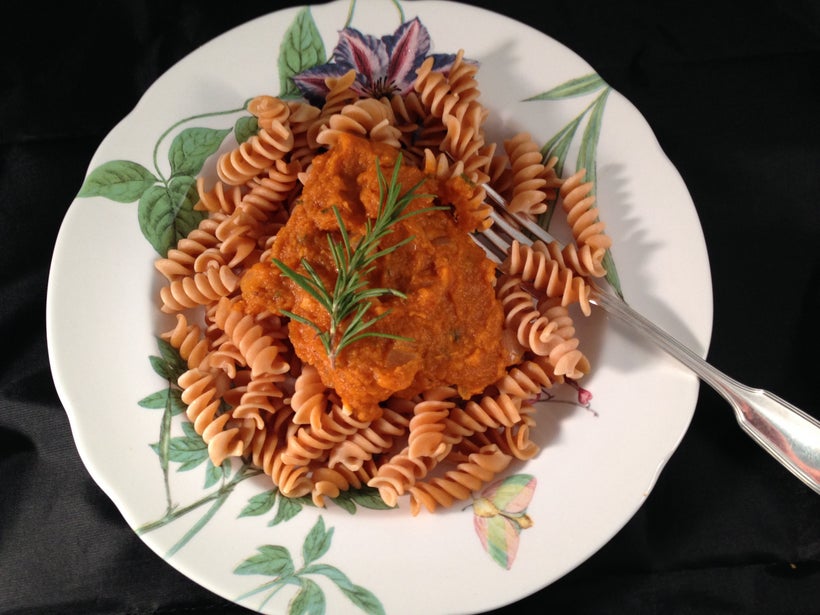 Pasta with Pumpkin and Rosemary
This pasta dish makes for a warming, seasonal treat for World Pasta Day — or any day. Looks and tastes impressive, but it's quick and easy made with canned pumpkin purée. Make sure it's 100% pumpkin puree, not sweetened pumpkin pie filling. This is pumpkin in all its savory glory — with its deep, earthy notes and a natural hint of sweetness.
Pairing pumpkin with the woodsy flavor of rosemary is an Italian classic. So is pairing it with pancetta and Parmesan. So we keep the rosemary, the smokiness and richness, but save the animals — they're our friends. A drop of syrupy, aged balsamic to finish seems crazy but really dials up the flavors — it's like pumpkin in HD.
2 fat garlic cloves, minced
1 teaspoon smoked paprika
1 teaspoon fresh rosemary, finely chopped (from 1 good-sized sprig)
2 cups pumpkin purée, fresh and homemade or canned
1-1/2 cups reserved pasta water
sea salt and freshly ground pepper
8 ounces rotini, penne or other small pasta — I like the rotini because the twists scoop up little bits of sauce
Heat the olive oil in a large pot over high heat — about a minute, or until the oil starts to shimmer. Stir in the diced onion and reduce the heat to medium. Continue cooking for a minute or two, until the onions start to soften. Add the minced garlic and give a good stir.
Cover pot, reduce heat to low and let the onion and garlic cook undisturbed for another 15 minutes. When you come back, the vegetables will have produced a great deal of liquid. This is good.
Stir in the smoked paprika, finely chopped rosemary and finally, the pumpkin purée. Give everything a serious whisk for a minute or two, until the onion seems to melt into the pumpkin and the whole thing comes together, smelling sexy and smoky. The sauce will be thick, like fluffy mashed potatoes and a deep, burnished orange. Season generously with sea salt and freshly ground pepper.
Prepare pasta according to package directions. Stick around and give a stir. Don't wander off. Al dente means to the teeth, not to to the gums. Cooking time is brief.
Drain pasta, reserving 1-1/2 cups of the starchy pasta cooking water. Swirl the pasta water into the sauce to make it silky and saucy. Stir to combine.
Pour the sauce over the pasta. Give everything a nice toss to combine and heat through. Top with a drop of aged balsamic. Buon appetito.
REAL LIFE. REAL NEWS. REAL VOICES.
Help us tell more of the stories that matter from voices that too often remain unheard.
This post was published on the now-closed HuffPost Contributor platform. Contributors control their own work and posted freely to our site. If you need to flag this entry as abusive,
send us an email
.