Nutrition, sustainability, versatility, affordability, sheer deliciousness -- there's so many reasons to love dried beans, especially now, the International Year of Pulses. I've been celebrating all year, blogging, teaching and presenting about them, including later this month at Farm to Table Experience in New Orleans, but my favorite way to celebrate is to cook and share them --a pot of pulses brings the fun. I'm soaking red beans now to have a pot of red beans and rice ready for August 4, Louis Armstrong's birthday. The jazz great so loved New Orleans and the city's signature dish, he'd sign autographs, Red beans and ricely yours.
Like many bean dishes, RBR, was created as dish to satisfy the belly and stretch the budget. Honoring culinary traditions are part of the pleasure of cooking and eating for me, but so are riffing, innovating and reinterpreting, doing with ingredients what musicians do with melodic form -- kitchen jazz. Pulses welcome that. Their meaty but meatless chew invites me to create vegan versions of classic dishes. Armstrong's own RBR recipe, like most, includes pork. Mine swaps plants for pig but loses no flavor.
Both Armstrong's RBR recipe and mine require slow cooking, letting the beans simmer over low heat with no fuss. You get on with your life, the beans get on with theirs. Over time, a dish of simple ingredients develops rich, umami, complex flavors, so you end up with something greater than the sum of its parts.
Basic supermarket beans will do, but heirloom recipes deserve heirloom ingredients. I think they offer deeper flavor, deeper connection and a little romance -- I'm for all three. So is heirloom bean purveyor Rancho Gordo. By supporting smaller farmers producing beans from open-pollinated seeds, Rancho Gordo has introduced us to beans of every color, size, texture and flavor, reflecting America's rich crop diversity.

Slow cooking beans from scratch does something magical to them, endowing them with a creamy tenderness, infusing them with whatever spices and ingredients you pair them with. Problem is, we're less and less likely to invest the time -- slow cooking -- or any cooking -- requires. Lucky for you Better Bean Co. is glad to do the work for you. Better beans aren't dried, they're not canned, they're slow cooked, and skillet finished, generously seasoned and sold fresh and ready to eat in tubs in refrigerated section of many grocery stores. They're innovators with an old fashioned ethic -- they're small, family-owned and all their beans -- including some red beans Armstrong might have gone for-- are vegan and organic.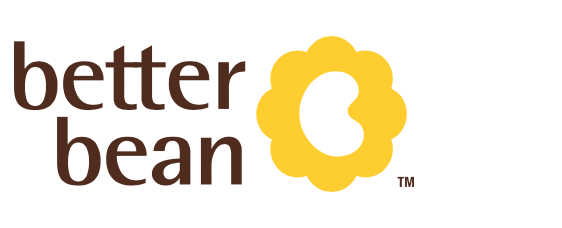 Pulses aren't just versatile in the kitchen, they're friendly in the field. Growing pulses requires a fraction of the water of raising livestock. Family-owned Fresh Nature Foods goes one better by producing extra low water-chickpeas. They're green -- green as in sustainably farmed and green as in color. They're fledgling chickpeas, if you will, picked sweet and early in the growing stage, nutrient-dense and GMO-free. Fresh Nature Foods has just wrapped up a healthy and sustainable green chickpea harvest. Their frozen green chickpeas are being used in food service from schools to restaurants. Now they're making their way to markets, along with green chickpea hummus.

This is not a sponsored post. This is me wanting to connect people with pulses, just spreading some leguminous love. Happy Louis Armstrong's birthday, happy International Year of Pulses.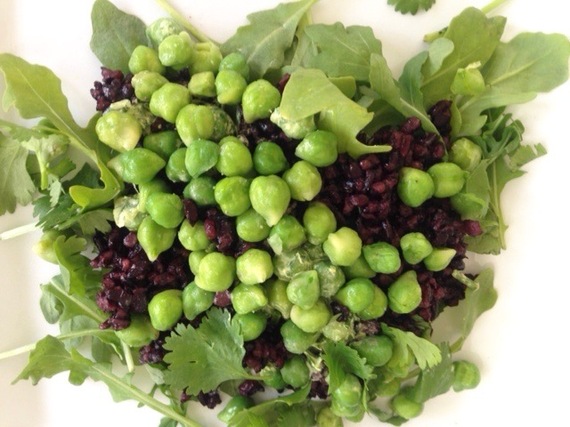 Green is the New Black (Green Chickpeas With Black Rice and Green Tahini Dressing)

Whether it's red beans and rice or rice and chickpeas, beans and rice is the most important dish in the world. Here nutty-flavored, nutrient-dense black rice changes it up from basic brown, so do sweet green chickpeas instead of the standard blonde ones The parsley-infused tahini dressing has a bold flavor and adds a designery pale green accent to a dish that may be served hot or -- to beat the summer heat -- at room temperature.

For black rice:

1 cup black rice
2-1/2 cups water or vegetable broth
sea salt to taste
juice of 1 lemon (about 2 tablespoons)

In a large pot set on high heat, bring water or broth to boil. Pour in the rice. Cover, reduce heat to low and simmer for 30 minutes. Grains will swell and become tender but retaining some chew. Drain off any remaining cooking liquid. Add sea salt to taste and lemon juice, Set aside.

For the green chickpeas:

2 cups green chickpeas, thawed (you can also use the standard blonde ones)
1 handful each mint, cilantro and flat-leaf parsley, finely chopped
2-3 tablespoons green tahini dressing (recipe below)
sea salt to taste

Pour 1-1/2 cups of the chickpeas into a large bowl, reserving the remaining 1/2 cup for garnish. Add the chopped herbs to the bowl, mix together and add 2 to 3 tablespoons of the green tahini dressing. Season with sea salt.

For the green tahini dressing:

1/4 c lemon juice
1 clove garlic
1/2 cup tahini
1/2 cup water
1 cup flat-leaf Italian parsley, tightly packed (about 1/2 bunch)
1/4 teaspoon sea salt
pinch turmeric (if desired)

Whizz everything together in a blender or food processor until thick, creamy and smooth. Cover and refrigerate. Dressing will thicken as it chills. Thin with another 3-4 tablespoons of water, if desired.

Makes 1-1/2 cups, or 8 to 10 servings. Dressing keeps covered and chilled for a week.

To assemble:

Mound dressed chickpeas atop black rice, garnishing with the 1/2 cup of plain chickpeas for an extra pop. Pour remaining green tahini dressing in a bowl to drizzle on top, if desired.

Serves 4 to 6.

More about pulses at Beans: A Handful of Magic.
More things soulful at soulfulvegan.com.

REAL LIFE. REAL NEWS. REAL VOICES.
Help us tell more of the stories that matter from voices that too often remain unheard.