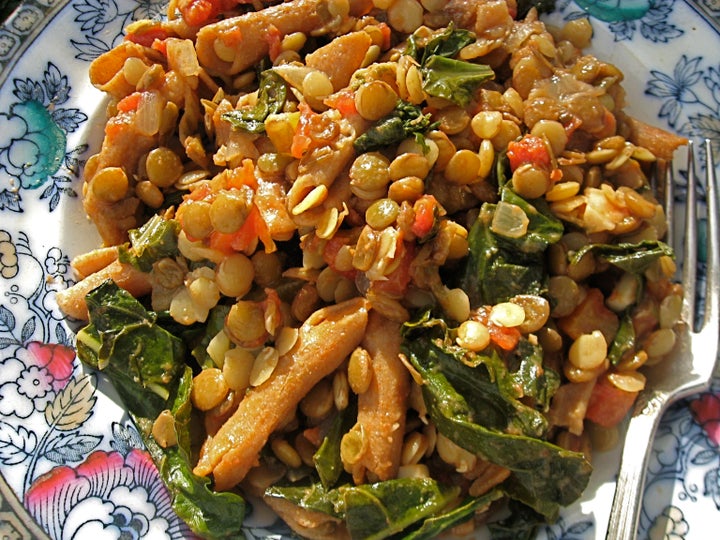 Food Day is modeled on Earth Day, a holiday that began kind of half-assed and unfocused in 1970 but has ultimately become a day of global action and awareness, prompting the creation of the EPA, inspiring the Clean Air Act, the Endangered Species Act and other initiatives that have made our world better to live in. Food Day draws on some of that vintage hippie activism. It's real get-out-in-the-street stuff, rather than a virtual FB startup. We've had enough with virtual eating. Food Day's slogan is, "It's Time to Eat Real, America."
What does eating real mean? CSPI has come up with 6 goals. Think of them like six tines of a fork:
We've reached a tipping point, where the importance of what we eat and how we source it is on America's radar. Food Day allows us all to come together with a united voice. As Arlo Guthrie put it in Alice's Restaurant, you wanna end war and stuff, you gotta sing loud.
It is kind of like a war and it's time to mobilize the troops -- politicians, farmers, chefs, you and me. Because it's going to take all of us to implement a real, healthy food system, from drill-down policy change to grassroots initiative. And it's going to take more than one day. You gotta start somewhere, though, so you gotta like CSPI's approach -- start with a party.
Check out Food Day's website for a thousand-plus Food Day events happening across the country, in restaurants, in schools, at universities, from big-ass events like an LA party for 15,000 to a home-cooked meal at your house. Attend one -- or ten. It's a totally star-studded happening, but it won't be much of a party without you.
Keep the Food Day party and the spirit going. Sourcing, cooking and eating plant-based food connects you to your food in a really primal and pleasurable way. Do it like the planet and your life depends on it. Because it does.


Pasta With Lentils and Kale

I get all swoony over recipes like this, with origins that go back generations, if not centuries. Food that's primal, rather than processed and makes use of the ingredients at hand and in the season. It's autumnal as hell. This is something every Italian nonna knows and what we used to know, too. Here's a refresher course that's cheap and easy, not saucy but sensational.

1 cup lentils
2 tablespoons extra virgin olive oil, plus additional for drizzling
1 pinch red pepper flakes
3 cloves garlic, minced
1 onion, chopped fine
1 stalk celery, chopped fine
2 to 3 fresh, ripe end-of-season tomatoes or 1 15-ounce can tomatoes, diced
1 bunch kale torn into bite sized pieces -- lacinato, also known as black kale or dinosaur kale is particularly nice but any variety will do.
8 ounces whole grain pasta
sea salt to taste

Rinse and drain lentils. Bring 3 cups of water to boil in a medium-sized pot. Add lentils. Cover, reduce heat to low and simmer for 30 minutes, or until lentils are just tender and most of the water is absorbed. Lentils may be made a day or two ahead and kept covered and refrigerated. Bring them out to come to room temperature as you put together the rest of dish.

Heat olive oil in a large skillet over medium-high heat. Add the pinch of pepper flakes. When they start to sizzle, add the minced garlic and chopped onion and celery. Cook, stirring, for about 5 minutes, or until vegetables soften. Reduce heat to medium and continue cook another 5 minutes.

Stir in diced tomatoes. Cover and simmer for 20 minutes.

Cook pasta in a large pot of boiling water according to package directions. Cook until barely al dente. Drain.

Add kale by the handful to tomatoes and vegetables. Stir, cooking about 5 minutes or until the kale is just tender and still bright green. Curly kale takes a little longer to cook than lacinato kale. You want it wilted, not defeated. Stir in the lentils. Taste sauce and add sea salt as desired.

Return pasta to the pot. Pour in tomatoes, lentils and kale. Stir to combine and taste again for salt.

Drizzle with additional olive oil if desired.

Serves 4.

Calling all HuffPost superfans!
Sign up for membership to become a founding member and help shape HuffPost's next chapter