I'm fresh from the James Beard Foundation food conference, where if we agreed on anything, it's that it's never too late to learn to cook. Professional chefs including Art Smith, Jamie Oliver and Michelle Bernstein think it's best to get 'em in the kitchen while they're young. That way, kids learn not just how to cook, but how to eat. They value themselves and how their food is grown and produced -- lessons worth learning at any age.
"I'm trying to affect them when they're younger, eight to eleven, when they're babies. Then when we get them in middle school, they grab healthier choices," says Bernstein, who heads the Miami branch of Common Threads. A national nonprofit program launched in 2003 by Oprah chef Art Smith, Common Threads pairs kids from Title 1 schools with fancy pro chefs like Jamie Oliver and James Beard Award-winning Bernstein and semipro-to-impassioned-amateur cooks like me.
I'd signed up for Common Threads when Bernstein started it here five years ago because I believe in community service and believe in the importance of our connection to food, yadayada. I did not think it would be so incredibly fun.
Bernstein, chef of Michy's in Miami provides inspiration. Volunteer chefs work with the children and make sure when they chop onions, they don't chop fingers, too (yep -- real sharp knives, real hot stoves -- how else do you make dinner?). The kids learn how to cook, but they also learn nutrition basics and global awareness. By making -- and eating -- cuisine from all over the world, they discover there's more to life than chicken fingers.
"I've always been a good eater," says sylphlike Bernstein, a former ballet dancer. "But some of these kids are overweight. They've never tasted a vegetable, they won't eat greens."
Common Threads classes change that. Kids sniff each spice, sample each unfamiliar ingredient before we add it to the mix. They tend to like what they taste. One student scooped up a handful of cauliflower florets with ginger and cilantro and said they were "like popcorn." Another boy became a chickpea convert. A girl told me she was going to go home and make tabbouleh and teach her mom the recipe so they could eat it every day. These things do my veggie heart good. I want these kids to see how delicious food can be. They've reminded me life can taste pretty good, too.
Another vital part of Common Threads is helping schools bring fresher, healthier options to the table. "Now we're getting down and dirty with the lunch ladies," says Bernstein. "We're teaching them to use better farmed vegetables, better foods. It's healthier. It's pretty cool."
It's made Bernstein, with a young child of her own, think about her own cooking. "Now I know when I make lasagna feeding a bunch of young people, I'm going to fill it with the tiniest diced vegetables, no white pasta, go local or the closest to it. That's what we do at the restaurant, that's what we should do with their food."
Common Threads imparts to students the joy of cooking. What the students have taught Bernstein -- and me -- is the joy in discovery -- joy in discovering how to cut corn off the cob, delight in tasting tahini for the very first time. It is very much like falling in love. It's contagious. And it's what I wish for cooks of every age.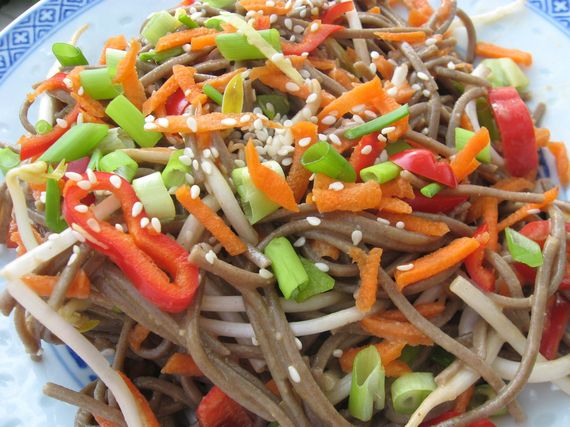 Sesame Noodles with Vegetables

A meatless adaptation of one of Michelle Bernstein's Common Threads hits. It's kid-friendly in the kitchen and at the table. Feel free to substitute or add steamed broccoli or cauliflower florets, sauteed mushrooms, chopped celery or diced tofu.

For the dressing:
1/2 cup smooth peanut butter
1/4 to 1/2 cup warm vegetable broth or water
3 tablespoons soy sauce
1 tablespoon sugar or honey
2 tablespoons fresh ginger, peeled and minced
2 tablespoons sherry or rice wine vinegar
2 tablespoons sesame oil
½ teaspoon red crushed chili flakes

For the noodles:
1 12-ounce package dried soba noodles or linguine, cooked according to package instructions
4 scallions, sliced thin
1 seedless cucumber, peeled and sliced thin
1 cup grated carrot
1 cup bean sprouts
1 red pepper, seeded and sliced into thin strips
2 tablespoons sesame seeds, toasted in a hot pan (no oil)

In a small pot over medium heat, mix together peanut butter, 1/4 cup water or broth, soy, honey, ginger, sherry, sesame oil and chili flakes, whisk all ingredients for the dressing together until you get a smooth, creamy sauce, adding more broth or water as necessary.

Fill a large pot with boiling water. Prepare noodles according to package directions until just al dente, not mushy. Drain and rinse. Return noodles to pot, gently add peanut sauce and toss in vegetables. Toss gently.

Top with scallions and sesame seeds.


The original version of this post went up on October 25, 2010. More about the James Beard Foundation Food Conference 2014 to come.
Calling all HuffPost superfans!
Sign up for membership to become a founding member and help shape HuffPost's next chapter