Howdy and happy winter solstice. Winter officially begins tonight and we continue speeding towards Christmas, Kwanzaa and the finish line of 2015. As usual, I am not ready. In fact, I'm still mulling over something from October.
My husband I were visiting Cayman and naturally went to Bread and Chocolate, the island's only vegan cafe, owned and run by my excellent friends Agata Kalicki and Reno Ciantar. My husband and I ate our way through the menu -- a version of my own African-American sweet potato and peanut stew -- perfect for Kwanzaa -- and vegan shepherd's pie -- one of the cafe's most popular items. It may seem an odd choice for a tropical paradise, but comfort food is comfort food wherever you are.
I was sipping the last of my turmeric tea, perfectly blissed out by the vibe, the food, seeing my friends. Then Agata came over with a plate and a frown. "I know you don't do dessert," she said, "But I wanted you to try it." She set down the plate -- a freshly-baked vegan brownie drizzled with caramel. Well, I do so do dessert. But the truth is, I don't have a sweet tooth and get kinda stoned off dessert -- not that that's a bad thing. In fact, biting into the brownie felt very, very good, all the sweeter for being as compassionate as it is delectable. But one taste was enough for me. My husband happily finished the rest.
Agata's words have stayed with me, long after the chocolate high wore off. Dessert is almost everyone's idea of comfort food. Being known as someone who doesn't do dessert brands you as less than human. It also smacks of moral superiority, to which I can lay no claim. And it's not like I never provide dessert recipes. One of my favorite I did for Christmas a couple years ago My chocolate cake recipe in my book "Feeding the Hungry Ghost" stacks up to any chocolate cake anywhere. But okay, okay, I don't create too many dessert recipes for Meatless Monday because
1) I'm in awe of the pros -- vegan bakers and confectioners like Fran Costigan, Doron Petersan, Allison Rivers Samson, Hannah Kaminsky and Lagusta Yearwood
and
2) Frankly, I'd rather seduce you a great recipe with greens or beans (hello, here's my bean e-book).
But it's Christmas, right? and as a challenge, to work my edge and prove I do indeed do dessert, here's a dessert recipe to end the year sweetly -- panforte, Siena's traditional holiday addictive confection. Why panforte?
1) It's vaguely good for you, since it contains dried fruit and nuts.
2) It's Italian, and after my fall trip to Milan for the World Pasta Congress, I am swoony for all things Italian.
3) It's got chocolate, which as Sticky Fingers cupcake mistress Doron Petersan told me, screams love in your face.
Wishing you happy holidays, sweet winter solstice and love in your face.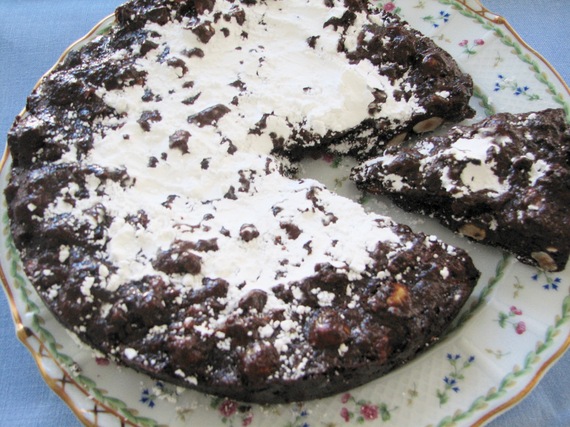 Panforte

Panforte means strong bread, so be strong. Go lavish with the spices here -- they balance the richness of the fruit and nuts -- and don't wimp out with the black pepper.

Traditionally, panforte is made with honey -- it's the goo bonding the dried fruit and nuts. Swap it for vegan honey. The best commercial one I know is BeeFree Honee. I've also had good luck making this recipe with brown rice syrup, which has plenty of goo and adds a caramelly note.

Use a good sharp knife and serve in skinny slices with a cup of espresso or a small glass of vin santo or sambucca.

Keeps well-wrapped in an airtight container for up at a month.

3 tablespoons vegan butter, such as Earth Balance
1-1/2 cup raw hazelnuts
1 cup raw almonds
1-1/2 cups dried figs, well-chopped
1-1/2 cups dried apricots, well-chopped
1 cup candied citron, diced*
2 tablespoons orange zest, grated
1 tablespoon lemon zest, grated
3/4 cup unbleached all-purpose flour
3/4 cup Dutch process cocoa, plus additional for dusting
2 teaspoons ground cinnamon
1 teaspoon ground nutmeg
1 teaspoon ground ginger
1/2 teaspoon ground cloves
1/4 teaspoon fresh ground pepper
1 cup evaporated cane sugar
1 cup brown rice syrup or Bee Free Honee
a few tablespoons powdered sugar or more cocoa for dusting

Preheat oven to 400 degrees.

Pour hazelnuts onto a rimmed cookie sheet. Pour almonds onto a separate rimmed baking sheet. Roast nuts for 10 to 15 minutes, giving them an occasional stir, until they are brown and toasted and your kitchen smells buttery.

Remove from oven and let cool. Pour hazelnuts onto a large towel, wrap the towel around the nuts and rub briskly to remove the hazelnut skins. It's a pain but it must be done. You don't have to get them perfectly skinned. Pour the hazelnuts into a large bowl, take the towel outside or over to your compost pile and shake it free of all the bits of hazelnut skin.

Reduce oven temperature to 300 degrees.

Using 1 tablespoon of the vegan butter, generously the insides and bottoms of 2 8-inch cake pans. Line cake pan bottoms with rounds of parchment paper. Grease the parchment with vegan butter.

Add almonds to the hazelnuts, along with the chopped figs and apricots, diced citron grated lemon and orange zest. Give everything a stir to combine.

In a small bowl, sift together unbleached flour, cocoa and all the spices -- cinnamon, nutmeg, ginger, clove and pepper. Pour into the bowl of fruit and nuts, stirring well, so fruit and nuts are well-coated with flour, cocoa and spices.

In a medium saucepan, heat the remaining 2 tablespoons of vegan butter over medium-high heat. Pour in the evaporated cane sugar . Lightly oil the measuring cup and measure out the vegan honey or brown rice syrup (it will pour out easier this way -- you will thank me). Pour that in with the butter and sugar, stirring well with a wooden spoon.

Stir until sugar dissolves and mixture looks caramelly. Bring to a boil and continue stirring, another 7 to 10 minutes, or until the sauce reaches hardball stage (250 degrees on a candy thermometer).

Pour sauce over the fruit and nuts and, using a wooden spoon, stir like your life depends on it. The mixture will start to seize up. Keep going until everything coalesces into a very thick batter. Upper arm strength is good to have here. Maybe that's naother reason they call it panforte.

Spoon batter into the two prepared cake pans, using the spoon to smooth everything evenly.

Bake for 50 minutes or up to 1 hour. You'll know panforte is ready when your ktichen smells like nutella heaven and the tops of the cakes are dry and just starting to firm up. Remove from oven and let cool completely -- at least an hour.

Run a sharp knife around each cake and invert onto a plate or another sheet of parchment. Peel away any parchment that stuck to the bottom.

Dust with powdered sugar or more cocoa.

Serves about 20.
Related
Popular in the Community