My husband and I live down the block from Muslims. And gays. We have Jamaicans, Swiss, Colombians, Cuban refugees, Catholics, Protestants, Jews and a few undecided. As my neighbor puts it, we're the United Nations in one city block. Sometimes we all mystify each other. But we always tolerate each other. As another neighbor says, we are like family.
The people gunned down at Pulse in Orlando were like family, too. How do you parse -- let alone process -- such a devastating thing? It's a gun control issue. It's an LGBTQ issue. It's a terrorism issue. It's a hate issue. It is as many things as we are. This is not the first time a mass killing has happened during Ramadan. I pray it is the last.
We're all very different, not just on my block and in this city, but in your city, on your street and across this country and in every country -- you, too, UK. I've always been more interested in the ways we are the same.
Maybe my Muslim neighbor is, too. He came by yesterday and gave me some mangoes off his tree. This is not about him trying to make right the horror of Pulse, this was a pure act of reaching out, of trying to bridge our differences. It's about sharing what we have -- food -- and honoring what we have in common -- humanity.
As diverse as we all are, we are all citizens of the world. We live together. And since we do, it helps to do so with compassion (a big vegan concept) and forgiveness (a big Muslim concept).
Together, we are family. Together, we are stronger than walls, stronger than guns, stronger than hate. Wherever you are, whatever your beliefs, I wish you Ramadan Mubarak -- blessed Ramadan.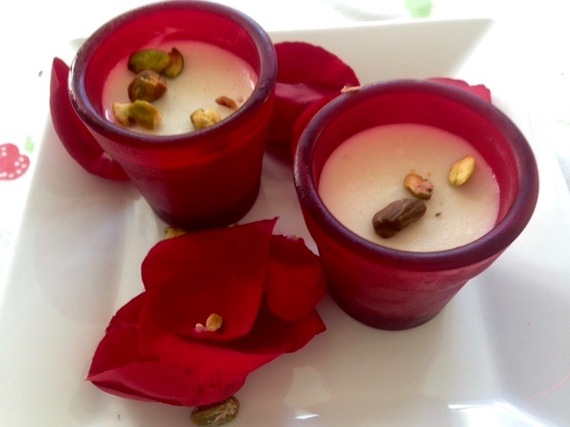 Malabi -- Rose-Scented Almond Milk Pudding

There are many versions of this traditional and beloved Arab dessert, and it goes by many names -- sutlac, muhallabeya, and I'm probably missing some. I developed this vegan version and served it this Saturday night as part of my EatWith dinner. I owe a debt of gratitude to Claudia Roden , a gifted, generous cookbook author. Her dedication to preserving the unique flavors of the world inspires me in delicious ways.

This cool, creamy pudding contains but has five ingredients, takes 30 minutes and tastes absolutely incredible, perfumey without being cloying.

Top with chopped pistachios and pomegranate arils. Any leftove pudding is nice for breakfast with fresh mangoes from your neighbor.

4 tablespoons corn starch
4 tablespoons rice flour
5 cups unsweetened almond milk, preferably homemade
1/2 cup sugar
2 tablespoons rose water*

In a small bowl, whisk together corn starch and rice flour. Add 1/2 cup of the almond milk and stir until they come together without clumping.

In a large pot, heat remaining almond milk and bring to boiling. Pour in the corn starch-thickened almond milk and stir. Reduce heat to medium-low, stirring constantly for 15 to 20 minutes to avoid nasty clumps. Mixture will thicken. When it's thick enough to coat the back of the spoon, pour in sugar and rose water.

Cook another minute, then remove from heat and set aside to cool. Pour into a large serving bowl or individual cups. Cover and chill for at least 6 hours before serving.

*Available in Middle Eastern markets and specialty stores.

Serves 8 to 10.

Calling all HuffPost superfans!
Sign up for membership to become a founding member and help shape HuffPost's next chapter