Beyond Meat's bleeding beetburger could not exist without beets. Were it not for the butternut squash, Purple Carrot's butternut squash tacos would be bare, bereft tortillas. Dazzled as we are by tech-savvy food innovation, as New Orleans' recent Farm to Table Experience reminds us, what we eat doesn't start in the lab, it starts from the ground up.

F2Te, a weekend of presentations (including, ahem, mine), growing and kitchen demos, social events, chefs challenges and hands-on workshops brought people who care about the source of their food, whether they're growers, chefs, vendors, public servants, authors, artisans, educators, nutritionists or just people who care about what they eat. We got to connect with each other and reconnect with the source of our food.
In an increasingly app- and meal kit-driven market, a lot can get lost between farm and table, including authenticity. The thing is, we like pretty. Whether you're a celeb chef on Chopped or just take pics of your dinner on your i-phone, you know we eat with our eyes. But our drive for pretty food is at odds with feeding the world and feeding ourselves. Globally, we waste a third -- up to half --of what we grow because we feel it's lacking in the looks department.
When you throw out a bruised tomato or an ugly eggplant, you're throwing out all the resources it took to produce it, from the grower's labor to the water that irrigated the crop. Then consider that one in seven of us is hungry. There's no way that's sustainable in any sense of the term.
Food waste was a big topic at F2Te. A panel led by Food Tank president Danielle Nierenberg addressed both its challenges and its progress, including apps that reduce food waste by feeding more people.
Technology can bring farm and table closer in innovative ways, but often, the real difference happens in person and hands-on, as with Modena chef Massimo Bottura, who stepped away from Osteria Francescana, his best-in-the-world Michelin-starred restaurant, to run a Rio soup kitchen during the Olympics. The menu? Food fashioned from Olympic village discards and donated products. It's the most brilliant use of leftovers ever, and all part of Bottura's brand of activism. He's founder of Food for Soul, a nonprofit dedicated to reducing food waste, reducing hunger and growing community.
That kind of farm to table may not be venture capital bait and or techno-chic. It's fueled by passion and hard work, as Richard McCarthy, another of F2Te's presenters knows. McCarthy is Executive director of Slow Food USA, , but I first met him right 11 years ago, when he was getting New Orleans' Crescent City Farmers Market back up and running after Hurricane Katrina. For a traumatized community, like New Orleans was back then, like Baton Rouge, still walloped by recent flooding is now, having access to fresh, nourishing food means way more than a meal. In means comfort, connection, hope.
Farm to table is not always pretty and it's not always easy. But as F2Te reminds us, it's always essential. It always will be.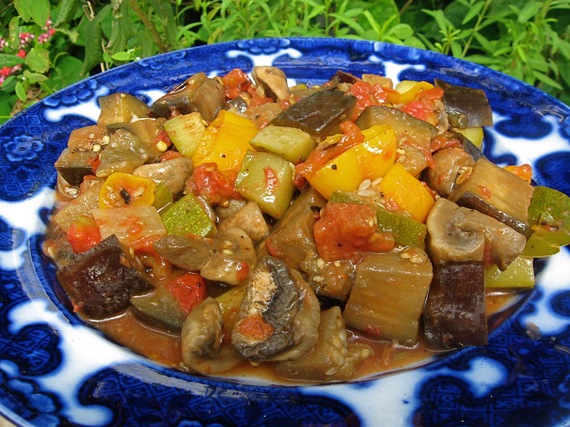 Ratatouille


This classic French dish makes the most of end-of-summer farm-to-table produce, including the less-than-lovely bits. As they simmer, they come together, becoming greater than the sum of their parts, as do we when we gather.

1 tablespoon olive oil
3 cloves garlic, chopped
1 medium onion, chopped
1 medium eggplant, chopped
1 sweet pepper -- red, yellow or orange, chopped
1 large zucchini (or two small), chopped
8 ounces mushrooms, sliced
2 tomatoes, chopped (or 1 15-ounce can chopped tomatoes)
1/2 cup red wine
1 teaspoon cumin
1 teaspoon fennel seeds
1 dash red pepper flakes
sea salt to taste

In a large pot, heat oil over medium-high heat. Add chopped garlic, giving it a stir. Add chopped onion and cook till they soften and release their fragrance, about 5 minutes. In order, add chopped eggplant, pepper, zucchini and mushrooms. Stir to combine.

Stir in chopped tomatoes, wine, cumin, pepper flakes and fennel seeds. Reduce heat to medium and cover, letting the mixture simmer for 20 minutes.

Stir again and season with sea salt to taste.

Serves 4, doubles like a dream, keeps covered and refrigerated for several days.

More at soulfulvegan.com.
Popular in the Community