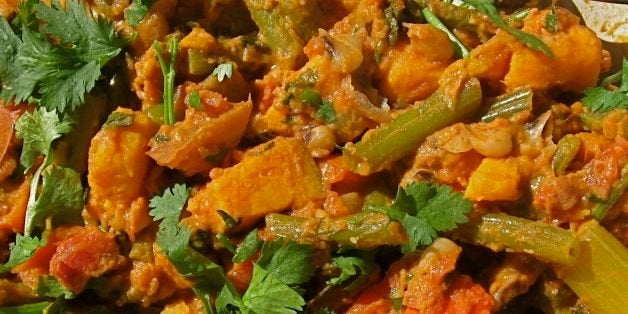 As they say in Swahili, "Habari gani?" This translates into a combination of "How are you?" and "What's shakin'?" It's about the limits of my Swahili, but it's useful now, being the traditional greeting at Kwanzaa.
Any holiday that takes its name from the phrase "first fruits of the harvest" gets this meatless girl's attention, so I'm entirely on board with Kwanzaa. I like Kwanzaa, a seven-day celebration which continues until January 1, for the same reason I like Thanksgiving -- it's a distinctly American holiday that pays tribute to who we are and where we came from. It's a still point in the midst of winter's gift-giving frenzy, a centering celebration of culture, an honoring of the past, a handing down of ethnic principles and customs and foods, the things that shape society.
Kwanzaa's still a new holiday in the grand scheme of things. Created only in the 1960s, it was designed to celebrate Africa's rich influence in America, an influence so vast, it touches all of us, whether your forefathers came on the Mayflower or you're the first in your family to call this country home. Kwanzaa pays tribute to seven core precepts of African culture, starting with umoja, which means community, collectiveness, a real keeper of a concept.
Our society is riven -- rich and poor, the bailed out and the bailing, Shiites and Sunis, Palestinians and Israelis, North Koreans and South Koreans, Republicans and Democrats, and the ever-divisive meatless and meat-eaters. Umoja reminds us we are more alike than we are different. Kwanzaa is a time to lay aside our oppositions and sit down at the table together -- the food is fabulous.
As at Thanksgiving, the Kwanzaa table is bountiful, but the accent isn't turkey, it's -- as the name suggests, matunda ya kwanza, the first fruits of the harvest, from the traditional foods of Africa to the fusion dishes of the African diaspora, in the Caribbean, Latin America and here. Wherever it's celebrated, one of the holiday's symbols is mazao -- crops. Not just food or even processed food, which was already big in the '60s, but foods from the earth.
America owes Africa for introducing or cultivating crops including black-eyed peas, peanuts and that sturdy winter grower, sweet potatoes. All three are easy to grow, nourishing both the soil and us. They're sky-high in antioxidants and fiber, and in the case of black-eyed peas and peanuts, pack a protein wallop, as well. These are foods Americans once sneered at, dismissing them as low-class. As opposed to what? Lunchables? There's a food that screams elegance (and nutritionally significant? Not so much.).
Like Lunchables, sweet potatoes, black-eyed peas and peanuts do not require refrigeration. Unlike Lunchables, they contain no preservatives or additives. They're just naturally made to last. They're available, affordable, nourishing, shelf-stable (dried or canned beans and peanuts) and seasonal (sweet potatoes, in season now through spring).
These foods encourage umoja and are something we can all enjoy -- like Kwanzaa itself. Me, I'm a pretty easy sell. This holiday had me at fruits. Wishing you a rich and happy Kwanzaa, or as they say in Swahili, Kwaheri.

African-American Sweet Potato and Peanut Stew

This stew contains peanuts, sweet potato and black-eyed peas, a triumvirate of nutrient-dense, delicious crops. Time does the work with this stew, the taste is lovely and complex. Pairs beautifully with rice or flatbread.

2 tablespoons canola or coconut oil
1 onion, chopped
1 jalapeno, chopped, or a good pinch of red pepper flakes
2 stalks celery, chopped
1 sweet potato, chopped
1 pound green beans, trimmed and chopped into bite-sized pieces
1 red pepper, chopped
1 stick cinnamon
1 15-ounce can black-eyed peas or black beans, rinsed and drained
1 15-ounce chopped tomatoes
2 tablespoons peanut butter
sea salt and fresh ground pepper
1 handful cilantro, chopped

Heat oil over medium-high heat in a large soup pot. Add chopped onions and pepper.
Stir 1 minute, then add chopped celery, sweet potato, green beans and red pepper.

Stir another few minutes until vegetables start to soften. Then add cinnamon stick, drained black-eyed peas or black beans and chopped tomatoes. When mixture comes to a boil, reduce heat to low and cover, simmering for 30 minutes.

Stir in the peanut butter. Discard cinnamon stick. Season with sea salt and pepper and gently mix in cilantro.

Serves 4 to 6.

This post originally appeared on December 27, 2010.
Related