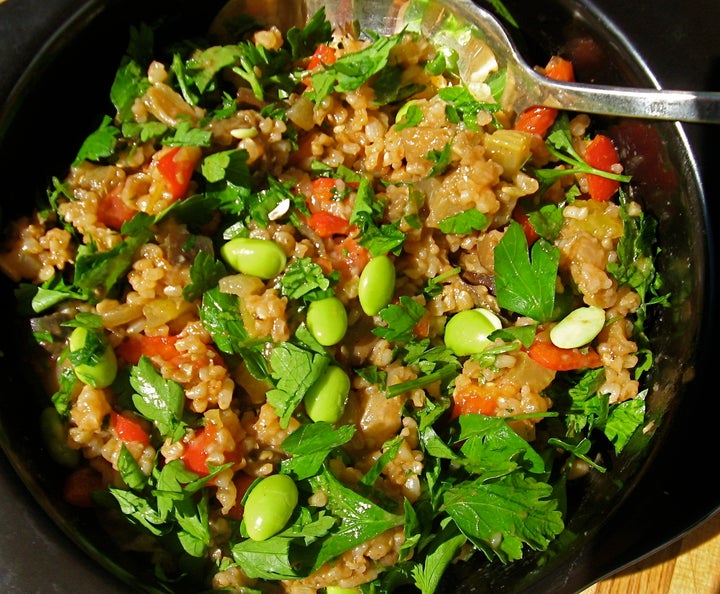 Thanksgiving -- great concept. Too great, really to be limited to one day, especially a day when we get sidetracked by football, parades and for those who eat turkey, slip into tryptophan comas. So for all of November, Meatless Monday will focus on things good and things meatless -- things that make our lives worthwhile and worth saying, thanks.

Let's hear it for Democrats Chellie Pingree and Sherrod Brown, who last week introduced the Local Food, Farms and Jobs Act as part of the 2012 Farm Bill. The Act will increase funding to small farmers pursuing national organic certification and to underserved communities seeking greater access to fresh, local produce. This legislation will not work miracles, but it will provide some badly needed aid to America's small and local farmers and the people they serve -- us.
What's really encouraging is the us part. This political act reflects real grass roots change. We're taking a more active role in the food we eat. Back in 1825, Jean Anthelme Brillat-Savarin, author of the seminal work The Physiology of Taste gave us the phrase, "Tell me what you eat and I shall tell you what you are." He also said, "Food is anything which nourishes us."
Brillat-Savarin had no idea of what would try to pass itself off as food a few centuries later. Processed food is anything but local and in most cases anything but nourishing. It's come at a cost to our health and hasn't helped the environment or our floundering economy.
On the other hand, real, nourishing food comes with real, nourishing fringe benefits. As Tara Garnett of the Food Climate Research Network puts it, "Broadly speaking, eating fewer meat and dairy products and consuming more plant foods in their place is probably the single most helpful behavioral shift one can make" to reduce food-related greenhouse gas emissions."
Garnett is a big advocate of government leading the effort to shape global food policy and curb climate change. She must be cheering on the Local Food, Farms and Jobs Act. I sure am, and I'm also cheering on the farmers it will help and the force that spurred its creation -- us.
The proof is in the growing number of local farmers markets across the country -- over 7,000. That's up 250 percent from 1984. True, there are twice as many McDonalds, but local produce is inching up on processed, and that has everything to do with consumer demand. We're voting with our forks and our wallets, and we're voting for local food that nourishes us and our communities.
For every buck you spend on jalapenos grown by your neighborhood farmer, two-thirds of that dollar stays in your community. Spend the same dollar at a big box store and more than half your money flies away.
Factory farming, climate change and the Farm Bill are issues so big, they're sometimes eye-crossing. But the Local Food, Farms and Jobs Act shows we're ready to take them on. We're ready to be nourished.


Down and Dirty Rice

Traditionally what makes dirty rice dirty is the addition of fowl gizzards. Um, no thanks. In this super-satisfying veggie version, eggplant takes the place of organ meat and for a pop of protein and bright green color, fold in optional edamame.

1-1/2 cup brown rice
4 cups vegetable broth
1 bay leaf
1 tablespoon olive oil
6 cloves garlic, chopped
1 large onion, chopped
1 medium eggplant, chopped
2 ribs celery, chopped
1 green or red pepper, chopped
½ jalapeno pepper (about 1 tablespoon), chopped (optional, but nicely spicely)
1 tomato, chopped (or 1 15-ounce can diced tomatoes)
2 teaspoons paprika
1 handful fresh thyme leaves (or 1 teaspoon dried)
sea salt and fresh ground pepper to taste
juice of 1 lemon
1 bunch fresh parsley, chopped
optional -- 1 cup edamame

Pour 3 cups of broth into a large pot. Place over high heat and bring liquid to boil. Add rice and bay leaf and give a quick stir. Cover and reduce heat to low and simmer for 30 to 40 minutes or until rice is tender and all liquid is absorbed. Remove bay leaf and set aside.

May be done a day or two ahead and stored well-covered in refrigerator. Bring to room temperature before proceeding.

Heat oil in a large skillet over medium-high heat. Add chopped garlic, onion and eggplant. Saute, stirring for 5 minutes, or until vegetables soften. Add chopped celery, green or red pepper, optional jalapeno, tomato, paprika and thyme. Continue cooking another 5 to 8 minutes, stirring occasionally. Stir in rice and remaining cup of broth.

Reduce heat to medium and cook another 10 minutes until mixture is moist but all liquid is absorbed.

Stir in salt, pepper, lemon juice and chopped parsley and optional edamame.

Serves 6 to 8. Keeps several days in the fridge, flavor improves over time.
Related
Popular in the Community