From the Antarctic to the Caribbean, from the Roman empire to the Trump era, there has always been fruitcake. And let us say, hallelujah.
Fruitcake may be a holiday joke to you, but it's really endurance food. Think of fruitcake as the forerunner of power bars and trail mix. At its most primal and delicious, it's dried fruit and nuts, natural, high-energy and nutrient-dense, without any of the strange artificial anythings commercial versions can contain. Fruitcake has served as combat and survival rations for Roman legionnaires, medieval crusaders and Antarctic explorers.
Fruitcake has also inspired literary figures including flamboyant Truman Capote — check out his personal and poignant "A Christmas Memory" and Emily DIckinson. Otherwise an introvert of epic proportions, the beloved poet made sure to bake fruitcake for everyone on her Christmas list. Her recipe for black cake, so called because it's thick with raisins, prunes and dates —serves 60.
Love is another thing fruitcake inspires. Yes, really. The groom's cake, dating back to Victorian England — was not a frilly wedding cake, but something extra, a robust fruitcake for the guy getting married to sustain him. Slices would be given to all the guests after the wedding ceremony, to put beneath their pillows and thus render sweet dreams. This sounds more like a recipe for dirty pillowcases and flattened fruitcake, but I love the idea of it.
In the Caribbean, where palm trees far outnumber evergreens, black cake and rum cake are Christmas traditions and points of pride and celebration unto themselves. Every family in Jamaica, Trinidad and Grenada has their own black cake recipe and everyone swears theirs is the best, macerating dried fruit in rum, red wine and/or bourbon for weeks, even months, before it goes into the cake batter.
Fruitcake, black cake, figgy pudding, groom's cake, sugarplums — they're all related, just as we are all related. They may change slightly over time and region, but at core, they all contain dried fruit and nuts. We all want sweetness in our lives, especially in these difficult days. The animal products that traditional fruitcake recipes contain — eggs, butter and ugh, suet (that's beef fat) — don't need to be there. Fruit, yes, nuts, yes, animals, no. Our animal friends deserve sweetness, too. May it be a sweet holiday for all of us.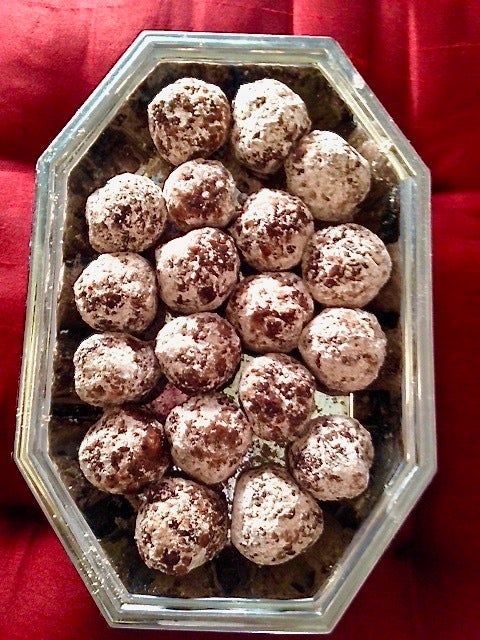 Multifaith Sweetness and Light Sugarplums
Recipe from Feeding the Hungry Ghost: Life, Faith and What to Eat for Dinner, copyright Ellen Kanner, 2013. Recipe used with permission by New World Press.
All the tradition and ingredients of old English Christmas sugarplums, all the goodness of energy balls, and no months of macerating fruit. These sugarplums are easy, ethical and perfect for the holidays.
12 dried Medjool dates, pitted
1/2 teaspoon cardamon seeds
1/4 cup powdered sugar, ground cinnamon or unsweetened cocoa powder for rolling the sugarplums
Put the dates and apricots in a food processor and pulse briefly, until they form bits that just start to come together in a mosaic. Add the cardamon seeds, anise seeds and walnuts.
Pulse again until just combined; the mixture will not quite adhere to itself. For lack of a better world, we can call it dough.
Wrap and chill the dough for at least 2 hours and up to overnight.
Pour the powdered sugar, cinnamon or cocoa into a shallow bowl. Grab a generous pinch of the dough and roll into a ball about the size of a walnut. Roll the sugarplum until it's dusted on all sides. Continue with the remaining dough until you have 2 dozen sugarplums. The dough tends to absorb the spice, so roll the balls in the cinnamon a second time, if desired.
Makes 2 dozen. They keep beautifully for a week or more chilled in an airtight container.