When you're an athlete competing at the highest level, what should you eat? Protein bars? Performance-enhancing drugs? Dr. Michelangelo Giampietro prescribes something deliciously different -- pasta. "Pasta is a great source of complex carbohydrates and is highly recommended for athletes."
A specialist in sports medicine and health science, Giampietro is no stranger to the Olympics. He's worked with the Sports Science Institute of the Italian National Olympic Committee (CONI). He's no stranger to pasta, either. He's Italian, after all. Giampietro presented at last year's Scientific Consensus Conference on the Healthy Pasta Meal, organized by Oldways . He's seen how pasta and performance go together. "Large amounts of pasta are always in the athletes' cafeteria."
So are pulses--- dried beans -- another whole food that keeps you at peak performance. They're complex carbs, high in protein and fiber, "with zero cholesterol to clog your arteries or slow you down," says world class runner and world class vegan, Ellen Jaffe Jones, author of the new book, Vegan Fitness for Mortals. . "They keep your engines burning slowly, evenly and without taxing your glycemic load. You feel light before a race or intense training -- that helps you feel fast, fit and energized."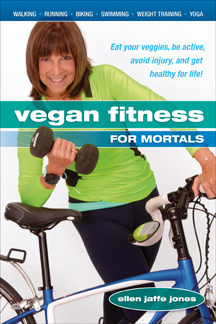 The closest I've gotten to running a marathon is to cook for someone who's run 14 of them, Gloria Lau. Lau, 65, was my guest at a plant-based EatWith with a specially-designed menu to superfuel her and other runners prior to the Miami Marathon. "Lentils, chickpeas -- I practically have these all the time in my meal plans," says Lau. "They're low GI and easy to digest." She ran Miami and came in fifth in her age group. Any questions?
My Olympic participation is limited to working with culinary Olympian Chef Ron Pickarski, United Nations Food and Agriculture Organization (FAO)'s pulse chef. Like me, he's committed to raising awareness of and appreciation for pulses, especially now, during the International Year of Pulses.
You don't have to be Olympic material to love and eat pasta and pulses. A new Mass General study links plant-based protein consumption with reduced mortality risk.
Combine whole-grain pasta and high-fiber beans and there's no stopping you. Says Jones, "They ramp fiber up to 40 to 60 grams" per serving. Most Americans get about half that. "How many grams of fiber in cholesterol-laden meat and dairy? Zero!"
Pasta and pulses predate the first Olympic runner -- a cook, by the way. They're still a winning team any time, especially this week, when the Olympics and National Lentil Fest coincide during the International Year of Pulses. It's like some great celestial event.
Pasta and pulses combine to boost athletic performance and speed you towards post-workout recovery, too, according to Giampietro. "It's not by chance that most races end with the pasta party," he says. "It's a crowning moment, happy and joyful. Pasta has probably contributed positively to the success and medals of many athletes -- for sure the Italian ones."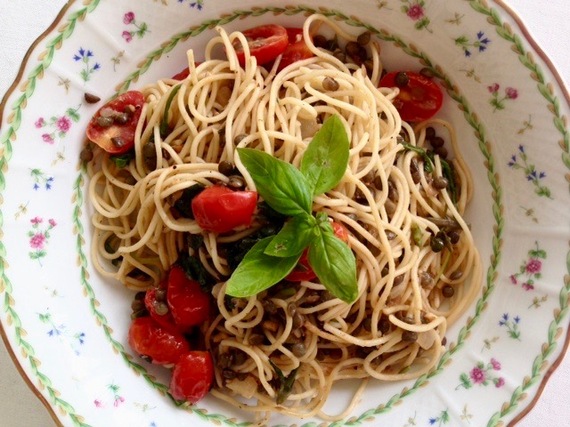 Performance-Enhancing Spaghetti with Tomatoes and Lentils

Combining whole grain pasta and quick-cooking lentils, this pasta dish gets top marks for speed, flavor, power nutrient delivery and digestibility.

8 ounces whole grain spaghetti
2 tablespoons olive oil
1 onion, finely chopped
2 cloves garlic, minced
pinch red pepper flakes
1 pint grape tomatoes, halved
1 cup lentils, cooked (preferably beluga black lentils or French green lentils, which keep their shape after cooking)
1 handful basil leaves (about 1 cup), chopped
2 cups arugula leaves, coarsely chopped
sea salt and freshly ground pepper to taste

In a large skillet, heat olive oil over medium-high heat. When the oil starts to shimmer, add the chopped onion, garlic and red pepper flakes. Cook, stirring, occasionally, for about 3 minutes, just until the onion starts to soften.

Meanwhile, bring a large pot of water to boil over high heat. When it reaches a rolling boil, add the whole grain spaghetti. Cook spaghetti according to package directions.

Add the halved grape tomatoes to the sauteed onions. Stir to coat the tomatoes in the oil and continue cooking, so tomatoes soften. This should take about 8 minutes, about the length of time it will take for the pasta to become al dente. Stir the lentils in with the tomatoes.

Drain the pasta, reserving 1 cup of the pasta cooking water. Return the pasta to the pot. Add the tomatoes and lentils and pasta water. It has a beautiful starchiness, which, combined with the pasta, tomatoes and lentils, thickens into a spaghetti-hugging sauce. Stir well together.

Add the chopped basil and arugula by the handful, combining just until the greens wilt. Season generously with sea salt and freshly ground pepper. Enjoy at once.

Serves 4.
Calling all HuffPost superfans!
Sign up for membership to become a founding member and help shape HuffPost's next chapter