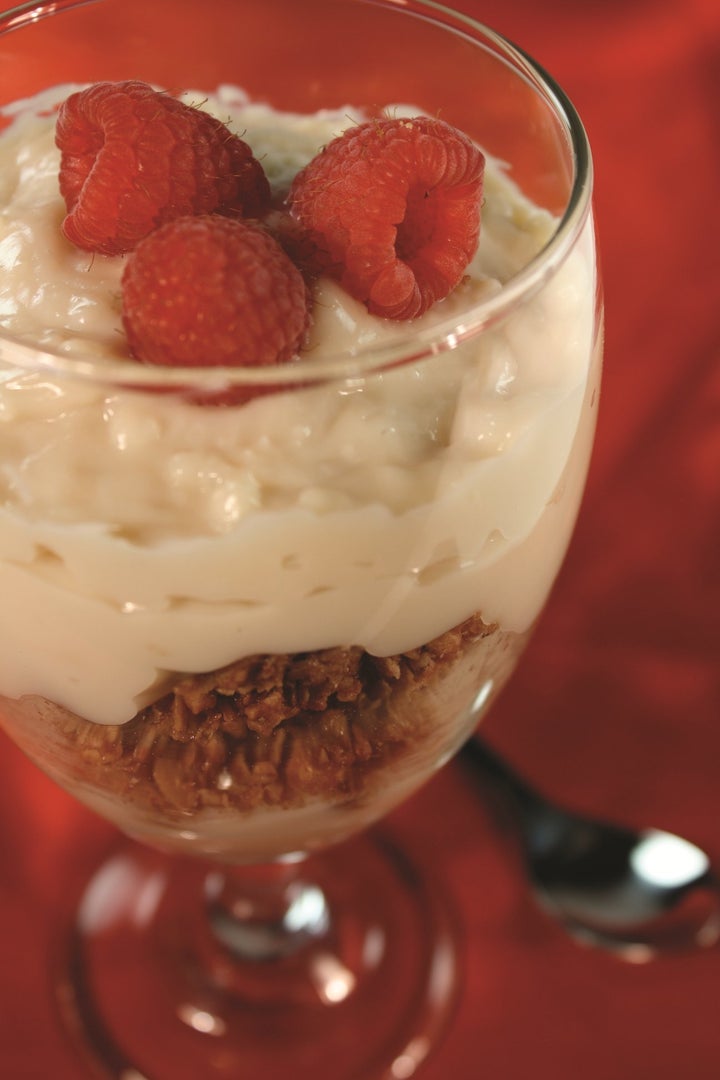 Welcome to Veg Week, Earth Day's afterparty, seven magnificent meatless days to show kindness to animals, the environment and yourself. If this sounds crunchy granola -- you know, being green, vegan, loving the planet and crap that like, I am guilty. So is Arran Stephens.
Stephens not only lives crunchy granola, he makes it. He's founder and CEO of Nature's Path , the largest certified organic producer of well, crunchy granola, granola bars, oatmeal and other grainy greats.
Stephens, who spent Earth Day working in his Vancouver garden, grew up on his family's hundred-acre berry farm. "My dad was an amazing farmer. He loved the land, and so did my mom. They farmed by what would today be called organic methods." Chemical inputs were out, earthworms were in. So was compost and mulch.
From that idyllic beginning, Stephens went off the rails in his teens, following the scripted hippie path of the 1970s -- drugs, meditation, India, cleaned up life, brand new wife, renewal. He threw in one extra -- Stephens became a vegan at 20, well ahead of the meatless curve.
"It had a tremendous impact on my energy," he recalls. "I could do the work of two people." Just as well -- he was 23 when he opened a vegetarian restaurant on $7, "unshakable faith" and no restaurant experience whatsoever. It became a hangout for other crunchy granola souls looking for good (meatless) food and good conversation.
In a way, that led to Stephens founding Nature's Path in 1984. "It's a company, yes, but "I want this business to reflect my beliefs and my values, to cause no harm to people, animals, planet."
Easier done back in those idealistic days. "There were a few players in the industry. Many were sincere and honest." As consumer demand grew, the small, sincere and honest got crowded out by bigger companies willing to sacrifice some honesty for the sake of the bottom line. That's why Stephens and his wife Ratana pushed for organic certification. "It was the only way we could protect ourselves against fraudsters," says Stephens. "If you're going to call yourselves organic, you better have proof. Our customers deserve it."
So does the environment, "This planet Earth of ours is on life support. She's our mother. We need to take care and protect our mother." If that sounds crunchy granola, that's what Nature's Path makes and that's what Stephens believes. His slim book The Compassionate Diet is where his many passions intersect. He combines philosophy, science and history to make a compelling case for an organic, meatless diet.
"We can't force anyone to behave in a certain way or impose our beliefs on them," he says, "but we're doing a lot of things to create awareness for what we stand for." Nature's Path lists its products on its website but also educates about organic food and provides sources for environmental and social activism. Last year, they contributed three and a half million dollars to local food banks, gardens and global environmental nonprofits.
How does Nature's Path balance being a big business and big crunchy ideals? Stephens credits his chief of operations and wife of 43 years. "Ratana's the practical side that balances me out. I'm out tilting at windmills, spending money, she's trying to clean up the mess behind me."
Now 67, Stephens is transitioning from an intensely hands-on CEO to turning Nature's Path over to his son and daughter. "They're just as passionate and more intelligent in organizing and growing the business. We'd like to see this endure as a legacy, a tradition of stewardship for the land."
Stephens still has unshakable faith. He's still into meditation, a vegan diet and crunchy granola. "Other things change, but values -- you might call them eternal values -- they don't change."

Vanilla Pudding Love Crunch Parfait

This recipe was created especially for Nature's Path by Lorna Sass, the award-winning cookbook author of Whole Grains Every Day, Every Way

2/3 cup sugar
1/3 cup cornstarch
Scant 1/4 teaspoon salt
4 cups whole milk
4 teaspoons pure vanilla extract
1 1/2 to 2 cups Nature's Path Love Crunch

In a heavy saucepan, combine sugar, cornstarch, and salt. Gradually whisk in 1 cup milk.

Set over medium heat and whisk in remaining milk. Stir frequently until mixture begins to thicken, 6 to 8 minutes. Reduce heat to low and cook for one more minute while stirring.

Pour pudding into a large, spouted measuring cup. Stir in vanilla extract and let the mixture cool for a minute or two.

Spoon a tablespoon of pudding into the bottom of 6 wine glasses or dessert bowls. Add a heaping tablespoon of Love Crunch. Pour about 1/2 cup pudding over Love Crunch. Top pudding with 2 to 3 tablespoons of Love Crunch.

Cover each glass with plastic wrap. Chill for at least an hour before serving. Serve chilled.

Serves 6.

Popular in the Community