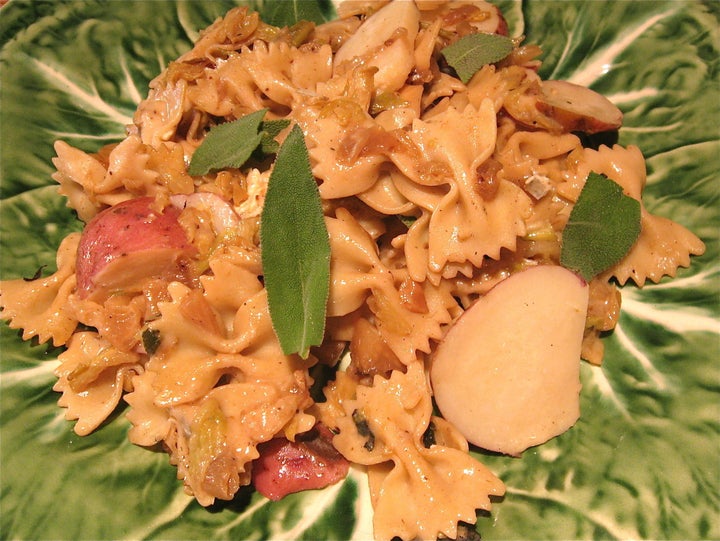 Hello, it's the Ides of March, the day back in 44 BC when Julius Caesar's friends gathered on the steps of the Senate and stabbed him in the back. Fast-forward a few millenia, and when it comes to kindness, politicians still aren't the first folks we turn to.
Despite Bush Senior's push for a kinder, gentler nation, that sort of stuff can't be legislated. It tends to come not from above, but from below, from grass roots, from we, the people, from the heart. This Saturday, it can come from you. Saturday, March 20 marks the 25th annual Great American Meatout, one day devoted to the push for a diet of plant-based bounty and kindness. All you have to do to be part of it is to enjoy a day without meat.
Launched by FARM (Farm Animal Rights Movement) Meatout began as a small but earnest effort. Observed all around the globe, it had trouble gaining traction here, where America's meat-mad masses viewed vegetarians and vegans creatures from another planet. Well, we walk the earth, and you might notice, do so with a lighter step both in terms of weight and carbon.
Over time, the Great American Meatout has, like the best grass roots initiatives, taken hold. It's now the world's largest food/lifestyle education campaign thanks to high-profile celebs going vegan like newbie Ellen deGeneres and plant-based pinup Alicia Silverstone.
The reasons for kissing off carne are myriad -- personal health, environmental sustainability, but FARM started with kindness and Ms. Silverstone's bestseller The Kind Diet and her vegan website The Kind Life take us right back there.
I used to think the kindness thing referred to the environmental and karmic good we could do by not eating or exploiting animals. Over the years, I've evolved. I still love animals, which why I don't eat them. But I've concluded a vegan diet is not only kind to cows, it's one of the kindest things we can do for ourselves, as well.
The Kind Diet tells how a vegan diet can make you gorgeous and strong and saner. I'm in favor of all three. Ms. Silverstone offers insights for everyone and food plans to suit hardcore, veteran vegans as well as those just entering this brave new world. Though very fab and of the moment, The Kind Diet echoes the timeless Vedic poem the Mahabharata, which says, "Those who desire to possess good memory, beauty, long life with perfect health, and physical, moral and spiritual strength, should abstain from animal food."
Stoked by fresh, local produce, wholesome whole grains, nutrient-filled legumes, nuts and seeds, we immediately lower our risk of America's top three killers -- cancer, heart disease and diabetes. And the food is fabulous because plant-based dishes have evolved apace with the Great American Meatout. Frankly, a quarter of a century ago, what America knew of vegetarian food was sprouts or bland, leaden grain and bean casseroles. Eighties efforts like Mollie Katzen's Enchanted Broccoli Forest helped lead us out of the darkness (and heaviness) and gave produce the luscious treatment it deserves. Now vegan bakeries pop up on every city corner and stylish plant-based cookbooks like Ms. Silverstone's, meatless websites like Meatless Monday and blogs like ahem, this one prove meatless isn't wingnut, it's both green and hot.

A meatless diet does hot things for the spirit, too. Get rid of eating animal protein and you get rid of inhumane practices affecting livestock and labor. If you believe, as French gastronome Brillat-Savarin did, that we are what we eat, forking up a plate of cruelty becomes who you are. Going meatless is like a karmic Mastercleanse. There's enough anger, violence, impatience, road rage and such in the world as it is without adding to it.
Perhaps if our Roman forebears had their own Meatout, they'd have worked things out with Caesar, not whacked him -- just a theory. Happily, America has its own Meatout, stronger and more sophisticated than ever. It's never been easier to be meatless and kindness never goes out of style.
Great American Meatout Pasta (Suitable for St. Patrick's Day)

The Great American Meatout is not the only green thing worth celebrating this week. Wednesday is St. Patrick's Day. And since we're into a kindness kick, here's a chance to right a wrong -- corned beef and cabbage is not a true Irish dish, nor is it particularly kind. Swap a tradition based on myth for of true kindness with this peasanty, pleasing dish of potatoes, pasta and cabbage. It's comfort in a bowl, the ingredients are Irish enough, but the recipe, to get back to Caesar, is Italian. Called pizzocheri, it's traditionally made with broad buckwheat noodles, but you can use any kind of sturdy whole grain pasta. I made it here with whole wheat farfalle and offer both vegan and traditional versions. Either way, it's cheap and easy to make, rewarding to stomach and soul to eat, and being meatless, is kind to other living things, as well.

2 tablespoons olive oil
1 large onion
6 cloves garlic
1 handful fresh sage leaves
1 small head Savoy cabbage, trimmed and thinly sliced
1 medium potato, thinly sliced
8 ounces broad buckwheat or whole grain noodles
sea salt and fresh ground pepper to taste
1 cup fontina or other mild semisoft cheese, grated (traditional option)
2 tablespoons nutritional yeast and additional olive oil for drizzling (vegan option)

In a large skillet, heat oil over medium-high heat. Add onion, reduce heat to low, cover and let onion caramelize and cook for 20 minutes. Raise heat back to medium, add garlic, sage and shredded cabbage. Cook, stirring for about 10 minutes, until cabbage turns pale and tender and garlic is soft and fragrant.

Preheat oven to 375 degrees.

Bring a large pot of water to a boil. Add sliced potato and pasta and cook 8 to 10 minutes or until both are just tender. Drain and rinse.

Toss cabbage with the potatoes and pasta. Add a generous amount of sea salt and fresh ground pepper.

If you're vegan, stir in the nutritional yeast and perhaps another drizzle of olive oil.
Nonvegans can add shredded cheese at this point.

Pizzocheri can be enjoyed just fine out of the pot, but traditionally it's poured into a lightly oiled casserole and baked for about 10 minutes, or until top is golden-brown and cheese has melted.

Serves 4.
Popular in the Community