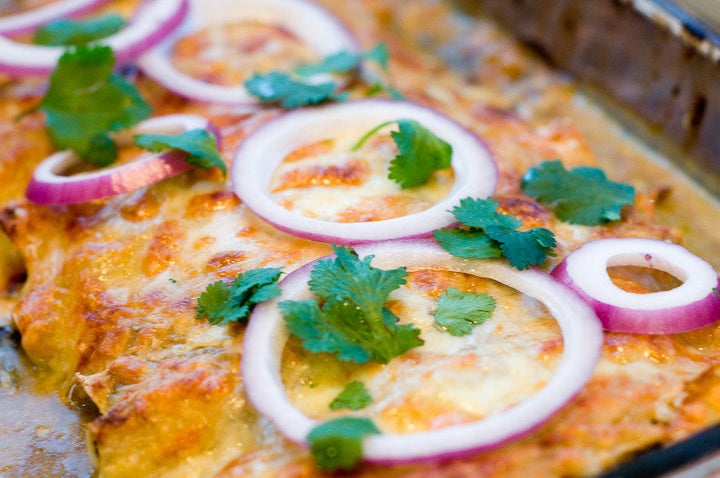 From protecting the environment to protecting animal rights, there are all kinds of good reasons to go meatless. What matters most to Michael Natkin is to "make sure dinner's delicious." His meatless recipes celebrate bold flavors and global cuisine from Swiss chard and tomatillo enchilladas to rice vermicelli with ginger-grapefruit sauce, and he's always ready to get back in the kitchen for more. "I'm kind of a nut -- I'm never not cooking." Seattle-based Natkin is Herbivoracious.
If Natkin cooks as though someone's life depended on it, at one time, it did. The blogger and author of the new cookbook, Herbivoracious began in his teens, when his mother was in the last stages of breast cancer. She was too weak to cook, so Natkin prepared the macrobiotic food the family hoped would heal her. It didn't, but Natkin never lost his passion for cooking, for discovering new recipes and for making meatless dishes that stood out in bright, delicious contrast to the brown, heavy, earnest lentil loaves that (pock)marked the post-hippie meatless days. It was, in part, a matter of self-preservation. "You have to be a real diehard to eat those lentil loaves every night."
He's long dreamed of cheffing professionally, but Natkin has other talents. He launched his blog Herbivoracious in 2007 as a way to keep the culinary dream alive while designing animation software for George Lucas and Adobe. "When you're developing software, you're trying to understand the details of how things work. You can't brush anything under the rug. The computer can't tell you why it's not working, it's up to you to figure it out." It's the same when testing recipes. At Adobe, he worked with beta testers -- "hundreds of really passionate users. Herbivoracious readers are the same thing."
Natkin, who's left software engineering to focus on cooking, demands a lot from his recipes. "I throw out a significant number of my efforts. It has to be, hell, yeah, that's really damn good." But hell, yeah, damn good doesn't have to be complicated. An early hell, yeah, came in a French restaurant near his Louisville high school by way of "a simple but perfectly prepared green salad with a walnut oil dressing that blew my mind. To find out that oil could have a powerful, essential flavor was amazing. I went back for it as often as I could afford. I must have been cute, my ratty teenage self sitting alone at the only French place in town, but I was learning."
Having done stints in professional kitchens including Zen retreat Green Gulch Farm, vegetarian Cafe Flora and upscale Canlis, Natkin is "drawn to cheffy recipes." His blog readers pull him back from the brink. "I'll get, 'I think you've gone a little far with the seven garnishes.' I try to adapt things and focus on delicious." The same applies to his cookbook. Though it features Natkin's dazzling food porn photography, "the last thing I wanted was to write a coffee table cookbook. I wanted a cookbook people would really cook from."
He knows people are busy, "but there's incredible value in the family dinner -- sitting down with your family with food you prepared yourself." Maybe you can't do it every night. Do it when you can, then, but do it right. Natkin, who's inching closer to his dream of opening a restaurant, can up your game. "What I try to do is bring in skills, ingredients -- here's this spice you haven't had before, here's three dishes you can use it in. This dish requires you to cut your onions really thin, you can do it with a knife or get a mandolin. These skills give you confidence," confidence in the kitchen, confidence meatless meals have come a long way from lentil loaves.
"My audience isn't primarily vegetarian, they're people who like good food. A lot of people don't even realize it's vegetarian for a long time," says Natkin. "It's about great food first." Hell, yeah.

Swiss Chard and Tomatillo Enchiladas

from Michael Natkin's Herbivoracious

These enchiladas are cheesy enough to be satisfying, but they're not the total gut bombs that plain cheese enchiladas can be. If you haven't cooked with tomatillos before, this recipe is a great introduction. They make incredible salsas, whether you use them raw, sear them before pureeing, or as in this case, cook the puree. They have an intense, rounded flavor that is tart without being too acidic.

Most folks don't realize how good Swiss chard stems are. There seems to be an inclination to remove them, as you would from, say, collard greens, whose stems really are tough. But with chard, if you remove just the woodiest bit, chop the rest of the stem up fairly small, and give it enough time to cook, you'll discover just how delicious it is. 

3 garlic cloves, peeled
1 to 3 jalapeño peppers (to taste), stemmed, halved, and seeded
1 1/2 pounds tomatillos, husked, rinsed, and halved 
Kosher salt
3 tablespoons vegetable oil
1 cup bean cooking liquid (page 000) or vegetable broth (gluten-free if needed)
3 tablespoons sour cream
1 teaspoon sugar (optional)
1 medium white onion, diced
2 large bunches Swiss chard
1/4 cup water
10 ounces Monterey Jack cheese, grated 
12 corn tortillas
1/4 cup grated queso anejo or Parmigiano-Reggiano
Half a large red onion, cut into rings
1 handful fresh cilantro leaves

Combine the garlic, jalapeño peppers, tomatillos, and 1 teaspoon salt in a blender and puree until smooth. 

Heat 1 1/2 tablespoons of the oil in a medium saucepan over medium-high heat. Add the puree and cook it down, stirring frequently, until it's about as thick as an Italian tomato sauce, about 10 minutes. Don't let it scorch. Add the bean liquid and reduce the heat to a simmer. After 10 minutes, turn off the heat and stir in the sour cream. Taste; add more salt and the sugar if needed. If the mixture isn't thick enough, simmer a little longer. If it is too thick, add a bit more broth. Turn off the heat and allow to cool.

To prepare the chard, strip the leaves from the stems and cut the leaves into 1/2-inch-wide ribbons. Rinse in a large bowl of water at least twice. Remove the toughest ends of the stems, rinse the remaining part, and chop into 1/2-inch lengths.

Heat the remaining 1-1/2 tablespoons oil in a large skillet with a lid over high heat. Add the white onion and cook for 30 seconds. Add the chard stems and cook for 1 minute. Add the chard leaves and toss. If they don't fit all at once, add as much as you can, wait a minute until those leaves wilt, then add the rest. Add water and 1 teaspoon salt; cover and reduce the heat to low. Cook, stirring occasionally, until chard is thoroughly wilted and tender, about 15 minutes. Remove the lid and cook until most of the water has evaporated. 
Preheat the oven to 375°F. In a bowl, combine the chard mixture with three-quarters of the Monterey Jack cheese. Taste and adjust seasoning.

Wrap the tortillas in a clean, moist dishtowel and microwave for 2 minutes to soften. 

To assemble, ladle 1 cup tomatillo sauce into a 9 x 13-inch baking dish. Dip a tortilla in the remaining sauce and then lay it in the dish. Fill it with about 1/4 cup of chard filling, then roll it up and push it to one side, seam side down. Repeat with the remaining tortillas. Twelve will just fit snugly in the pan.

Pour another cup of sauce over the top, then top with the remaining Monterey Jack and the queso anejo.

Bake until the sauce is bubbling and the cheese is melted, about 25 minutes. Turn on the broiler and place the dish under the broiler, watching carefully, just until the cheese is browning a bit, about 2 to 3 minutes. Remove from the oven, top with the red onion and cilantro sprigs, and serve.

Serves 4.

REAL LIFE. REAL NEWS. REAL VOICES.
Help us tell more of the stories that matter from voices that too often remain unheard.