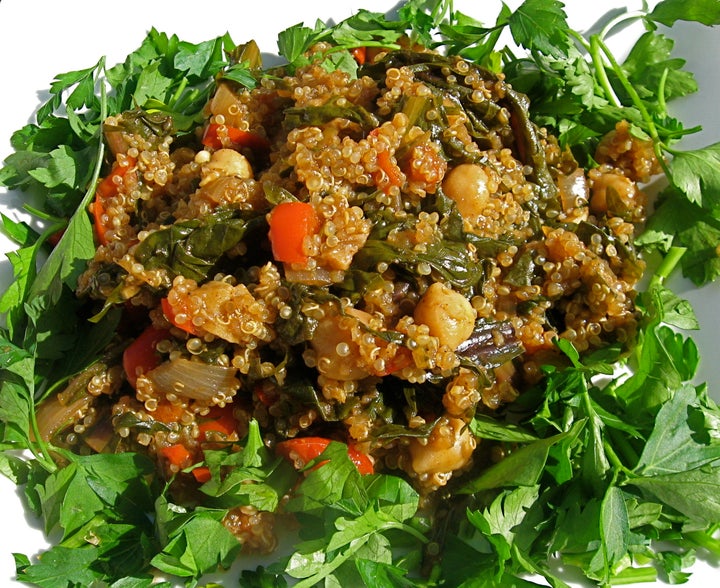 Just in time for Christmas, a story to share while snuggling around the fire (or space heater). Once upon a time, a beloved, wealthy young man walked away from his family, away from his riches, away from glittering worldly ways in search of truth and integrity.
This is not a new story. In fact, it's one of mankind's great mythical archetypes. Joseph Campbell summed up the gist in his 1949 seminal work, The Hero With a Thousand Faces :
A hero ventures forth from the world of common day into a region of supernatural wonder: fabulous forces are there encountered and a decisive victory is won: the hero comes back from this mysterious adventure with the power to bestow boons on his fellow man.

Cool. Buddha did it. So, many years later, did John Robbins.
I'm not suggesting Robbins, who eschewed his family's ice cream fortune (his father is the Robbins of Baskin and Robbins) to found EarthSave, become an advocate for meatlessness and write bestselling books including the classic The Food Revolution is any kind of Buddha. Well, maybe I am. We all are. We've all got the capacity for heroism.
"Each person can ask what's one positive thing I can do this day, this minute that will make me feel more hopeful, more positive," says Robbins.
Even ever-upbeat Robbins admits being positive is a challenge these days. "The impact our society has on the planet is egregious. There are so many human beings polluting at a level that's utterly unprecedented, utterly unsustainable," he says. "When something is unsustainable, it cannot continue. We're heading for a cliff, full speed ahead."
No one said a hero's lot would be easy. Mythical heroes from Ulysses to Harry Potter suffer trials and setbacks along the road. I mean, come on, Hero with a Thousand Faces is your basic good versus evil story. But cheer up, I said this would be a Christmas story. You, too, can be a hero, and that's no myth.
"There's a growing awareness, more consciousness," says Robbins. "Michael Pollan, Eric Schlosser, Jonathan Safran Foer. There's documentaries of GMOs and the devastation from factory farming, there are increasing numbers of people aware their food doesn't come from the market or the restaurant, it's sourced from the earth."
The pivotal part of the hero's experience, the payoff, is enlightenment. It took Buddha six years to get there. We can get there faster, especially with a diet that's plant-rich, not processed. "Junk food screws with blood sugar, health, neurological well-being. There's less consciousness, less inner peace, less joy, less capacity to respond intelligently and efficiently," says Robbins.
If your own hero's journey takes you no further than the dining room table, it can still be profound. Making healthier food choices "is a leverage point. The good from it is incalculable. It affects so many dimensions of our lives," says Robbins. "Healthy eating, conscious eating, eating with respect for yourself and the environment and the other people is a very powerful act. It's a singular act in its level of impact. It's not about avoiding or reducing your risk of heart disease or cancer or looking and feeling better -- that's very nice, but it's the tip of the ice berg in terms of the wonderful things that take place."

We're all capable of doing and eating better. We can be heroes, to quote David Bowie. Even if we don't come from money or ice cream. And we can all live happily, meatlessly ever after.

Hero's Welcome Stew

An ideal winter warm-up, this red and green stew looks Christmassy and is healthier by far than many holiday foods. Good thing, because if you're going to fight evil and stuff, you're going to have to be well-fortified. Processed food won't cut it, meat just weighs you down and brings upon you bad karma (like you need that).

Quinoa and chickpeas, both complex carbs, give you long-burning energy, fiber and protein. Winter greens like kale, Swiss chard and dandelion greens are mad with antioxidants and vitamins A and C. The only unusual ingredient in this recipe is baharat, a Turkish spice blend that can have up to a dozen ingredients, but always includes cumin and cinnamon. You can substitute garam masala, a similar Indian spice blend. Both are available in many Middle Eastern markets and some natural food stores.

2 tablespoons olive oil
1 pinch red pepper flakes
1 onion, chopped fine
1 clove garlic, chopped fine
1 red pepper, chopped fine
2 teaspoons paprika
1-1/2 teaspoons baharat or garam masala
1 bunch kale, chard, dandelion greens or other winter greens, shredded or chopped into bite-sized pieces
1 cup quinoa, rinsed and drained
2 cups water or vegetable broth
1 15-ounce can chickpeas, rinsed and drained
1 handful fresh parsley, chopped
1/2 cup feta, crumbled (optional)
sea salt and fresh ground pepper to taste

Heat oil over medium-high heat in a large pot. Add red pepper flakes, chopped onion, garlic and red pepper and stir, cooking until vegetables soften, about 5 minutes. Stir in paprika and baharat or garam masala.

Add greens. Stir gently until greens are coated with spiced oil.

Rinse quinoa in a sieve, to wash away any saponins, a natural bitter coating. Add quinoa and broth or water. Bring mixture to boil, then cover and reduce heat to low. Simmer for 20 minutes, or until quinoa has absorbed the liquid and expanded. Gently stir to combine.

Add drained chickpeas. Season with sea salt and pepper to taste.

Gently add parsley and garnish with feta, if using.

Covered and refrigerated, it keeps up to a week. Flavors deepen over time.

Serves 6 to 8.


A version of this post originally appeared on December 20, 2010.
Calling all HuffPost superfans!
Sign up for membership to become a founding member and help shape HuffPost's next chapter