Today is International Peace Day. Not that it looks that way. Twenty million refugees from the Middle East and and Africa displaced by war and want are spread out across Europe. Here, we're at war with Iraq and Afghanistan, and you could argue, Pakistan, Yemen and Somalia . Gun violence occurs daily, and daily we confront how we've fallen short of the strides we thought we'd made in civil rights and women's rights.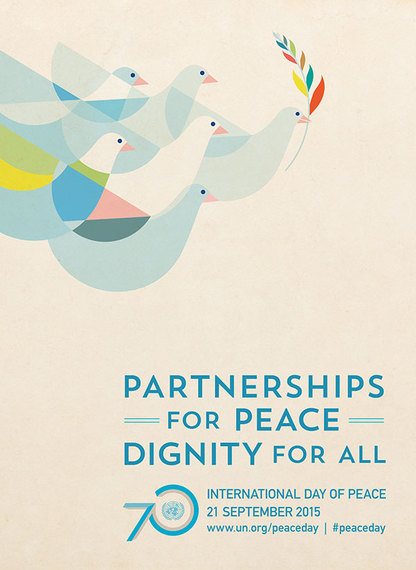 International Peace Day was a good idea when the United Nations called for it in 1981. It still is. We just haven't been doing a great -- or even decent -- job of observing it. Today, we can change that. We all seek the same simple things-- political, social and religious freedom, a safe place to live, access to nourishing food and clean water. They're the ingredients for a viable life, and they should be available to everyone.
In his poem, "Death of the Hired Man," Robert Frost wrote, "Home is the place where when you have to go there, they have to take you in." The earth is home to all of 7.5 billion of us. We all deserve to live here, we all deserve a recipe for a viable life.
We don't all have the power to enact government policy, but we do have power. We can spread awareness, devote resources to humanitarian aid, and we all have the power to give everyone enough to eat.
Around the world, almost 900 million people go hungry every day. The precious crops and water that would sustain them are used to raise livestock . Moving to a meatless diet assures there will food for all of us.
Let's commit ourselves. As UN Secretary-General Ban Ki- Moon said on that first International Peace Day, "Over the next 100 days, let us stand with the millions of people across the world who are suffering the devastating impact of violence and conflict. Let us share ideas and plans for helping and supporting them in their time of dire need.
I call on us all to put aside our differences, if not for a hundred days, then long enough to get through dinner. In "Feeding the Hungry Ghost," "I would much rather send generals into the kitchen than sendt hem into battle with guns, bombs, and brave, selfless troops. My new slogan -- make ful, not war."
Creating lasting international peace will take all of us. One way to start is to bring people together over a meal. Honor International Peace Day meatlessly.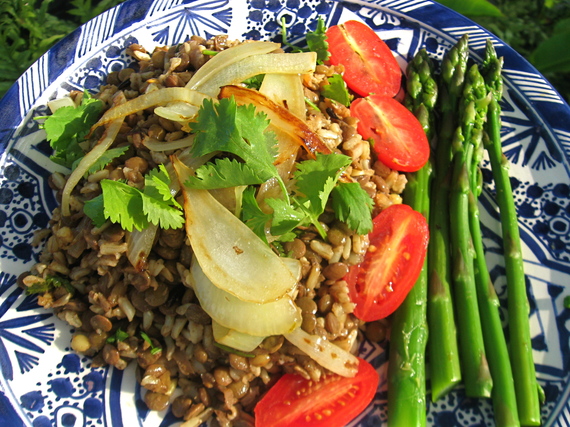 Mjeddrah

In honor of International Peace Day, here is a favorite Syrian dish, a simple but soul-satisfying bowl of lentils, rice and welcome.

The lentils and rice cook together, taking on flavor and qualities greater than themselves. The rice and lentils soak separately before cooking, which brings the tenderness out in the rice and encourages the lentils, which normally require no presoaking, to keep their shape. We should all be so lucky. It's traditionally topped with sauteed onions and makes a meal. Add a few more vegetables, if budget allows.

Serves 6 to 8.

1 cup brown lentils
1 cup brown rice
4 cups water or vegetable broth
1 bay leaf
2 tablespoons olive oil
1 large onion or two small, sliced thin
1 teaspoon cumin, optional
sea salt and fresh ground pepper to taste

Pour lentils into a small bowl. Cover with cold water. Do the same with the rice, in a separate bowl. Leave 'em to soak for 30 minutes at a minimum, for 2 hours, if you've got the time. The lentils and rice don't need any fussing with, just let them sit.

Bring water or vegetable broth to boil into a large saucepan. Strain lentils into a sieve. Rinse in cold water. Add to broth. Do the same with the brown rice. Toss in bay leaf. Reduce heat to low and cook, covered, for 30 to 40 minutes, until lentils and rice are soft and fluffy and have soaked up all the liquid. Remove cover, remove from heat and set aside.

Just before serving, heat oil in a large skillet over medium-high heat. Add sliced onion and cook, stirring, for 3 to 5 minutes, until onions start to soften and turn golden and fragrant.

Reduce heat to medium, and cook, stirring, another 10 minutes or so, until onions are brown and tender.

Season with sea salt and fresh ground pepper.

Stir lentils and rice together gently. Remove bay leaf and season generously with sea salt, fresh ground pepper and optional cumin.

Serve pilaf lavishly topped with onions.
Calling all HuffPost superfans!
Sign up for membership to become a founding member and help shape HuffPost's next chapter