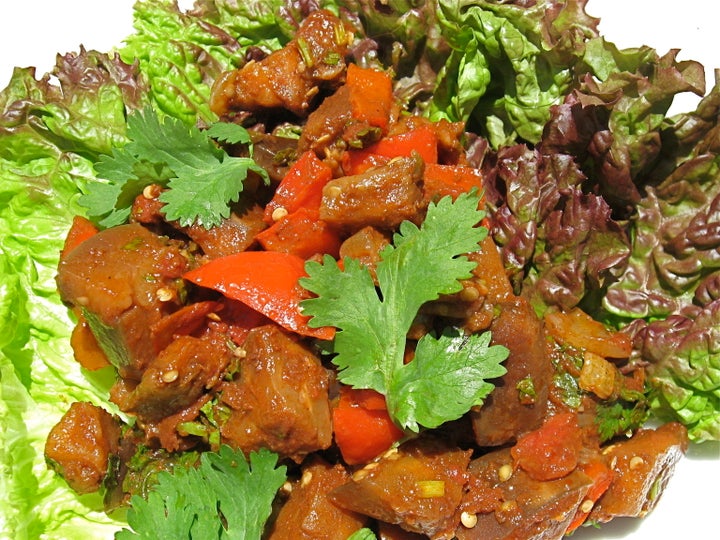 I've long known about Jill Nussinow -- she is, after all The Veggie Queen -- but we hadn't met. This didn't stop her from reaching out to me, interrupting the anticipatory anxiety attack I was having right before my first-ever IACP conference. The conference turned out to be excellent and my anxiety, as usual, needless -- both of which I attribute in part to Nussinow. She's The Veggie Queen, but she was also my good angel.
That would be plenty, but Nussinow's creds also include culinary instructor and registered dietician. Despite her nutrition background, she doesn't get hung up on this micronutrient or that sodium milligram. She is not, in other words, a nutritional hard-ass. You don't get to be queen by sweating the small stuff.
Nussinow's a fool for fresh and seasonal produce, but if nuking frozen vegetables works for you, that's fine. As she writes in the intro to her cookbook The Veggie Queen, "Eating vegetables is only healthy if they make it to your mouth." Her recipes are meatless, marvelous and nourishing, but Nussinow doesn't advertise any of that. "I don't talk about my food being healthy -- ever. I don't do nutrition analysis. Real food is good for you."
By that, The Veggie Queen's talking about fresh, locally grown fruits and vegetables, whole, unprocessed grains and protein-packed legumes. They're the foods with the most nutritional bang for the buck and what she loves to eat, besides. This made her a great lunch date during IACP. As we were eating salads, she looked up with a kind of rapture and said, "How could I live without eating something green every day?" To which I say, amen, sister.
We realize not everyone feels that way. "Most people think vegetables are not important," says Nussinow. "But it's like chlorophyl is part of your life blood -- you need it in order to maintain your being."
She's been teaching the joys of vegan cooking for 25 years and is giving three talks next week at Vegetarian Summerfest. If she's the Veggie Queen, she's also the Princess of Pressure Cookers and author of The Pressure Cooker e-book. "I got into it because you can cook beans and grains really fast," she says. "Everyone should own one."
Nussinow also instructs at the McDougall Program, encouraging veggie newbies who "need to make a drastic change for their health and their life." The program, developed by nutritionist and meatless advocate Dr. John McDougall, is entirely plant-based diet and very low in fat, without refined or processed foods -- quite similar, by the way, to the way of eating prescribed by Forks Over Knives star Dr. Caldwell Esselstyn. Both Esselstyn and McDougall say the diet reverses serious illnesses, particularly the big three -- heart disease, cancer and diabetes. But dang, a diet full of glorious greens, grains and beans needn't be the diet of last resort. The queen and I both embraced meatlessness in our teens. "People can choose to do something different before they get to that point."
Nussinow offers a few easy tips to get you started:
-- Buy as much local and sustainable as you can -- the money stays in your community.
-- Grow what you can, that's even better.
-- Have a cause that's really important to you, whether it's making sure everyone in your community gets fed, GMO labeling, food justice, the Farm Bill, whatever the issue is for you. Find what speaks to your heart.
Nussinow speaks to mine. We both believe what you feed your stomach matters, but don't forget about your soul. "When you take a little time to prepare food for yourself, you get to put the love in. When you eat it, you get to get it back. How amazing is that?"
It's good to be queen. And it's good to have a queen -- and a friend -- in your corner.
Eggplant Caviar
from Jill Nussinow's The Veggie Queen

Serve as a dip with whole grain flatbread or mound atop greens for a main course summer salad.

2 eggplants, about 1 pound each
2 tablespoons olive oil
6 cloves unpeeled garlic
1 tablespoon balsamic vinegar
2 tablespoons capers
2 cloves minced garlic
1/4 cup finely chopped tomatoes, fresh or canned
2 tablespoons chopped Italian parsley
1 teaspoon or more Sucanet* or sugar
salt and pepper to taste

Preheat oven to 400.

Cut each eggplant in half lengthwise, brushing the cut serfaces lightly with olive oil. Place cut side down on a baking sheet.

Lightly brush the garlic cloves with oil and put them on the baking sheet. Bake until eggplant and garlic are tender, about 30 to 40 minutes.

Remove the eggplant from the pan and let cool. When cool, peel of the skin and corasely chop the flesh, putting it into a large bowl.

Squeeze the roasted garlic from its skin and mince. Add it to the eggplant.

Mix the olive oil, vinegar, capers, minced garlic, tomatoes and parsley with the eggplant and roasted garlic. Add Sucanet or sugar to taste. The flavor should be a bit sweet and sour. Let sit for an hour at room temperature to let the flavors blend.

Taste again before serving and adjust flavors, adding more vinegar or sugar, to taste.

Makes 1-1/2 to 2 cups.

*Evaporated cane syrup, available at natural food stores.

Related
Popular in the Community