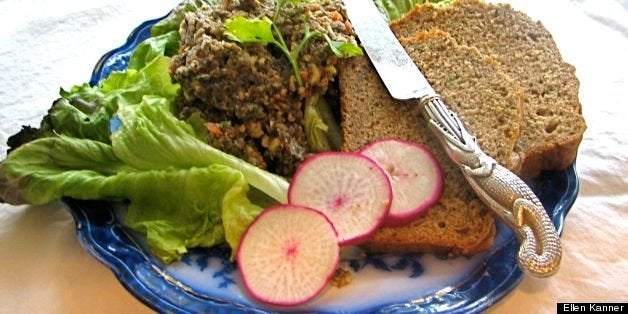 Ivy Manning is the author of three cookbooks including the new "Crackers and Dips" and recipe developer for some of your favorite food magazines, but more than that, she's "a feeder," says the Oregon food writer. "That's how I bring people together, that's how I show affection."
One night, the guy she was dating mentioned he was hungry. Manning "went in the kitchen and made homemade bread, homemade mayonnaise and tofu egg salad." Of course he married her. Come on, wouldn't you? It's been happily ever after for Manning and her husband, photographer Gregor Torrence. But as with any relationship, there are issues. Torrence is vegetarian. Manning isn't.
She grew up in Sheboygan, Wisconsin, where a meal meant "the three-point landing -- a huge hunk of meat and two little piles of something vegetable-ish." She moved to Portland for culinary school but kept her Sheboygan mindset. Food meant "midwest fare -- always meatcentric," she says. "I would begrudgingly teach vegetarian dishes, but I thought tofu was gross. I didn't embrace any of it. I was pretty closed-minded, I'm embarrassed to admit."
Then came love, and soon Manning was meatless right along with Torrence. "I learned to love tofu. I learned other ways of looking at food," she says. "I didn't see a blank place on the plate" formerly dominated by that huge hunk of meat.
The couple are Buddhist, but that isn't the motivation behind what they eat or don't. Torrence never liked meat to begin with. Manning became Buddhist because "I grew up in a big, loud Irish family. I wanted some sense of calm."
She also, after a couple years of marriage, wanted to eat meat occasionally. Manning began creating meals that worked for both of them, like fideos -- Catalan noodles cooked in an earthy red sauce. Manning serves them both then "nestles chicken into mine." This became the basis for her cookbook, "The Adaptable Feast," with recipes that can swing omnivore, vegetarian and vegan. From comfort classics, like shepherd's pie to global cuisine like Thai red curry, the book offers dishes to make everyone happy and well-fed. Limited menus make Manning mad. "If you're an omnivore, you're used to eating everything on the plate. I look at the menu -- what can Gregor eat? Salad? A bowl of rice?"
She still eats meat now and again and creates meat recipes for publications, but some Buddhist sensibility has come to flavor her approach. "Look at the food and think about what you're eating," she says. "This animal gave its life. Pay a little more attention. Don't take it for granted."
If you're choosing to be meatless -- or if the one you love is -- Manning suggests learning a few cooking basics and keeping an open mind -- good advice in any relationship.
"Meatless Monday is a great thing," she says. "It's not asking people to change completely but to experiment with a different way of thinking about food." Manning herself thinks differently than she did back in her Sheboygan days. "I definitely do meatless meals more often." She and Torrence have a vegetable garden that's the source of much on their table, from arugula to potatoes. "I love mashed potatoes," Manning murmurs, dreamily.
She's come to believe it's not meat people crave, but a certain chewy texture and that savory, satisfying flavor the Japanese call "the good flavor." We call it umami. It's present in meat, but also in foods including cheese, soy, nuts, tomato and mushrooms. These are the go-to ingredients she uses when feeding friends. "It's kind of nice, because when people come to our house, they know there'll be something they can eat," whatever they eat.
"It's important to be included," says Manning. "Sharing food is how we connect with people."

(Don't Tell Them It's Vegan) Mushroom Cashew Pâté

from Ivy Manning's "Crackers and Dips," copyright 2013. Recipe reprinted with permission from Chronicle Books.

"It looks like chicken liver pâté," says Manning. "The flavors are so umami and rich people really don't believe it doesn't have meat in it. Mushroom and cashew makes it really rich."

2 tablespoons extra-virgin olive oil
1 small onion, finely chopped
1 medium carrot, peeled and finely chopped
2 medium garlic cloves, finely chopped
3 medium portobello mushrooms, stems and black underside gills discarded, coarsely chopped
4 ounces shiitake mushrooms, stems discarded, caps chopped
Kosher salt
1/3 cup dry white vermouth or dry white wine
1/2 cup toasted cashews
1 tablespoon finely chopped fresh Italian parsley
1-1/2 teaspoon finely grated organic lemon zest
2 teaspoons fresh thyme leaves, chopped
1 teaspoon soy sauce
1/2 to 1 teaspoon white truffle oil (optional)
Freshly ground black pepper

In a large sauté pan, heat the oil over medium heat. When the oil is hot, add the onion and carrot and sauté until softened, 5 minutes. Add the garlic and cook for 30 seconds. Add the mushrooms and a generous pinch of salt and sauté until the mushrooms have softened and have given off their liquid, 4 minutes. Add the vermouth and sauté, scraping up the browned bits from the bottom of the pan, until the liquid has nearly evaporated, 1 minute.

Transfer the mushroom mixture to a food processor. Add the cashews, parsley, lemon zest, thyme, and soy sauce. Process until smooth, scraping down the sides of the work bowl once or twice. Transfer the pâté to a microwave-safe bowl and allow the mixture to stand 1 hour to meld flavors. Reheat in the microwave until warm and add more salt, 1/2 teaspoon of the truffle oil, and the black pepper. Taste and add more truffle oil if desired. The pâté can be made up to 3 days in advance and kept in the refrigerator in an airtight container until ready to use. Microwave until warm before serving.

Makes 1-2/3 cups.
Related
Popular in the Community