We're a few days into the new year, the time we're most likely to resolve to make positive changes. So how's it going so far? Is that resolution to eat better is starting to crumble? No worries, we're here to help. By we, I mean all kinds of meatless support, in every kind of package, starting, appropriately, with Veganuary, your January jumpstart all-inclusive intro into plant-based eating.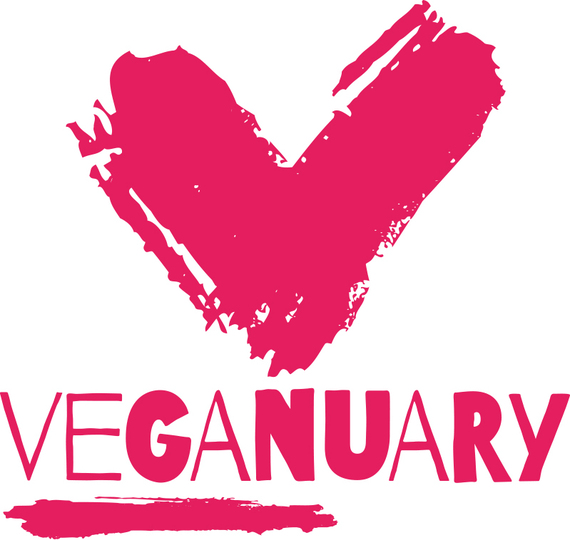 Started last year in the UK by two animal-loving activists, Veganuary encourages you to take a monthlong vegan pledge and offers a website with everything you need to succeed-- recipes from rock star vegan chefs including Fran Costigan and um, me, nutrition basics (yes, vegans get plenty of protein), plus dining out strategies and menu options.
Veganuary is timely and hot -- vegan pledges are up tenfold over last year, thanks to an expanded website and expanded interest-- but it's only one of many jumpstart programs encouraging you to live a happier, meatless life.
-- BettaLifechallenge gets in you in the game with a 22-day kickstart. For a mere dollar a day, this new program spearheaded by NBA pro and vegan John Salley offers vegan tips to detox your body, build consciousness and live better every day. An added option offers organic plant-based meals delivered to your door.
-- There's nothing new about meatless diets, as Oldways can tell you. The food and nutrition nonprofit is "about traditions, taking the best of the past and bringing it forward," says Oldways president Sara Baer-Sinnott. Their new book "The Oldways 4-Week Vegetarian and Vegan Diet Menu Plan." This monthlong guide answers the perennial question What Do I Eat? It includes meatless recipes far beyond so-so salad. They reflect every cuisine and ethnicity, including classic comfort foods like a shepherd's pie to modern meatless millet cakes.
Veganuary, BettaLifechallenge, Oldways meatless meal plan, PCRM's vegan kickstart and
um, me again, happy to offer you a delicious meatless point of view and recipe every Meatless Monday.

Never before have so many programs and people offered so many yummy meatless meals and so much vegan support. Going plant-based, you will never feel deprived or hungry, you will never feel alone. Happy Veganuary.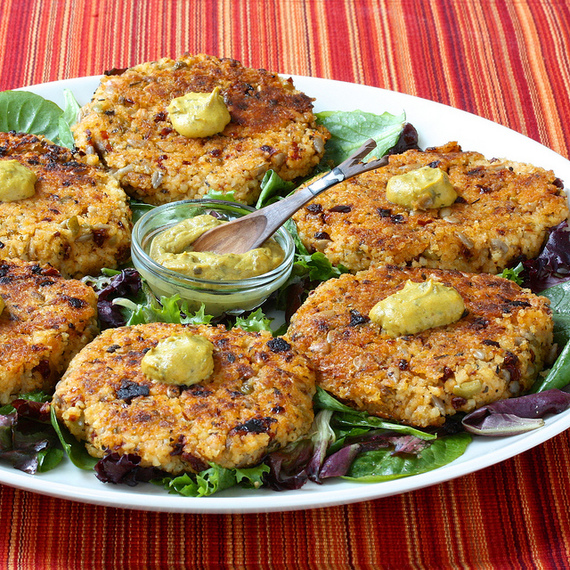 Manhattan Millet Cakes

Reprinted with permission from "The Oldways 4-Week Vegetarian and Vegan Diet Meal Plan," copyright 2014.

Serve hot, on a bed of mixed greens, topped with mustard, guacamole, and/or edamame hummus.

Makes 6.

1 cup uncooked millet
10 chopped sun-dried tomatoes
1 clove garlic, minced
1⁄3 cup pitted green olives, chopped
¼ cup raw sunflower seeds
¼ cup packed grated Pecorino or Parmesan cheese (or plant-based cheese)
1 tablespoon capers, rinsed, drained, and minced
2 teaspoons dried oregano
1 tablespoon extra-virgin olive oil
3 cups mixed salad greens
Mustard

Combine the millet and 3 cups of water in a pot and bring to a boil. Reduce the heat to medium-low, cover, and simmer for 30 minutes. Drain if necessary and transfer the millet to a bowl. When cool, add the sun-dried tomatoes, garlic, olives, sunflower seeds, cheese, capers, and oregano.

Stir well, mashing the ingredients together. Use dampened hands to form 6 patties.

Heat the olive oil in a large skillet and cook the patties until lightly brown and crisp, about 4 minutes on each side. Serve on a bed of greens with the mustard.
Popular in the Community