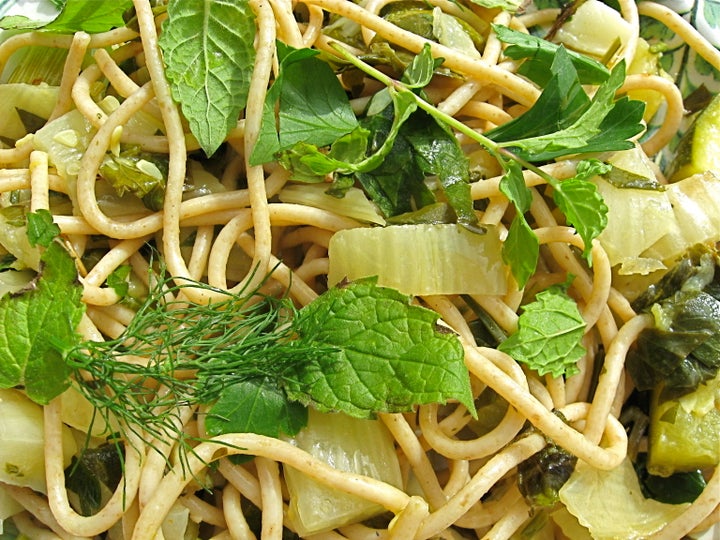 Purple mountain majesties, amber waves of grain, we've got it all, but one of America's greatest natural resources is you. Yeah, you sitting in your lawn chair on the last day of summer. That's why we honor you today. Labor Day is more than a day off, it's a tradition dating back to 1882, a celebration of America's work force.
You want to be treated right on the job and you deserve to be. So do the people who grow our food. But our labor practices aren't always what we preach. You need only to read Barry Estabrook's Tomatoland or see Oscar-nominated Food, Inc. to realize the food the comes to your table sometimes does so via labor abuse that'll kill your appetite.
We want food that's healthy, safe, delicious, responsibly sourced and, everybody's favorite buzzword, sustainable. Sustainability means committing to practices that help the environment flourish, now and for generations to come. The immigrant labor force caring for and harvesting our food deserves the same treatment. What's the good of clean, organic food if it's harvested in filthy conditions? "Fast Food Nation" author Eric Schlosser has said, "If there are organic tomatoes being picked by indentured servants, I'd rather not have the organic tomato."
Plants grow, that's their job. They're producers, literally making the fruit, vegetables, nuts and grain we eat from nothing more than dirt, sun, water and air. They get top performance evaluations, doing their work efficiently and well. We're not nearly so talented. We can't generate our own food. However, we like to eat. Fortunately, we have farm workers who bring the producers to us, the consumers. Their dedication puts many of us to shame. And for what? The glamour? Video from the immigrant farmworkers group Coalition of Immokalee Workers (CIW) reveals workers enduring hazardous working conditions and pay so pathetic you'd tell your boss to shove it.
Schlosser, Slow Food USA president Josh Viertel and other leaders in the fight for sustainable food have been working with CIW to take on Publix, Trader Joe's, Chipotle, McDonalds, Taco Bell, Burger King, Subway and other mega food companies, the ones who buy up most of the tomatoes CIW picks. They've been working to get the same things you want and believe are every worker's right -- a fair wage and living conditions that are indeed livable.
When we buy and eat food grown in ways that support fair labor practices, "It puts us on moral and ethical and aesthetic ground we can stand behind," says Viertel. "We think of responsibility as a burden we bear, but the deepest, most authentic pleasure comes from fulfilling responsibilty. We have an obligation to do the the right thing, particularly when it comes to food. When you're supporting a system you believe in, the food tastes better."

Whether you're a CEO or under the thumb of a manager who makes Machiavelli look like Oprah, when it comes to choosing food that's truly sustainable -- for you, for the planet, for the people who bring it to you -- you're the boss. Happy Labor Day.

Labor Day Farmers Market Pasta

When the vegetables and herbs are local, seasonal and super-fresh, they do most of the work for you, creating big flavor with minimal labor. Top this light pasta with Parmesan or a dollop of vegan ricotta, if desired, serve with bruschetta and salad.

2 tablespoons olive oil
1 pinch red pepper flakes
1 fennel bulb, chopped
1 zucchini, chopped
1 bunch flat-leaf parsley, chopped
1 bunch mint, chopped
8 ounces whole wheat pasta
2 lemons, zest and juice
sea salt to taste
Parmesan or vegan ricotta for garnish, if desired

Heat olive oil in a large, deep skillet over medium-high heat. Add red pepper flakes and stir.
Add chopped fennel and zucchini. Stir vegetables occasionally, until they just soften, about 5 minutes. Cover and reduce heat to medium-low, letting vegetables cook for another 25 minutes.

Meanwhile, prepare pasta according to package directions. Cook till just tender, so it still has some chew. Drain well and add spaghetti to skillet. Combine gently, until incorporated.
Grate in lemon zest, add lemon juice and chopped mint and parsley. Give one last stir and add sea salt to taste.

Serves 4.


An earlier version of this Meatless Monday was first posted on September 7, 2009.
Calling all HuffPost superfans!
Sign up for membership to become a founding member and help shape HuffPost's next chapter