When culinary instructor Leslie Cerier teaches her class, Spice it Up! -- Creative Cooking with Herbs and Spices at Kripalu this weekend, she'll advise her students to "have a beginner's mind."
She means coming at cooking, yoga, even life, with an open mind and heart, with a sense of discovery. Cerier's been doing it even though she's been cooking, eating and teaching organics for over 25 years. "I'm a yogi, so I teach to be flexible," says Cerier, who teaches at spiritual retreats including Kripalu, Esalen and Rancho La Puerta. "It also brings in the art of eating with the seasons, going into the garden, picking the vegetables, herbs, bringing them back into the kitchen and cooking," she says. "I think of farm to table as a sacred experience."
Back in the '60s, Cerier grew up on "frozen food, packaged cake mixes and white bread made into a tight ball so I could use it to play catch with my brother." Fresh-from-the-garden produce came as a revelation. So did other meatless wonders. She'd take her backpack to Integral Yoga's natural food store, "load it up with beans, grains and almond butter and haul it up to the Upper West Side where I lived. You know how it is when you're really passionate about something. That was what I was willing to do for organic food. I would bring home one new ingredient each time to try. I wasn't thinking I was going to write cookbooks," says Cerier, who's written six, including "Gluten-Free Recipes for the Conscious Cook." "I was happy to experiment."
After apprenticing in the kitchen at Kushi macrobiotic summer camp, "there was no turning back," says Cerier. "This is my passion. I knew this is what I want to teach." She combined her love for organics with a master's degree in teaching and launched herself as The Organic Gourmet. But Cerier always kept that flexible yogi attitude. Her classes aren't just handouts and recipes. "I give a foundation for you to use as a springboard. Then I show how to improvise and make your own variations."
Cerier makes it easy to come to her kitchen with a beginner's mind by introducing students to new foods, "sea vegetables, healthy fats like extra virgin coconut oil that give you that rich quality and lower your HDL, other kinds of proteins, beans and grains -- ancient grains are nutritional powerhouses." So's Cerier, who bikes 12 miles a day. "I sailed through menopause without a hot flash. I'm still juicy, very fit." If anyone knows from luscious, it's her. It must be the organic vegetables.
Perhaps, says Cerier, but it also has to "be about the yum. 'It's not 'hold your nose and eat right,' it's always about pleasure," she says. "People want to be healthy. What I'm teaching is health-supported gourmet vegetarian cooking. They want the food to taste good, to be a celebration. That's what I want to give them -- a celebration of earth's bounty, of ourselves in the kitchen."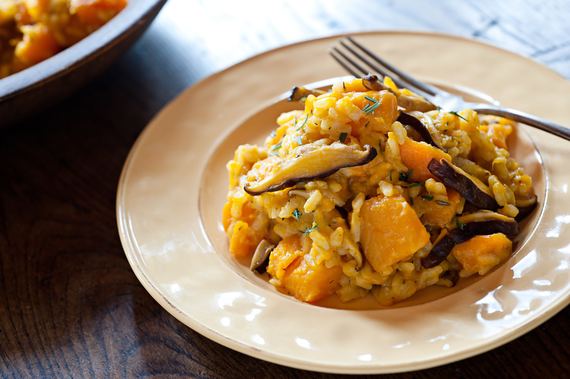 Shiitake Mushroom Risotto

Recipe adapted with permission from Leslie Cerier, copyright 2014.

Serves 4.

3 tablespoons extra virgin olive oil
2 cloves organic garlic, sliced
1 cup organic onions, sliced
pinch of saffron
5 cups peeled, seeded and cubed organic butternut squash
2 cups fresh organic shiitake mushrooms caps, sliced
1 cup organic carnaroli or arborio rice
1 teaspoon sea salt
4 cups vegetable stock
1 teaspoon organic dried thyme

In a large saucepan, warm stock over low heat.

Heat the oil in a 6-quart stock pot over medium heat. Add garlic, onions and saffron. Saute for 5 minutes or until the onions soften. Add the butternut squash and continue to saute for about 10 minutes, or until the squash softens. Add the shiitake mushrooms, rice and salt into the butternut squash mixture and continue to stir for 3 minutes to blend ingredients.

Add 1 cup of simmering stock to the rice mixture, and adjust the heat to maintain a lively simmer. Continue stirring until the stock is absorbed and then add another cup of stock. Repeat with the remaining stock.

Once all the stock is absorbed, add and stir in the thyme. Taste and adjust the seasonings.

Serve immediately.
REAL LIFE. REAL NEWS. REAL VOICES.
Help us tell more of the stories that matter from voices that too often remain unheard.