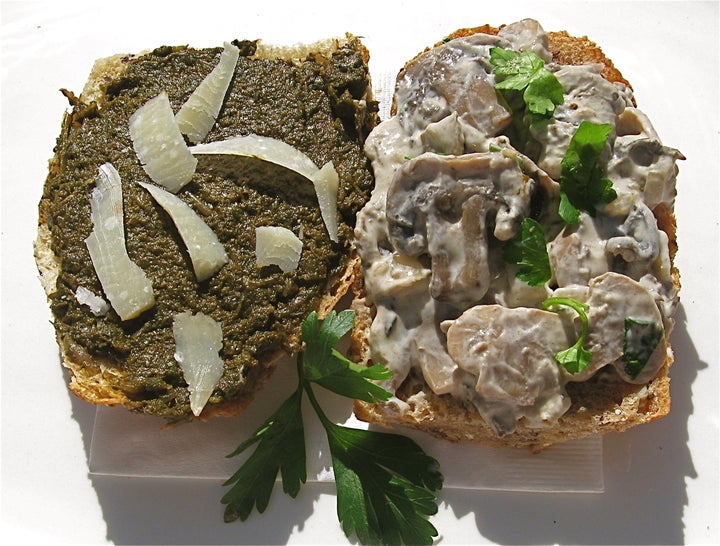 Welcome to life after Copenhagen. Wonder where we go from here? Me, too.
Then I had the opportunity to speak with Molly Wizenberg, better known as the blogger Orangette and the author of A Homemade Life. Molly's writing reminds me that while recipes involve ingredients and techniques, they also involve our memories and associations. Her recipes include the potato salad her father loved, the pickled carrots she served at her wedding.
"I don't want to analyze every last crumb or nuance," she says. "I'm more interested in what food creates --the interaction between people, the story of the relationship a dish creates." We need that intimacy and connection to what we're eating -- without that, we don't care. And caring and connection is what encourages change on both a personal and a global scale.
After talking to Molly, I switched from a big overarching post on Copenhagen to one about the stories and connections happening all around me, the small miracles.
Meatless options are now in cafeterias at Miami-Dade and Broward public schools. Yes, meatless momentum is catching on even in this meat mecca. The school system's food service head Penny Parham says, "Our kids are so savvy. They want food that's good for them." Meatless meals combat child obesity and global climate change at the same time. A hummus and veggie plate may seem like a small start but it was only a few years ago George W. Bush called Al Gore Ozone Man.
Holly Hickman, Sustainable Suppers blogger, friend, journalist and all-around cool person has just released Healthy Eats Here, an e-guidebook to the best organic eats around the country. Okay, Holly does cow, but only cows that are raised kindly and grass-fed. Like me -- and like you -- she only wants food that's honestly sourced and sustainably grown, and she scoured the country to tell you where to find it.
Through Holly, I met Melissa Contreras, founder of Urban Oasis Project. Melissa organizes a stalwart band of volunteers who help create organic fruit and vegetable gardens in underserved communities or what she calls urban food deserts, where processed food, booze and smokes are plentiful but a fresh tomato's as scarce as a winning lottery ticket. They aim to create "Four hundred and fifty gardens for Miami-Dade families, three a week - not only building them but teaching people how to maintain them. We want kids to get their hands in the dirt and get excited when that carrot comes up."
I also hang with Stefan Uch, who's cooked in Michelin star kitchens and for the likes of the Dalai Lama and James Brown, gave up the glam life for Crackerman Crackers, his local, organic small-batch bakery where he makes what he believes in -- honest, fabulous breads and crackers. Whether it's addressing global change or baking bread, anything worth doing, says my baker friend, requires blood, sweat and tears.
Since 2001, Margie Picarsky from organic Bee Heaven Farm has been the driving force behind Redland Organics, the group of local sustainable farmers who grow the bounty of fruits and vegetables for our CSA (community supported agriculture). She, her family and farmer friends have kept it going despite hurricanes and other calamities so we can enjoy fresh from the farm produce like the dandelion greens that went into today's recipe (see below).
My friend Terry has gone vegan because he cannot stomach animal cruelty. While most people choose to go meatless when they're young, Terry loves to buck a trend. He's 75. Change is possible. And it's never too late.
We all have stories to tell. The Huffington Post even has this Green Page, with people responding to the stories we tell with personal stories of their own. Every story is a thread creating a connection to what we eat, where we live and to each other. We're all foot soldiers in the battle for a greener, kinder, more delicious world. You can't deny our efforts any more than you can deny the reality of global warming. We make the change happen one story, one victory at a time.
Smorrenbrod

What did the leaders of the world assembled in Copenhagen eat? Smorrenbrod -- the favorite food of the Danes -- an open-faced sandwich on dark, chewy, grainy bread Here's the makings for two toppings, creamy mushroom and zesty greens cooked to jamminess. Try 'em both.

Mushroom Smorrenbrod

3 tablespoons butter
1 pound mushrooms, sliced thin
1 small onion, chopped
3 tablespoons flour
1/2 cup milk
1/2 cup sour cream
1 dash Worcestershire sauce*
1/4 teaspoon coriander
fresh pepper and sea salt to taste
6 slices Danish whole grain bread
chopped parsley for garnish

In a large pot, melt butter over medium-high heat. Add chopped onions and stir for about 3 minutes, until onions soften. Add sliced mushrooms and cook, stirring for 5 minutes. Sprinkle with the flour and toss to combine. Cook for another minute, until the flour is coating the mushrooms.

Pour in milk and stir for about 3 minutes, until a rich sauce forms. Reduce heat to low. Add sour cream, Worcesterchire sauce and coriander. Season with salt and pepper.

Top bread with mushrooms, garnish with parsley if desired.

Mushrooms keep refrigerated for 4 days.

* Worcestershire sauce contains anchovy. If you're anti-fish, substitute soy sauce.

Serves 6.

Jam of Greens Smorrenbrod

Gratefully adapted from a recipe in Paula Wolfert's wonderful The Slow Mediterranean Kitchen.

This recipe uses dandelions greens fresh from the fields in South Florida, but any greens will do

5 cloves garlic
1 big bunch dandelion greens, turnip greens, any greens, mix and match
1 bunch cilantro
1 bunch parsley
1 handful celery leaves (the leaves from the inner stalks of celery -- fab and full of flavor)
3 tablespoons olive oil
Juice of 1 lemon
1 tablespoon smoked paprika
sea salt and freshly ground pepper to taste
6 slices Danish whole grain bread
parmesan or toasted pinenuts for garnish, if desired

Rinse greens well and pat dry. Slice the tender leaves from the tough, woody stems. Discard stems and chop greens into bite-size strips.

Place garlic in a large steamer pot. Add chopped greens. Bring to boil and cover, steaming greens and garlic for about 15 minutes. Turn off heat and leave pot on burner. Allow to cool, about half an hour.

Puree garlic and greens in a food processor.

Heat olive oil in a skillet over medium-high heat. Add pureed greens. Stir in paprika and lemon, salt and pepper. Heat through, about 5 minutes.

Mound greens on top of toast slices and top with grated parmesan or pine nuts.

Greens keep refrigerated, tightly covered for up to 5 days.

Serves 6.

Related
Popular in the Community