Hike and picnic with friends.
Slather bread and roasted vegetables with garlic, gutsy romesco sauce.
Share a summery ratatouille and a bottle of wine.
Break out the baklava.
Live better.

Living better is what the Mediterranean Diet is all about. Lest you think diet means deprivation, the word comes from ancient Latin and Greek for way of life. The nonprofit Oldways, applying modern science to traditional foodways, helps us apply the lessons from the past to live — and eat — better today.
Ancient Latin, Greek and Middle Eastern cultures pretty much invented the Mediterranean Diet. They didn't write studies about it, they just did it — eating fresh, indigenous produce, engaging with their neighbors, enjoying the natural world. We've got the edge when it comes to technology, but these traditional cultures might muscle us out in the better living department.
The Mediterranean Diet proves better living doesn't have to be a struggle or require you to sign up for a program. With its focus on traditional whole foods like ripe tomatoes, bright peppers, abundant greens, glossy olives and golden olive oil, the Mediterranean Diet offers seasonal abundance and wow in the mouth. It also offers a delicious path to health. From lower risk of diabetes and heart disease to higher sperm count and fertility rates, science galore back up the benefits of the Mediterranean Diet. Ikaria in Greece and Sardinia in Italy are Blue Zones, those regions of the globe where people live longer, healthier lives and enjoy locally sourced food.
Ready to Med up? Get in the game with Oldways' Mediterranean food quiz. Winners score Mediterranean goodies from walnuts to olive oil, and when it comes to living better, the Mediterranean Diet lets everyone win.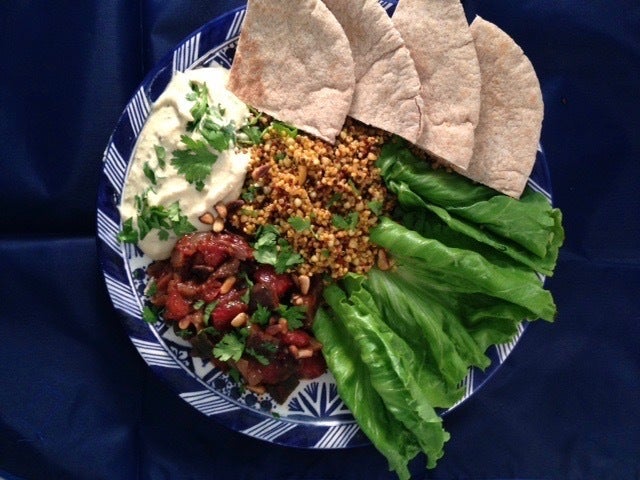 Middle Eastern Eggplant Salad
This easy salad does double duty, serving for both International Mediterranean Diet Month and National Salad Month. It offers loads of vibrant flavors and unlike many eggplant recipes, is easy on the oil. Enjoy with tabbouleh, hummus and other Mediterrean marvels as part of a mezze — small plates that make up a meal.
Serve over greens with whole grain pita for scooping.
15 ounce can diced tomatoes
1 tablespoon tomato paste
1 handful parsley, chopped
toasted pinenuts for garnish
Heat oil in a large skillet over medium-high heat. Add eggplant, garlic, onion and jalapeno, and cook, stirring, until vegetables soften, about 8 to 10 minutes.
Add tomatoes, tomato paste and allspice. Bring to a simmer, then reduce heat to medium. Keep cooking, stirring occasionally, for 20 minutes or until the vegetables are very tender and the tomatoes have thickened.
Add chopped parsley and optional pinenuts. Serve warm or at room temperature.
Popular in the Community