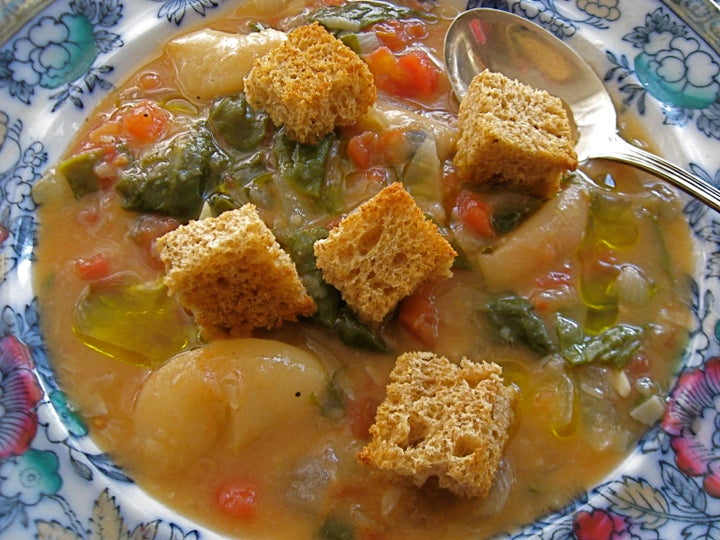 I'm a believer in soup, but Love Soup author Anna Thomas is its high priestess. Her book offers 160 different meatless recipes organized according to seasons, so you taste the benefit of what's fresh -- lush, squashy or beany things for fall and winter, like her Fasolia Gigante soup below and lighter vegcentric soups for spring and summer.
Making a pot of soup gives you dinner but also accesses "an enormous part of our history and our ability to connect with people around our own table," she says. "That can't happen in a restaurant. I love going out to restaurants, but there's something about hospitality, our connection with our culture, our family, our tribe. When we lose home cooking, we lose something tremendously important." That sense of devotion and connection enriches what Thomas cooks and earned Love Soup a James Beard Award in 2009.
Thomas, who is Polish, learned the value of home cooking early. Growing up in an immigrant community in California,"there was a very strong sense of people cooking in their homes. Home cooking was normal, it's what you do." And it wasn't fussy, just "good fresh food."
It's true -- nourishing, seasonal, cheap, local, meatless, delicious and easy can all be ladled up from the same pot. And you don't need exotic ingredients or a designer kitchen. Thomas backs me up on this. She created the recipes after downsizing from her too-big house to glorified studio space with an 81-inch kitchen.
Thomas has been setting the bar for hedonistic meatless eats since the '70s, when she was "a poor film student on bad jobs and student loans. But I like to eat well. I needed to learn how to cook, to take care of myself." So she set about teaching herself and serving up dinner to her friends. They kept encouraging her to write a book.
"I was very young, and when you're young, you plunge ahead and do things without thinking," she says. "I look back now and they'd have said that to anyone who gave them a home cooked meal. They were just starving students like I was."
Yeah, but not every starving student writes a seminal cookbook. Thomas' The Vegetarian Epicure was the veggie bible of its day, redefining meatless food. "There was not much in good, tasty, fun vegetarian food," she recalls. "It was very earnest, well-meaning. What Molly Katzen calls crunchy. I had this strange relation to food. I really wanted it to be everything it could be, a lot of fun and delicious." Out with brown rice and sprouts, in with pea soup with dumplings and German apple pancake.

The Vegetarian Epicure spawned sequels, including The Vegetarian Epicure Book Two and The New Vegetarian Epicure, but then life got in the way. For a time, Thomas put the cookbooks on hold to focus on family and write screenplays including the script for the Academy Award-winning biopic Frida.
Hollywood has its moments, but for Thomas, who teaches screenwriting at the American Film Institute, home cooking has more. "I've been working on a film project for two years, but you go into the kitchen, you enjoy the fruits of your labor immediately and you have a good time doing it. There's a a wonderful sense of immediacy and earthiness about it."

Love Soup came out of that belief. The recipes are seasonal and meatless, but deeply pleasurable, as well, and that, Thomas believes, is what matters most. "I always felt trying to force a battle about food could only have a bad result. I never tried to force things, I kept offering good choices, fresh food, delicious things. Everybody has to figure it out for themselves. You cannot force people, you can only offer them great opportunities."

Fasolia Gigante Soup with Spinach
From Anna Thomas' Love Soup

Fasolia Gigante are giant white beans that look like lima beans on steroids. They are huge, and like all dried beans they get bigger as they soak and cook, until some are about the size of a quarter. When they are cooked slowly and long enough, they become beautifully tender yet keep their shape, and at the same time make a lovely broth. If you can't find these giants, use large dried lima beans, which are just as delicious in this soup.

With its lively taste of ripe tomatoes, this is a good summer soup for those times when you want something hearty. It's fine in winter as well; you can use a can of good diced tomatoes instead of fresh ones.

1-¼ cups dried Fasolia Gigante or large dried lima beans ( 8 ounces, 225 grams)
5 large cloves garlic, peeled
3 tablespoons loosely packed fresh sage leaves (7 grams)
1-2 teaspoons sea salt, plus more to taste
1 large yellor or red onioin (300 grams)
2 tablespoons olive oil
fresh or dried thyme
fresh rosemary
8 ounces (225 grams) small spinach leaves or chopped spinach
12 ounces (350 grams) ripe red tomatoes, peeled and chopped
freshly ground black pepper
1-2 cups (250-500 millileters) basic light vegetable broth or canned vegetable broth
garnishes:
fruity green olive oil
white-wheat croutons

In general I don't soak beans overnight, but in the case of these giants it is a useful thing to do; they're just too big to cook evenly to tenderness otherwise. So rinse the beans and soak them in 8 cups (2 liters) of soft or spring water. In the morning, drain and rinse. (If you are using lima beans you can skip this step, but you'll have a shorter cooking time if you do soak the beans.

Put the soaked beans in a large soup pot with about 7 cups (1-¾ liters) water, or 9 cups (2-¼ liters) if using lima beans that have not been soaked. Add the whole garlic cloves and the sage leaves. Bring the water to a boil, then cover, lower the heat, and simmer for a long time -- perhaps for a couple of hours -- until the beans are perectly tender. The cooking time will vary with the age of the beans. Add more water as needed to keep the beans well-covered, and when they are tender, stir in 1 teaspoon salt.

While the beans simmer, chop the onion coarsely and saute it in the olive oil with a sprinkle of sea salt, stirring it often over a medium-low flame until it's soft and golden, about 20 minutes. Stir in a big pinch of thyme and the same of rosemary and cook for a few more minutes. Add the onion, spinach, and chopped tomato to the beans and their broth, as well as a good amount of freshly ground black pepper, anad let the soup simmer another 15 minutes. Taste it and correct the seasoning with more salt if needed (the beans will have absorbed some of the salt during this time).

If the soup seems thick, add some of the vegetable broth. I like the clear flavors of the broth that this soup makes for itself, starting with the beans and garlic, sweetened by onion and enlivened by juicy tomatoes, with a piney hint of rosemary, but if it seems more a stew than a soup, I add broth.

Serve the soup in big bowls, with a splash of fruity olive oil and a scattering of croutons on top of each serving. Another nice way to serve this is to place a thick, crisply toasted slice of baguette in the bottom of each bowl and pour the soup over it.

Serves 6 generously.
Related
Popular in the Community