In a recent survey that bummed me out, more than half the Amerians polled say their family doesn't know how to choose healthy food. Over 40 percent say they'd eat healthier, except fast food and food delivery make it easier not to, and besides, they're too busy to be bothered. Too busy for what? To be hotter, healthier and happier? To be more fully human?
Choosing vegan helps the planet and the animals -- a lot. It helps us, too, all in one go. The food from the earth is the sexiest food we can eat. From plump, ripe figs to firm asparagus -- those little earthy erections -- it's erotic. And, as I told the Wellness Week capacity crowd at Grand Velas Riviera Nayarit, eating it makes us sexier, too. Tasting is believing, and happily, I had pros abetting me in the kitchen, including the resort's executive chef Claudio Hotter and vegan chef Miguel Bautista, who loaned me his very own food processor.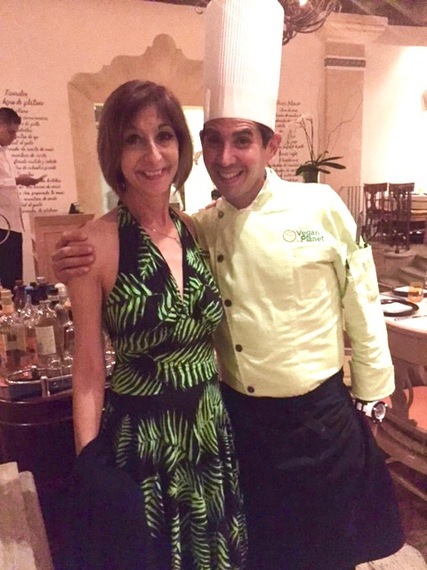 With Chef Miguel Bautista
The two chefs are collaborating to integrate some dazzling vegan options into the resort's menu, and together, we presented the crowd with sensual delights including a batch of my libido-revving Mexican chocolate love bites --a wicked sexy combination of cacao, cinnamon, chili, dates and almonds. My Spanish is limited (boy, is it ever), but we are all fluent in the language of food.
That's what I love best -- the way that food brings us together. We all need to eat, and everybody, from seven-month old infants to seniors 70 and up, can eat pulses (dried beans). I've been cheering on the International Year of Pulses and threw my pulse passion into organizing Pulse Innovation Miami. Pulses, unlike politics these days, are where we can all come together.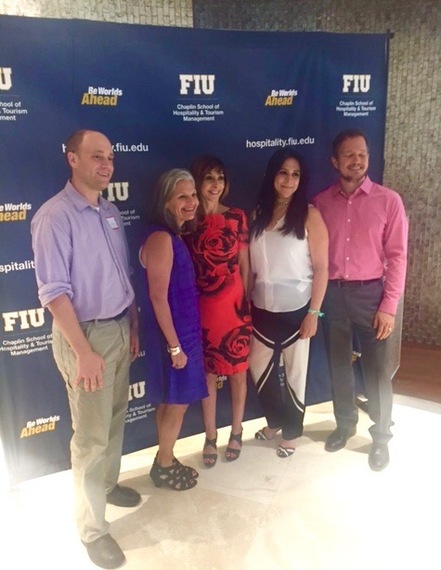 Pulse Innovation Miami presenters. From left to right, Eric von Wettberg, Robyn Webb, myself, Carolina Molea and Brian Machovina.
Talks ranged from the vital role pulses play in our health and the health of our planet to being up there for sheer yumminess and versatility. As UN pulse chef Ron Pickarski showed, pulses spin every which way, from Indian-spiced lentil cutlets to mocha black bean torte with aquafaba meringue. His seven-course pulse tasting menu delighted vegans and omnivores alike and upended anyone's misconception that beans are bland and vegan is boring.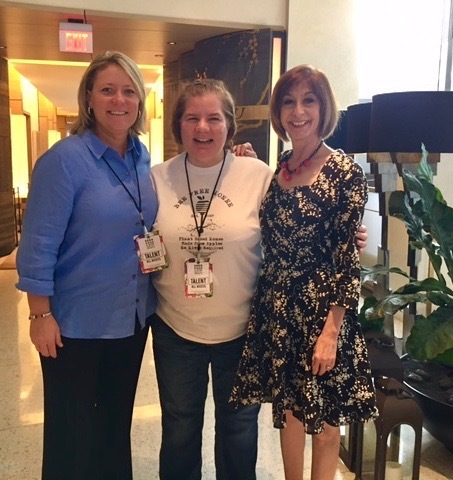 But as with Wellness Week and Pulse Innovation Miami, Seed had more going on than food, offering two days of presentations and panels about everything from selling your product to saving the planet. I joined "Eaternity" author Jason Wrobel, Nom Yourself's Mary Mattern, VegNews editor Colleen Holland to talk about delivering -- and publishing -- your vegan message. As I told the workshop, our food choices reflect everything we are.
Seed Food and Wine Festival, Pulse Innovation Miami and Grand Velas Riviera Nayarit's Wellness Week fed everyone well, but they also offered inspiration, connection, community and no small amount of delight -- nourishment that goes far beyond the plate.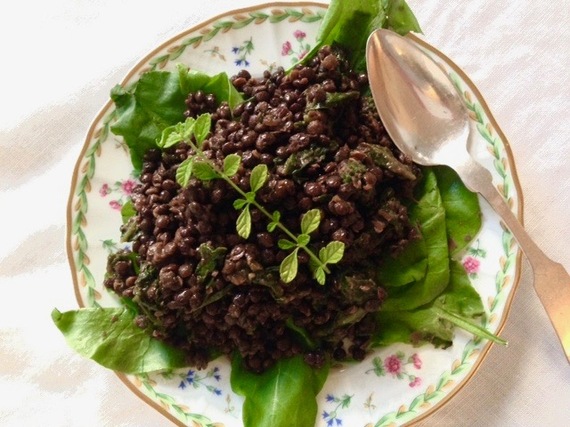 Lavender Lentils

My lavender lentil recipe appeared at my Thanksgiving table. It also appears in "Pulses", the recipe book from Pulse Innovation Miami, along with recipes from fellow presenters Robyn Webb, Carolina Molea and Ron Pickarski.

Culinary lavender is available at many gourmet stores and online.. The rest comes together super-easily. Beluga lentils are fish-free but like their namesake, tiny, black and glossy. They hold their shape after cooking yet infuse beautifully with the herbs for a dish that's satisfying, savory, umami, and of course vegan.

2 tablespoons olive oil
3 cloves garlic, chopped
1 pinch red pepper flakes
2 cups beluga lentils (small black lentils)
4 cups vegetable broth
1 bay leaf
1 teaspoon herbs de Provence
1 teaspoon crushed culinary lavender
1 spring fresh thyme leaves
sea salt and fresh ground pepper to taste
1 bunch spinach or arugula, chopped into bite-sized pieces

Heat olive oil over medium-high heat in a generous sauté pan. Add the chopped garlic and red pepper flakes. Stir and cook for about 3 minutes, until the garlic and peppers sizzle start to sizzle. Add the lentils. Stir them in to coat with oil.

When they get a sheen, add herbs de Provence, lavender and thyme and stir. Pour in the vegetable broth and toss in the bay leaf.

Bring lentils to a full boil, then reduce heat to low and cover. Let lentils simmer for 30 minutes or until al dente with most of the liquid absorbed. Remove bay leaf.

Add the chopped greens by the handful and mix in gently until they start to wilt from the heat of the lentils.

Season generously with sea salt and pepper.

Serves 6.