The Nava Atlas most people know is petite, soft-spoken and mild-mannered. She's the author of nine meatless cookbooks and the brains behind VegKitchen, your one-stop online source for all things vegan. For over 30 years, she's been a sure and steady guide for anyone making the journey to plant-based. Atlas' new release, "Plant Power," rolls all her meatless expertise into one tasty book.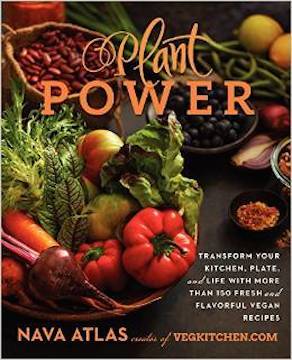 It's a book Atlas could have used when she went vegetarian in her teens. There was no Internet, no info and not much in the ways of great meatless options. If she didn't want to starve, she was going to have to figure it out and feed herself. Her first book, "Vegetariana" was among the meatless pioneers and sat virtually alone on the cookbook shelf. Now shelves are crowded with new vegan cookbooks coming out every week, there are countless vegan bloggers and people still have trouble figuring out how to eat healthier. "That's what I kept hearing," she says. "People would say, 'I wanna do it, but how do I do it?'"
"Plant Power" offers recipes, sure, but more, it has Atlas' gentle touch. "It holds people's hands from the word go, with meal planning, shopping habits, how to get your kids on board, how to transform your kitchen -- not your appliances, your approach. That way, you're not scrambling each time when you're deciding what to eat for dinner." Her recipes tend to be comfort food of all cuisines, from Asian noodles to pizza, people-pleasing and easy to make and easy on the spice.
Yet beneath that sweet exterior, there's another Nava Atlas. "Inside I'm really edgy," she says in that gentle voice. That inner edge comes out in her artwork.
"Art is a different area -- strident, in your face. Ai Weiwei has some serious messages about social justice and freedom." So does Atlas, whose new works include "Deconstructing Elsie" a closer (and darker) look at America's favorite dairy cow and her bull(y) of a husband Elmer. Atlas riffs on the iconic images, using them to questions women's roles and the truth behind the dairy industry. It'll be featured in the spring at the National Museum of Animals and Society, part of an exhibit honoring Carol J. Adams and her classic feminist treatise, "The Sexual Politics of Meat."
"Plant Power" is the work of the more demure Atlas. She designed it to be "very inclusive, comprehensive, approachable," which is just the way she cooks and eats. "I can't start dinner for Thursday on Monday. I'm spur of the moment." The emergency recipes in the book are tried and true family favorites. Stock up your pantry and they can be yours, too." A lot people really resist cooking," says Atlas. "They want everything pre-made. Even some vegans just eat vegan snacks or desserts. They say, 'I don't think I can get the vegan ingredients.' It's not vegan ingredients, it's just food -- all the elemental foods, fruits, vegetables, grains, tofu, pasta."
As ever, Atlas looks to engage her readers, many of whom are tiptoeing towards plant-based or are simply trying to find a new spin on their usual go-to meatless recipes. "With food and recipes and cookbooks, if you try to hit people over the head, they get defensive," she says. "Stridency has its place in art and I'm glad I have chance to express that."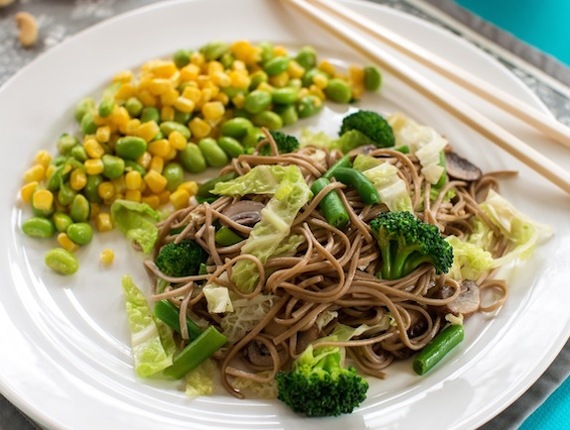 Vegetable Lo Mein

Recipe reprinted with permission from "Plant Power: Transform Your Kitchen, Plate, and Life with More Than 150 Fresh and Flavorful Vegan Recipes" by Nava Atlas, copyright 2014, published by HarperOne.

It's so easy to make vegetable lo mein, a Chinese take-out favorite, at home -- and it's lighter and less heavy on the oil than its restaurant counterpart. Serve this with a simple combo of corn and edamame as shown in the photo; or with a tofu dish. Either way, round out the meal a simple crisp salad.

Serves: 4 to 6

8 ounces udon or soba, preferably whole-grain
1 tablespoon safflower or other high-heat oil, or 3 tablespoons vegetable broth or water
2 teaspoons dark sesame oil (optional but highly recommended)
1/2 small head green or napa cabbage, cut into long, narrow ribbons (see Note)
2 cups small broccoli florets
2 cups fresh green beans, trimmed and cut in half (see Note)
1 cup sliced mushrooms (optional)
3 to 4 scallions, white and green parts cut into 1-inch-long segments
vegetable broth or water for moistening
reduced-sodium natural soy sauce or tamari to taste
freshly ground pepper to taste

Cook the noodles according to package directions in plenty of rapidly simmering water until al dente, then drain.

Meanwhile, heat the safflower oil, broth, or water and 1 teaspoon of the sesame oil (if desired) in a stir-fry pan. Add the cabbage, broccoli, and green beans. Cover and cook for 2 to 3 minutes.

Add the mushrooms, if desired, and scallions and stir-fry over medium-high heat for 5 minutes or until the vegetables are just tender-crisp. Add a small amount of vegetable broth or water, just enough to keep the pan moist.

Add the cooked noodles to the stir-fry pan and toss together. Add the remaining teaspoon of sesame oil, if using, then season with soy sauce and pepper to taste. Serve at once.

Note: When you're in a hurry, you can substitute 8 ounces of pre-shredded coleslaw (preferably with carrots included) for the green or napa cabbage. And fresh, slender green beans are hard to come by for much of the year, so I give you my full blessing to use frozen organic whole baby green beans, which are consistently excellent--and also save you the time and trouble of trimming the ends.

Use whatever you've got in the fridge in place of or in addition to some of the veggies called for in the recipe--romaine lettuce, mung bean sprouts, and/or bok choy in place of cabbage; broccoli rabe or Chinese broccoli instead of regular broccoli--it's all good!

Turn this into a heartier dish by adding 8 ounces seitan, cut into narrow strips, along with the cabbage, broccoli, and green beans.
Support HuffPost
The Stakes Have Never Been Higher
Related
Popular in the Community