We love our devices, laptops, cellphones, lights, stoves and especially in Florida, air conditioners and refrigerators. But for generations, we did without them, because they didn't exist. We got along, anyway. After Hurricane Irma knocked out the state's power grid, most of Florida got a taste of what those days were like. They didn't taste good. I'm not advocating a return to a simpler, unplugged age— I've been as hot and cranky as everyone else. I am, though, advocating a return to basic home cooking. because even in the stressful, sweltering mess after a hurricane — or an earthquake, fire or flood — we still have basic human needs. Like eating.
Pricy meal kits won't help you now. The ingredients just spoil. Fast. Your usual refreshing smoothie isn't on the menu, not without fresh produce and a workable blender. So what do we eat? What do we cook? Nonperishable food is far more than the chips, cookies and other processed food that make up most hurricane survivors' diets . Whole grains and beans predate fast and processed food by centuries. They're pantry-friendly, and guess what? They don't always require cooking.
Canned beans are already cooked and convenient and like all beans, offer fiber and protein to nourish you through difficult days and sticky nights. Bulgur, or cracked wheat, just needs water to plump up and rehydrate. It's fiberiffic and so versatile, you can change it up every meal. Bulgur porridge with dried fruit and nuts for breakfast, with blizzard of fresh herbs, chopped tomato and cucumber for a pita and tabbouleh lunch and this no-cook, no-fridge pilaf with fresh greens and canned chickpeas and tomatoes for dinner.

Get some goodness into you after Irma, throughout Whole Grains Month and all the time. And remember — we are never really without power.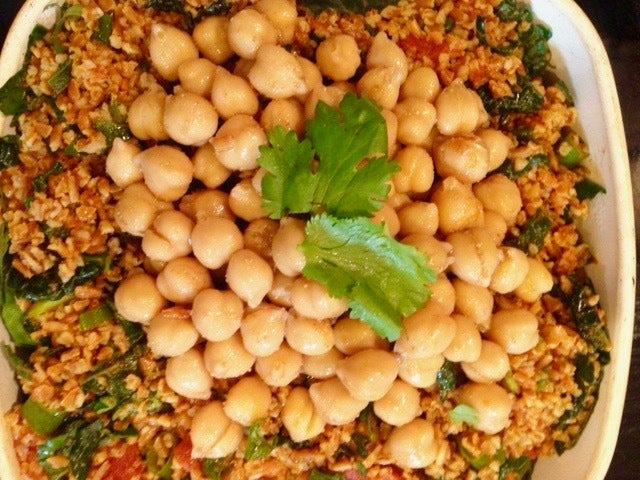 Bulgur with Kale and Spiced Chickpeas
Kale, with its tough leaves, is sturdy and holds up without immediate refrigeration. Got a working fridge? Lucky you. Spinach or arugula work fine.
4 cups kale (about 1/2 bunch), chopped
2 tablespoons fresh lemon juice
1/2 cup scallions, chopped
1 teaspoon smoked paprika
1 15-ounce can diced tomatoes or, if you have it, 1 to 2 ripe tomatoes, chopped
1 15-ounce can chickpeas, rinsed and drained
1 handful cilantro, chopped
sea salt and fresh ground pepper to taste
tahini for drizzling, if desired
In a large bowl, use your hands to massage kale with olive oil and lemon juice for a minute or two until kale starts to relax. Maybe you can relax a little, too.
Add chopped scallions and smoked paprika, allspice, turmeric and bulgur. Toss to combine.
Add diced tomatoes, agave and water. Give everything a good stir to combine and cover. Pop it in the fridge, if you've got one, leave it on the counter if you don't. After an hour, bulgur should have absorbed all the liquid. Season with sea salt and pepper and fluff with a fork.
In a separate bowl, toss chickpeas with cumin and perhaps a pinch of sea salt.
To serve, scatter spiced chickpeas over the bulgur, sprinkle on the chopped cilantro. Drizzle on some tahini, if you like.
REAL LIFE. REAL NEWS. REAL VOICES.
Help us tell more of the stories that matter from voices that too often remain unheard.
This post was published on the now-closed HuffPost Contributor platform. Contributors control their own work and posted freely to our site. If you need to flag this entry as abusive,
send us an email
.