You're scared. Jill Nussinow, aka the Veggie Queen understands that. She started out scared of her pressure cooker, too. She got over it. You will, too. Her new book "Vegan Under Pressure" helps you conquer your fear and produce terrific home-cooked meals quicker than you can get takeout.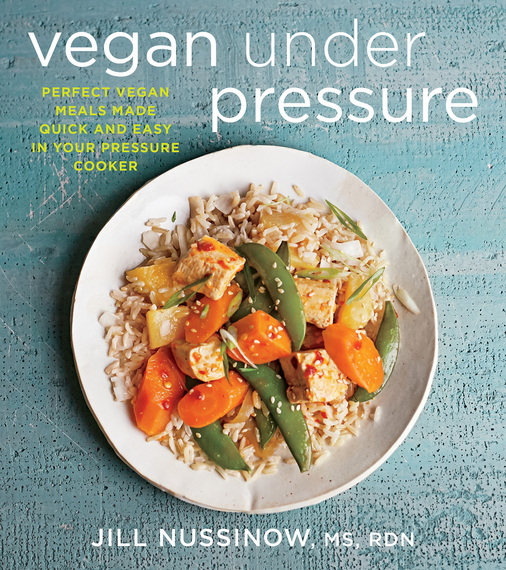 Speed is what made Nussinow stay with it through the awkward years of trial, error and the first wave of pressure cookers. "I was not a fan of electric pressure cooker 10 years ago, They were pretty digital, kinda funky," she says. Finally, pressure cooker technology produced something worthy of the queen. "When one came out in stainless steel, I thought oh, this is good -- this is great." So is "Vegan Under Pressure," which picks up where Nussinow's 2011 pressure cooking e-book,"The New Fast Food: The Veggie Queen Pressure Cooks Whole Meals" left off. That's right -- this is her second pressure cooking book. And you haven't even gotten your pressure cooker out its Christmas box yet. She'll help you out there, too.
A registered dietician, Nussinow's been vegan for 30 years and the pressure cooking priestess for 20. Put vegan and pressure cooking together and "people fall in love," she says. "They're starting to go plant-based, have never touched a dried bean in their lives and they're astonished. They come out better than with a can." Pressure cooked beans are fluffy, tender and above all quick to make.
Nussinow, who teaches at venues including Santa Rosa College Junior College and the McDougall Program is as busy as you are. That, too, is part of the pressure cooking appeal. "I'm not one of those people who do a menu plan. My life is more like 'Chopped.' It's 5 o'clock, I have broccoli, romanesco, a leek and borlotti beans and I'd like to eat dinner tonight. What am I going to make?" she says. "The pressure cooker answers the question of what's for dinner."
It's not just quick-cooked soup and sludge, either. "Vegan Under Pressure" dishes range from burgers to berry parfaits and reflect 20 years' worth of Nussinow futzing with recipes and proportions. All you have are perfect results. You also get a side dish of kitchen empowerment. Nussinow's heard from many students and readers who aren't vegan, aren't vegetarian but "they say, 'Boy, do I love making this food.'" says Nussinow. "When people use a pressure cooker regularly, they get encouraged, and say, 'I'm going to make something else.' They end up moving away from boxes and cans, eating better on a more regular basis -- that's really good."
You, too, can go from pressure cooking fear to pressure cooking love and get dinner, too. Fast. With "Vegan Under Pressure," Nussinow takes the pressure off you and puts it in your dinner, where it belongs.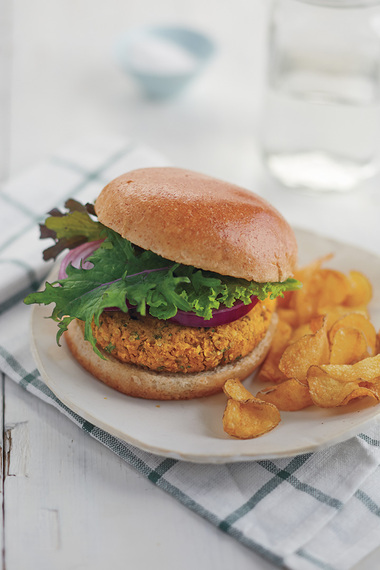 Red Lentil, Sweet Potato, and Hemp Burgers

Recipe from "Vegan Under Pressure," reprinted with permission by Houghton Mifflin Harcourt. Copyright 2015 by Jill Nussinow. All rights reserved.

Taste, nutrition and ease come together in these burgers -- no wonder they're a hit with Nussinow's students and family. Not a curry-head? The Veggie Queen suggests swapping smoked paprika and cumin, instead.

1 cup minced onion
2 teaspoons grated fresh ginger
1 cup minced mushrooms, such as shiitake (stems removed) or crimini
1 cup red lentils, rinsed and picked over
1½ sweet potatoes, peeled and cut into large pieces (1 medium)
2¼ cups vegetable stock
Vegetable cooking spray, optional
¼ cup hemp seeds
¼ cup finely chopped fresh flatleaf parsley
¼ cup finely chopped cilantro
1 tablespoon curry powder
1 cup "baby" or quick oats
1 to 4 tablespoons brown rice flour, if needed

Heat a stovetop pressure cooker over medium heat or set an electric cooker to sauté. Add the onion, ginger, and mushrooms and dry sauté for 2 to 3 minutes. Add the lentils, sweet potatoes, and stock.

Lock on the lid. Bring to high pressure; cook for 6 minutes. Let the pressure come down naturally.

Carefully remove the lid, tilting it away from you. Transfer the lentil mixture to a large bowl and let stand until cool enough to handle, at least 15 minutes.

Heat the oven to 375°F. Line a baking sheet with parchment paper and spray with cooking spray, if desired; or line the sheet with a silicone baking mat.

When the lentil mixture is cool, mash it with a potato masher or a fork. Stir in the hemp seeds, parsley, cilantro, and curry powder. Stir in the oats. The mixture should come together and form a thick paste; if it is too wet, add brown rice flour by the tablespoon, as necessary.

With wet hands, form into 8 to 10 patties and place on the prepared baking sheet. Bake for 10 minutes. Turn the burgers and bake for another 10 minutes, until they are firm and brown.

Let cool for a few minutes. Serve immediately, refrigerate, or freeze for up to 3 months.

Makes 8 to 10 burgers.

It is no secret I'm a big Veggie Queen fan. More about her here and here. More everything at soulfulvegan.