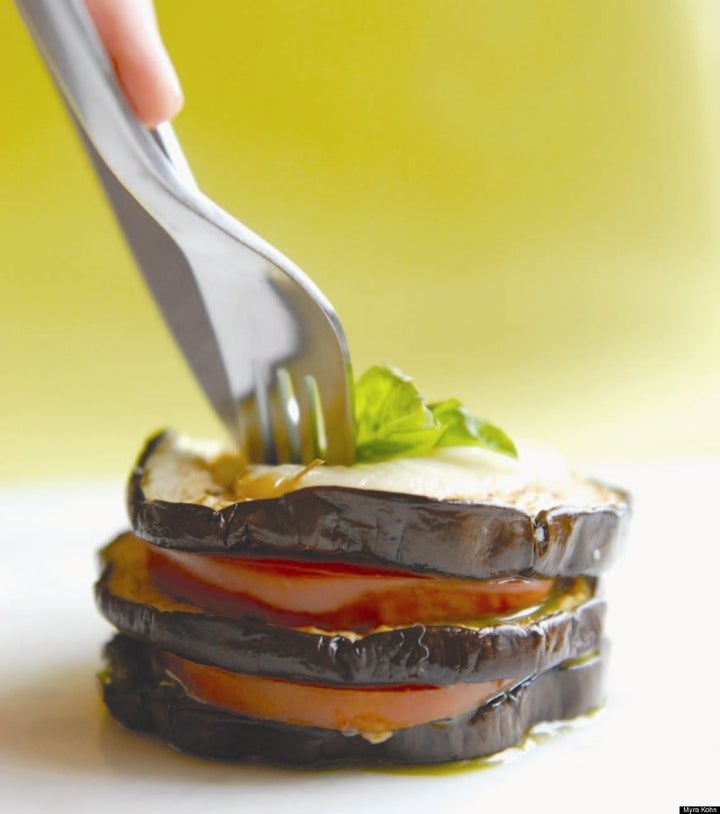 Vegetarian Awareness Month starts Friday, but what with Lady Gaga and her meat dress, it's clear to me you can't get the meatless party started too soon.
If La Gaga's ensemble was more than another look-at-me demand, I missed it. But okay, it worked. Another meaty image appears in Kim O'Donnel's new book The Meat Lover's Meatless Cookbook. There's the author as a baby, sitting her high chair and gnawing on a T-bone. Cute. Not so cute were the heart attacks that did in her father and her grandmother.
Meat has ramifications well beyond couture or cuisine. Twenty percent of our carbon output comes from beef production, according to UN's report on food and agriculture. Omnivores are twice as likely to suffer heart disease and have a 40% greater risk of cancer, according to the Physicians Committee for Responsible Medicine. Industrialized beef production puts us at risk of food-born illness and taxes our natural resources. Funny, Lady Gaga never mentions that stuff when she's kitted out in cow.
For all that, though, it seems easier for omnivores to come up with reasons not to change. "There's all this resistance, all these things stacked up against meatless cooking, a lot of misconceptions," says O'Donnel, former food writer for the Washington Post. "It's rabbit food, hippie food, it's weird, I'm always going to be hungry."
The author, an unabashed omnivore, was doing a good job of ignoring her own stratospheric cholesterol when a heart attack sidelined another meat-loving family member (whom O'Donnel refers to as Mister Sausage). And she could no longer ignore everything she'd been hearing from the likes of Al Gore, Paul McCartney and the UN's Rajenda Pachauri about the environmental benefits of the meatless movement. O'Donnel had her aha moment.
The meatless movement gives us ways to think about how what we eat affects our environment, our health, our wallets, our culture and now, thanks to Lady Gaga, our sense of style. But coming from her food background, O'Donnel wanted to come at it from how food tastes. This echoes my belief that when you please people's stomachs, their hearts and minds will soon follow.
As a food writer, she was already keyed into the textures, flavors, heartiness and richness that make replacing meat a breeze. Dishes like Indian lentils, grilled eggplant, cheesy quesadillas and slurpy Asian noodles turned out to be more enjoyable than O'Donnel had anticipated. Now she had to convince others. "This food has to be delicious first and meatless second."
It also had to be easy. Her own mother Susan is kitchen-averse and O'Donnel acknowledges many people "feel overwhelmed by the whole concept" of putting a meal together. However, if you want to live and eat more mindfully, cooking your food, not wearing it, is the way to go. The physical act of food preparation engages all your senses as well as your mind. "Cooking," says O'Donnel, "is extremely satisfying."
O'Donnel isn't hardcore. She still eats meat occasionally. And mindfully. "One of the most appealing pieces of Meatless Monday is incremental change, that little baby step stuff," she says.
Baby steps may not grab as much attention as Lady Gaga, but each one brings us closer to mindfulness, meatlessness and a profound capacity for change -- that's what Vegetarian Awareness Month is all about. I've yet to see the steak that could offer anything close.
From the book The Meat Lover's Meatless Cookbook, by Kim O'Donnel.  Reprinted by arrangement with Da Capo Lifelong, a member of the Perseus Books Group.  Copyright © 2010.
This is a souped-up version of the recipe that sparked the idea for this book project. One night, a few years ago, my mom (Susan) called me up, asking for advice on what to do with the eggplant and tomato she had picked up from the local farm stand earlier that day. She was hoping to cook something low-fat and yet satisfying for her longtime companion, the original Mister Sausage, who was recovering from a recent heart attack.
In years past, I had watched the dude lap up an entire stick of butter with his lobster tail in one sitting. If I was going to have anything to do with dinner on this particular night, the menu would be heavy on the veggies, hold the artery cloggers, please.
In response, I rattled off a few random thoughts about grilling the eggplant, slicing her beloved tomatoes, and layering the produce on top of each other to create a stack. She had basil and some feta, so they would be included, too. As I hung up, I thought how the old girl might just pull this off.
And she did. And Mikey--I mean Mister Sausage--liked it.
The version that follows is a triple-layer "club sandwich" of eggplant rounds, sliced tomato, and grilled onion, with basil pesto between each layer. Meaty enough to cut into with a steak knife, Susan's stack works equally well tucked into a soft bun, for the best-looking Big Mac-like creation you ever did see.
Kitchen notes: While the eggplant is leaching, make the pesto. While the eggplant is roasting, prep the other components of the stack.
Note on leaching: Sprinkling salt on sliced eggplant helps release its high water content, a process called leaching. For this dish, leaching helps dry out the eggplant and minimize the oil needed to lubricate it while cooking.
Cooking spray, for greasing the baking pan
2 medium-size globe eggplants (about 1 pound each)
Salt, for leaching
1/2 medium-size red or Vidalia onion, sliced through the root
8 slices smoked mozzarella, Gouda, provolone, or cheddar cheese
1/4 to 1/2 cup basil pesto (details follow)
2 to 3 vine-ripened tomatoes, at least 3 inches wide
Here's what you do:
Note: The eggplant and onion may be grilled or roasted.
Preheat the oven to 400 or prepare your grill. Thoroughly grease two baking trays with cooking spray.
Slice the eggplant into 1/2-inch rounds. Place the eggplant on a rack in a single layer and sprinkle salt on top to help release the water content. Allow to leach for about 15 minutes.
With a towel, pat the eggplant dry.
Place the eggplant rounds on in a single layer on both trays. Roast for 15 minutes, then remove from the oven, turn, and roast the second side for an additional 10 minutes, for a total of 25 minutes.
Meanwhile, place a cast-iron skillet over medium heat and place the onion half on it, cut side down. Allow to char for 5 minutes, then transfer the skillet to the oven and roast for 12 to 15 minutes. The onion will be somewhat charred and softened. Remove from the oven and set aside.
(On the grill: Using a brush, grease the grate. Grill using the direct method, making sure the eggplant does not burn. After 7 to 10 minutes, turn and grill on the second side. Grease the onion and cook on the grill for 3 minutes on each side.)
Transfer all but eight eggplant rounds to a plate. Place a slice of cheese on each remaining eggplant round and heat on your heat source of choice for 2 minutes, allowing the cheese to melt. Remove from the heat.
Stack Assembly:
You can build your stack any way you see fit; my recommendations are: Each serving gets two stacks. Each stack contains three eggplant rounds (one with cheese), three applications of pesto (1/4 to 1/2 teaspoon each, to taste), two slices of tomato, and one onion.
The order that has proven reliable:
Eggplant, pesto, tomato
Pesto, eggplant, onion
Tomato, pesto, eggplant/cheese
Build stacks on a platter or on individual dinner plates. Serve with a steak knife.
Makes 4 servings. Amounts can be halved.
Ingredients:
Basil Pesto
2 heaping cups fresh basil leaves
1/4 cup pine nuts, walnuts, or almonds
1 to 2 cloves garlic
1/2 cup olive oil
1/4 to 1/2 teaspoon salt
3/4 cup grated Parmigiano- Reggiano cheese
Here's what you do:
Bring 2 cups of water to a boil and add the basil leaves. Blanch for 15 seconds, then remove from the pot with a skimmer or a pair of tongs. Transfer to a bowl of ice-cold water. This will shock the basil and intensify its brilliant shade of green.
Extract the basil from the water and squeeze it dry as much as possible with your hands.
Place the nuts and the garlic in the bowl of a food processor or heavy-duty blender and whiz until pulverized. Add the basil and process until mixture is well combined. While the machine is running, gradually add the oil, until well blended. You may need to stop and scrape the sides of the bowl a few times for thorough blending.
Transfer the pesto to a small bowl and stir in the cheese. Add 1/4 teaspoon of the salt and taste, adding more as you see fit.
Makes 1 cup. You will have about half for leftovers that can go to good use in a bowl of pasta.
Calling all HuffPost superfans!
Sign up for membership to become a founding member and help shape HuffPost's next chapter