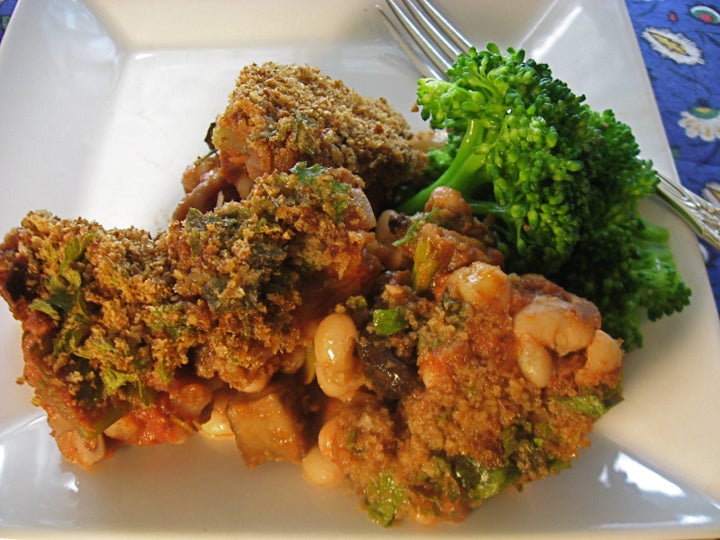 "If you're not part of the solution, you're part of the problem."
Eldridge Cleaver, 1968

"We've got to get ourselves back to the garden."
Joni Mitchell, 1969
Ah, the sixties -- we had the passion, we had the vision. We did not have the food. A relic dating back to 1971 bears that out, a little pamphlet called Earth Food. It features a handful of earthy, earnest recipes including Nut Savory "A treat from England" -- no one's idea of a culinary hotspot. The recipe -- a dense, bland meatless sort of meatloaf --wouldn't earn any plant-based converts. Nor would the one for aduki rice -- equal parts aduki (Japanese red beans) and brown rice. No seasoning at all. No fresh produce to give a little lift and life force.

VegKitchen's Nava Atlas was a kid back then but remembers that time, when meatless eats meant "things with lentils and barley and wheatberries, anything that was brown or beige." The food might have skewed a little too much towards earth tones, but it was kinder to the earth than the way we eat now. Without even trying, it was all the things we hype -- small-batch, homemade, local. There was little in the way of meatless processed food. Back then, if you wanted to be plant-based, you not only had to get yourself back to the garden, you had to get yourself into the kitchen, too.
Meatless meals are anything but brown and beige these days, and anything but bland. Recipes reflect the whole planet, every ethnicity and cuisine, every spice. Atlas herself has written a crop of cookbooks, including the upcoming Vegan Holiday Kitchen. Of course, the problem is, fewer people cook. And they don't have to, thanks to the whole explosion of meatless products on the market. Notice I say products, not food. Those pretty boxes in pretty colors lining the shelves of your grocery store may be plant-based, but most are pretty far from the plant. Just because it's meatless doesn't mean it's good for you.
It is possible to be meatless without eating a vegetable, without eating anything fresh, just a steady diet of additive-loaded processed food. You can see what it's doing to us. The USDA has drawn a link between processed foods and obesity. For the first time, its new dietary guidelines offer the one-two punch of touting the benefits of a plant-based diet and urging us away from processed foods.
"It may be people get away from the fact a sound vegan diet is based on produce, grains and legumes," says Atlas. "The other stuff should be there for occasional and fun usage. It's expensive and salty or sugary. People have to be careful not to fall into the same bad food traps as nonvegans."
In the introduction to 40-year old Earth Food, author Jim Corlett writes, "The last few years have seen the alarming use of hormones in the breeding and raising of cattle, livestock and poultry. The extensive use of pesticides and inorganic fertilizers on our farmers are slowly but inexorably disturbing the balance of nature. . . . Much of our food is artificial. . . monstrous quantities of our resources are being used up in packaging."
Forty years later, it's all still happening -- like a bad acid flashback, only real. If you're not part of the solution, you're part of the problem. The good news is, the solution is at hand, and it's cheap and easy. Turns out it really is about getting back to the garden, to eating food that's grown, not manufactured, food that's plant-based and easily traced to plants. Not only does it nourish your body and the planet it comes from, we've learned to make earth food taste awesome -- hallelujah. Painted with a palate of fresh produce, it's vibrant in the mouth, full of life force and every color but brown. The abundance of farmers markets and community shared agriculture programs across the country means you never have to go far for a fresh vegetable -- the garden comes to you.


Part of the Solution Plant-Based Cassoulet

Sixties era aduki rice is wholesome but lacks flavor. Robust traditional cassoulet has beans at its heart, too -- also sausage, duck and pork -- a virtual menagerie. This vegan one spares all animals and loads up on fresh vegetables, instead. Bean-rich and soul-satisfying, it's got all the passion of the '60s plus this millenium's demand for delicious.

Using dried beans which you cook ahead of time makes for a creamier, dreamier cassoulet, using canned beans save you time -- your call. Either way, this dish takes a bit of cooking time. Most of it, though, happens without you having to mess with it. Think of it not as a nuisance, but as a labor of love. Serve with a simple green salad or steamed broccoli, crusty bread and a cabernet.

Preheat oven to 350. Lightly oil a large, deep baking dish or casserole.

1 pound dried white beans, like cannellini or navy beans, cooked and drained
or 2 15-ounce cans white beans, rinsed and drained
1 tablespoon olive oil, plus 2 to 3 more for drizzling
2 onions, chopped
4 cloves garlic, chopped
2 carrots, chopped
3 stalks celery, chopped
1/2 pound fresh shiitakes or other exotic mushrooms, sliced
2 whole cloves
1 bay leaf
1 tablespoon fresh thyme leaves (from about 2 sprigs thyme)
1-1/2 cups tomato puree
1/2 cup red wine
1/2 cup dried bread crumbs
half a bunch flat-leaf parsley, chopped (about 1/2 cup)
sea salt and fresh ground pepper to taste

Heat olive oil in a large soup pot over medium-high heat. Add chopped onions and garlic and stir until vegetables soften and turn golden, about 4 minutes. Add chopped carrots and celery and cook another 5 minutes, stirring occassionally.

Add sliced mushrooms and continue cooking, stirring for another 4 to 5 minutes or until all the vegetables are softened and fragrant.

Add cloves, bay leaf and thyme leaves. Pour in tomato puree and red wine.

Cook uncovered over low heat for 15 minutes, stirring occasionally. Remoce bay leaf and cloves, season with sea salt and fresh ground pepper to taste.

Meanwhile, in a small bowl, mix together chopped parsley and dried bread crumbs.

Pour half the white beans into the prepared baking dish. Add half the vegetables and tomato sauce. Layer with second half of the beans and top with the rest of the sauce.

Blanket with the bread crumbs and drizzle with another 2 to 3 tablespoons of olive oil.
The bread crumbs form a nice crust and also create an extra seal during the baking, so the beans cook beautifully.

Cover with lid or tightly with foil and bake for 30 minutes.

Remove cover and bake for another 15, or until top is golden brown and crunchy and the cassoulet is bubbling and inviting.

Serves 6 to 8.

Calling all HuffPost superfans!
Sign up for membership to become a founding member and help shape HuffPost's next chapter