News flash: Top global physicians and academics agree -- eat more fruits and vegetables.

So speaketh the participants of Common Ground, the recent Oldways symposium gathering health and nutrition starpower both impressive and diverse to find some dietary common sense and common ground. We're talking nutrition docs including Dean Ornish and David Ludwig, TV personalities like Ellie Krieger and Joy Bauer and vegan heroes including T. Colin Campbell , PCRM's Neal Barnard
and Joan Sabate of Loma Linda University, a town where the people live so long and well, it's been designated a Blue Zone.
Common Ground is how Oldways president Sara Baer Sinott wanted to mark her nonprofit's 25th anniversary. Oldways was built on proving modern science supports real food and real foodways, like the traditional cuisines of the Mediterranean, Asia, Africa and Latin-America, as well as global vegetarian and vegan cookery. These heritage cuisines do the best job of sustaining both us and the planet.
It's a message all the Common Ground participants -- even Paleo advocate Boyd Eaton -- pretty much agree on but one often drowned out by crowdthink, misinformation and media distortion. Recent example: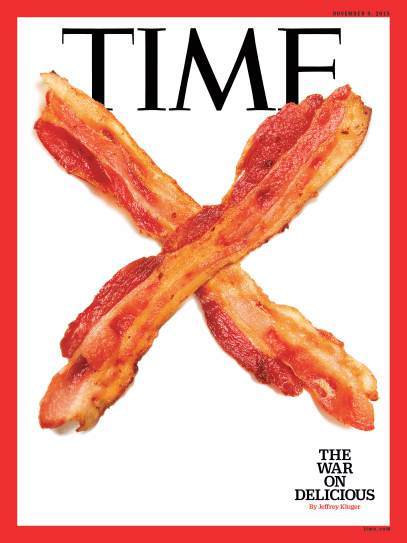 Yes, such things probably sell copies but hype and muddled messaging leaves many people feeling helpless and bitchslapped. Delicious needn't mean doing in a pig.
Besides eating more of a plant-based diet, participants also agreed we need greater food literacy. For all the food in your supermarket, our connection and access to real food is on shaky -- not common --ground. Rather than eating whole foods, more people are turning to what Yale's David Katz calls glow in the dark foods (and increasing carbon load and health risk by doing so). The Mediterranean diet is disappearing even in Greece, where it began
Oldways underwrote Common Ground singlehandedly, so there was no corporate cowtowing, no conflict of interest. It's Oldways' anniversary but Sinott wanted a present for the planet and for overwhelmed consumers -- that's you. The symposium's over but the mission continues with True Health Initiative, your source for global consensus on wellness-promoting lifestyles and diet.
It's not a case of one size fits all. But there's common ground and a common denominator -- eat more plants.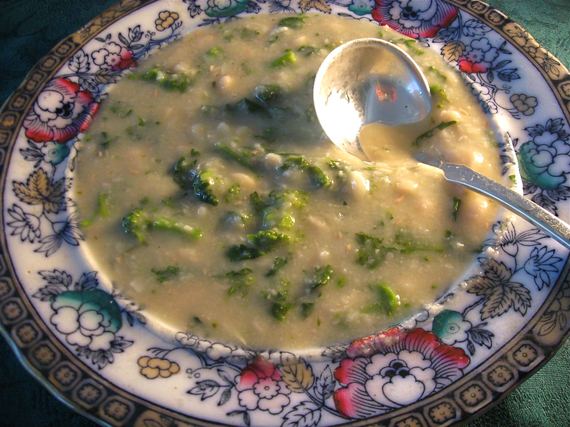 Tuscan White Beans and Winter Greens Soup

Sara and I love rustic beans and greens. This bean soup is totally part of the Mediterranean diet and a great comforting thing for winter. It also gives you a head start on why I'm going to love 2016 -- the United Nations has declared it the International Year of Pulses. More bean recipes my e-book, "Beans: A Handful of Magic."

Beans need to be soaked overnight. Plan your life accordingly.

Rinse them first to rid them of any grit and toss any errant pebbles or odd bits that found their way into the mix. Pour beans into a large bowl and cover with a couple of inches of cold water.Dried beans are happy to expand and soak up water, so check your beans every now and again and top up with more water, if needed.

When you're ready to cook the beans, drain them and rinse them well.

1 pound white beans, rinsed and drained (cannelini, great Northern, whatever moves you)
5 cloves garlic
1 bay leaf
6 fresh sage leaves
1 dried red pepper
4 tablespoons olive oil
1 small head escarole or kale, washed well, blotted dry and chopped fine
1 pinch red pepper flakes
1 cup or more white wine
sea salt to taste
vegan parmesan for garnish (optional)

In a large stockpot with tight-fitting lid, add beans and cover with an inch of fresh water. Add 3 tablespoons olive oil, 4 whole cloves of garlic, the sage leaves, red pepper and bay leaf and bring to boil.

Cover and reduce heat to low. Let beans simmer unattended for 90 minutes. Text your friends, have a quickie, watch Mad Men, whatev.

Check beans.They should be soft and tender and rich with flavor from the sage and garlic. Fish out bay leaf.

(If you want to stop at this point, let beans and liquid cool Store tightly covered in the refrigerator overnight. To proceed, reheat beans in stockpot over medium-high heat.)

Heat remaining tablespoon of oil in a large skillet over medium-high heat. Chop remaining garlic clove, add pinch of red pepper flakes and the chopped escarole or kale. Stir until greens wilt, but are still bright green -- about 3 minutes. Add half a cup of white wine.

Using a wooden spoon and some muscle or an immersion blender, smash beans until they thicken into the liquid and turn creamy. Get as smooth as you like -- me, I like some whole bean in there for a nice rustic feel. Heat through over medium-high heat.

Stir in wilted greens and remaining half-cup of white wine. Add another half-cup of wine or water, if the mixture seems too thick. Season with sea salt.

Garnish with vegan parm, if desired.

Serves 6.
Calling all HuffPost superfans!
Sign up for membership to become a founding member and help shape HuffPost's next chapter