Running around early last week to get my last-minute holiday errands done -- no, I'm not immune -- I saw people trudging along Miami streets with stooped shoulders and bulging bellies. None of them were Santa Claus.
We have never been so heavy, we have never been so hot. Hot and heavy can be great, but when it comes to climate change and our health, it's not such a winning combination.
It's the end of the year, a new year just days away, a time when traditionally, people make resolutions. But our brains are overloaded, our bodies are overweight and I just got the feeling that everyone thinks, the hell with it, why bother to change, it's too late, anyway. It's not. Case in point -- this month's global climate accord. Yes, we were almost past the point of no return, but 196 countries finally got it together to enact a policy and pledge to reduce broad-based carbon emissions.
You can do it, too. The single biggest action you can take to better your health, your life and the health and life of the planet is to move to a more plant-based diet.. You'll reduce carbon and save animals. Are you a Fitbit junkie? Go meatless and calculate just how much of both you're saving.
You may even save yourself. Even a guy as superfit as NBA pro John Salley upped his game by going vegan. Bestselling author Kris Carr owes her life to it. A vegan diet lowers your risk of obesity and cancer and reduces inflammation and internal sludge, too.
Help the environment, save animals, boost your health -- it only take one simple choice. I've been coaxing, urging, turning people on to vegan for years. But watching the downtrodden and overweight folks last week, I was on the verge of giving up, myself. Why bother? Then out of the blue, a dear colleague wrote, "I'm eating a lot less meat.  More salads. Goes to prove we can all change for the better." A greener diet has meant better health for her, and just hearing she's making the switch to meatless has been among my favorite holiday gifts.
You deserve a present, too. Make one New Year's resolution -- to reduce your meat consumption. It doesn't have to be forever, it can as little as one day a week -- any day. A little change with big results for you and for the environment. It's only too late if you never start. Wishing you a healthy, happy new year.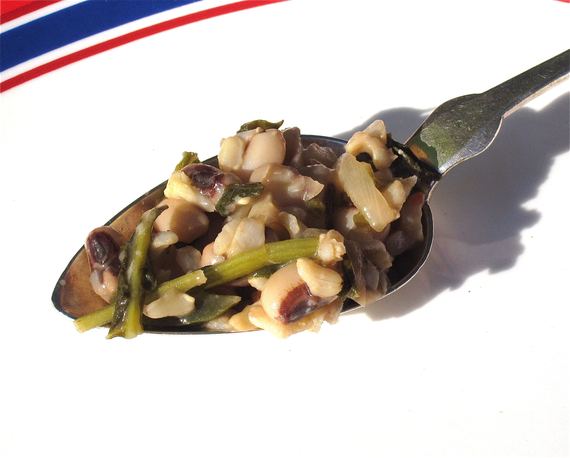 Hopping John

Serves 6.

I love kissing on New Year's Eve, but just as much, I love this humble combination of rice, black-eyed peas and collards on New Year's Day. Legend has it eating Hopping John promises the new year will be lucky. I can attest it also absorbs any yuck from excessive New Year's Eve partying.

Flavor improves over time and Hopping John reheats like a dream. Serve with hot sauce for a happy, lucky, abundant new year.

1 cup black eyed peas
3 cups of water
6 cloves garlic
1 dried hot pepper
1 bay leaf
2 cups vegetable broth
1 cup brown rice
1 tablespoon olive oil
1 large onion, chopped
1 jalapeño, chopped
3 ribs celery, chopped
1 big bunch collard greens, sliced into thin ribbons
juice of 1 lemon
sea salt and fresh ground pepper to taste

Soak beans in a bowl of cold water for 4 hours or up to overnight. Drain peas.

In a large pot, bring 3 cups of water to boil over high heat. Add black-eyed peas, 2 cloves of garlic (whole), pepper and bay leaf. Skim off any floating beans.

Reduce heat to low. Simmer beans uncovered for an hour and a half until beans are tender, not mushy.

Add brown rice and the vegetable broth. Cover and simmer over low heat for 20 minutes. Turn off the heat, but leave the pot on the burner.

Meanwhile, heat olive oil in a large skillet over medium-high heat. Add onion, jalapeño, celery and the remaining 4 garlic cloves, chopped. Sauté for about 5 minutes, stirring, until the vegetables soften.

Reduce heat to medium. Add greens by the handful, and cook until wilted, stirring occasionally, about 10 minutes.

Fluff rice and beans, remove whole garlic, dried pepper and bay leaf. Fold in collard mixture.

Squeeze in lemon juice and season with salt and pepper.

REAL LIFE. REAL NEWS. REAL VOICES.
Help us tell more of the stories that matter from voices that too often remain unheard.