For Jonathan Lovekin, ripe is "the jewel-like color and light reflecting off a golden caramelized quince. For Paulette Phlipot, it's "the teensy little hairs on a raspberry."
Lovekin and Phlipot, both food photographers, celebrate the physical beauty of produce in their new books -- different books that share the same title: Ripe.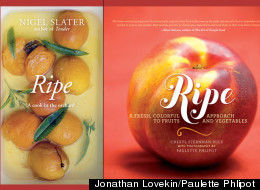 The books owe much to the produce-centric essays and recipes by their authors. Lovekin photographed Ripe: A Cook in the Orchard by beloved English cook and writer Nigel Slater. Phlipot came up with the idea of arranging produce tonally -- by color -- with" Ripe: A Fresh, Colorful and Approach to Fruits and Vegetables," written by food blogger extraordinaire and IACP winner Cheryl Sternman Rule. In both cases, though, the images will make you want to bite the pages.
Lovekin approaches produce as "quite classical, a still life." He's provided the gorgeous images for Slater's books and articles as well as the sexy veggie photography for "Plenty" by Yotam Ottolenghi.
Both Slater and Ottolenghi show fruits and vegetables a good time. Both "style and think about how they want their food presented, they've kind of resolved that bit. I find the framing and light," says Lovekin, speaking from his studio in London. "With Nigel, I tend to be softer and quieter. Yotam's food is very different, it's sharper and brighter."
Though Lovekin effortlessly turns eggplant into object d'art, he's less into cooking and eating. "I like the idea of Wittgenstein -- he had the same thing every night," he says.
"I grew up in the '60s and '70s in England. Food wasn't a force. We didn't have a family where we would all sit down at a meal, where a meal was important. That's why I love the idea of food as a communal, cultural thing," says Lovekin. "I'm always searching for community. But I like being on the outside of it, looking in."
Phlipot, on the other hand, approaches food from "the inside. I look at it as a living object. It won't look the same tomorrow or in three or four hours. With produce, I feel the living aspect of it. You think it's a still life because it doesn't run away, but it's changing."
Lovekin is London chic. Phlipot is "small town Idaho." She, too, does a lot of work with chefs, but prefers photographing -- and eating -- fruit and vegetables in their "organic, clean, simple, quiet" state. "When I work with produce, cutting it up for dinner, I notice details I would normally overlook when first picking it up at the market. I enjoy translating that excitement and elevating the produce to a new, different level in order to get people to stop and ponder and hopefully be motivated by the images." The radishes in Ripe come straight from her garden.
"Nigel brought me out into the garden," says Lovekin. "I would have always taken them inside and treated them more as objects."
Unlike Lovekin, Phlipot's parents loved to cook and eat and took delight in introducing their children to all kinds of food. They made it "an adventure." A dedicated vegetarian, Phlipot's sharing that sense of adventure with her 17 month-old daughter Cassidy. "We're having so much fun with it. She's wanting to try what we're eating -- even a spicy curry, she'll try it and likes it."
Even Lovekin, an indifferent eater, appreciates produce for its sheer design value -- its color, texture, shape. "Something green with luscious gradations of color is easier to photograph. Meat is quite difficult. It's brown blobs."
Lovekin and Phlipot's approaches may differ but their lenses agree -- fruits and vegetables are exciting, alluring, ravishing. And ripe.


Green Pea Tabbouleh

Reprinted with permission from RIPE, copyright 2012 by Cheryl Sternman Rule, Running Press, a member of the Perseus Book Group.

Green peas join the traditional marriage of bulgur, herbs, and lemon in a springy twist on flavorful tabbouleh, a popular Middle Eastern salad. Served immediately or marinate for several hours in the refrigerator. (And there's no shame in using frozen peas. Buy a one-pound bag.)

Serves 6

3/4 cup quick-cooking bulgur
1 cup boiling water
Juice of 2 lemons (about 6 tablespoons), divided
1 large or 2 small bunches Italian parsley, thick stems trimmed and discarded, leaves and skinny stems finely chopped (about 2-1/2 cups loosely packed)
1 bunch mint, stems discarded, leaves finely chopped (about 1/2 cup, loosely packed)
4 scallions, trimmed, white and green parts finely chopped
3 cups fresh or frozen peas, lightly steamed, boiled, or blanched, rinsed under cool water
3 tablespoons extra-virgin olive oil
Kosher salt and freshly ground black pepper

Place the bulgur in a large serving bowl. Add the boiling water and the juice of 1 lemon (about 3 tablespoons). Let stand, uncovered, 1 hour.

Stir in the parsley, mint, scallions, and peas. Toss well. Add the olive oil, remaining lemon juice, 1 teaspoon salt, and 3/4 teaspoon black pepper. Adjust seasonings to taste. Serve immediately, or refrigerate for several hours to chill and allow the flavors to marry.

Tip: If you can't find quick-cooking bulgur, prepare the bulgur according to package directions. Soaking and a longer cook time may be required.


An earlier version of this post originally ran on May 7, 2012. More on Paulette Phlipot and the art of food later this month.
Calling all HuffPost superfans!
Sign up for membership to become a founding member and help shape HuffPost's next chapter