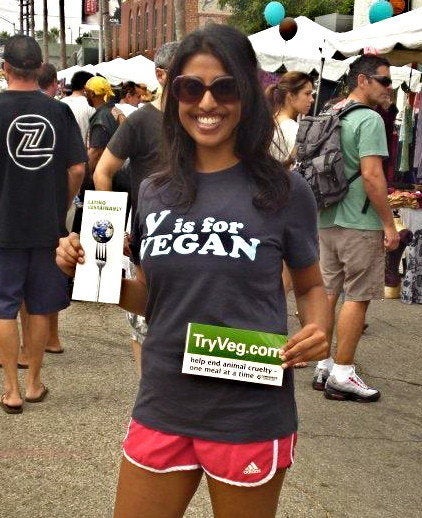 Compassion Over Killing's Jaya Bhumitra won't take animal abuse lying down. She's been getting up before dawn to train for the Palos Verdes half marathon this Saturday. Bhumitra is running 13.1 miles to raise money on behalf of the 9 billion animals killed annually for food in this country. She's also doing it in memory of her sister and, she says, "to regain myself."
Bhumitra began running in her teens and went meatless even earlier. "I became a vegetarian at the age of nine -- the first in my family!" In 2009, her growing concern about animal welfare made her switch from vegetarian to vegan. "I wanted to get involved in animal activism in a more meaningful way, have a community of support around me." She began volunteering for COK in Los Angeles. "I fell in love in with the organization, their approach in appealing to the mainstream, their creative campaigns."
What really resonated for her was COK's message of empowerment. You don't have to wake up in the dark and run to show compassion for animals, "you can do it with your fork" -- by making the choice to go meatless.
Through Bhumitra's work with the nonprofit, she met a terrific guy and they fell in love. It seemed like her whole life was moving forward in wonderful ways.
Then Bhumitra's sister suffered a fatal accident at the end of 2009. Bhumitra was so devasted, her life came to a halt. She stopped doing the things which had given her pleasure, including running. She could only grieve.
What saved her was her desire to save animals. "I had this amazing, important cause. I found my purpose in animal advocacy."
Last year, COK hired her to open their LA office and she and her terrific guy, Chris Locke, got married. This year, she was promoted to COK's campaigns manager and "I'm finally ready to run again."
She runs along the water, sometimes in the company of pelicans. "It's exhilarating." Even at five in the morning. "You see the sun rise, you have a head start on your day, you're more focused," she says. "I find running very meditative."
Saturday's half marathon gives Bhumitra an even bigger reason to run. She's running to raise $2,500 for COK, and hey, there's still time before the race to pledge.
Training for the race has brought Bhumitra's attention back to what she eats. She's focusing more on plant-based whole foods like tempeh, which "improve performance" and provide the best fuel.
"I'm a huge fan of Chef AJ," she says. LA-based and plant-based, Chef AJ advocates whole foods, not processed foods. And no salt, sugar, oil, alcohol or coffee. We're talking hard-core. Instead of salt, Bhumitra's weakness, she's been ramping up the spice and lemon in her food, which add big flavor but no sodium.

"I'm feeling great," she says. "I have the opportunity to get back on track, to set a goal I feel so strongly about supporting."
She also feels she's honoring her sister. "She was an environmental and animal advocate. This gives me an opportunity to carry on her legacy," says Bhumitra.
"Animal advocacy and running are my biggest passions. To be able to combine the two is the ultimate dream for me." Bhumitra takes a deep breath. "It feels really good to be back."

Runner's High Mango Curry

Here's a quickie tempeh curry, big on flavor, light on the oil and salt. Serve with brown rice for a burst of protein, fiber and clean energy.

1 tablespoon canola or coconut oil
2 onion, sliced thin
4 cloves garlic, minced
1 thumb-sized piece fresh ginger, peeled and chopped fine
½ jalapeno, minced (optional)
1 teaspoon allspice
1 teaspoon turmeric
1 nice-sized ripe mango, peeled and diced
8 ounces tempeh, cut into bite-sized cubes -- about an inch square
2 bunches bok choy or ½ Napa cabbage, chopped into bite-sized skinny ribbons
juice of 1 lime
pinch of sea salt plus more to taste
fresh ground pepper to taste
1 bunch cilantro, coarsely chopped
⅓ cup roasted cashews, coarsely chopped

Heat oil in a large saute pan (with high, straight sides, as opposed to a skillet, which is shallow, with sloping sides) over medium-high heat.

Add chopped onion, garlic, ginger, the jalapeno if you like it hot and turmeric and allspice. Stir and cook for about 8 minutes. Reduce heat to medium, if vegetables are sticking. Cook until they're golden from the turmeric, fragrant and slightly tender.

Add your lovely chopped greens and stir until they soften -- about 8 minutes for a structurey green like bok choy, just a minute or so for Napa cabbage. Add diced mango and tempeh, lime juice and sea salt and fresh ground pepper to taste.

Stir in cilantro and scatter chopped cashews on top.

Easy, fabulous.

Serves 4
Calling all HuffPost superfans!
Sign up for membership to become a founding member and help shape HuffPost's next chapter