In Shakespeare's Antony and Cleopatra, Cleopatra recalls "my salad days," when she was young and exuberant. Bring your most exuberant self to May — 31 whole days devoted to salad. My maternal grandfather approached salad exuberantly. Freewheeling in life and in the kitchen, his idea of salad was an ever-evolving anything goes combination but it was never bland. He so hated single-note salads, he'd make a public scene.
Is your homemade salad ho-hum? Don't make the spirit of my grandfather come after you. Lose the supermarket bag o'greens. Sparkling salads start with fresh farmers market greens and never end.
local, seasonal everything — sweet corn, luscious avocado, crisp snap peas, sassy arugula, showstopping watermelon radishes, a rainbow of heirloom tomatoes
texture — meltingly tender roasted mushrooms or eggpplant, creamy white beans, chewy whole grains like barley, chopped dried fruit, shaved fennel, diced celery, toasted almonds and more build dimension
crunch — toasted nuts, seeds or roasted chickpeas or when all else fails, top salad with thinly sliced crostini, panfried cubed tofu or crumbled toasted tortillas (croutons are '80s)
protein — This not a synonym for meat. Plant-based protein like beans, nuts, seeds, quinoa, tofu and tempeh take salad from slight to significant and satisfying
Subtract — bottled dressing. Blech. And laden with sugar, salt, thickeners and preservatives. DIY dressing. At its most elemental, you just need acid, by way of citrus or vinegar, and oil. There's nothing wrong with extra virgin olive oil but explore other options, like bronze, buttery pumpkin seed oil, green, nutty green hemp seed oil or tahini (sesame seed paste) for lusciousness. Swap basic balsamic for mild, fruity cider vinegar, sweet Asian mirin or fragrant sherry vinegar. Ramp it up with a spoonful of miso or mustard, a squeeze of fresh citrus, a squirt of sriracha and/or a blizzard of your favorite fresh chopped herbs.
Salad comes from the Latin word meaning salted. Finish salad with a light sprinkle of sea salt for flavor pop. Don't forget salty pickles, olives capers and . . . Bacos. They're pig-free and plant-based.
Now get to it. It's National Salad Month and the spirit of my grandfather is watching.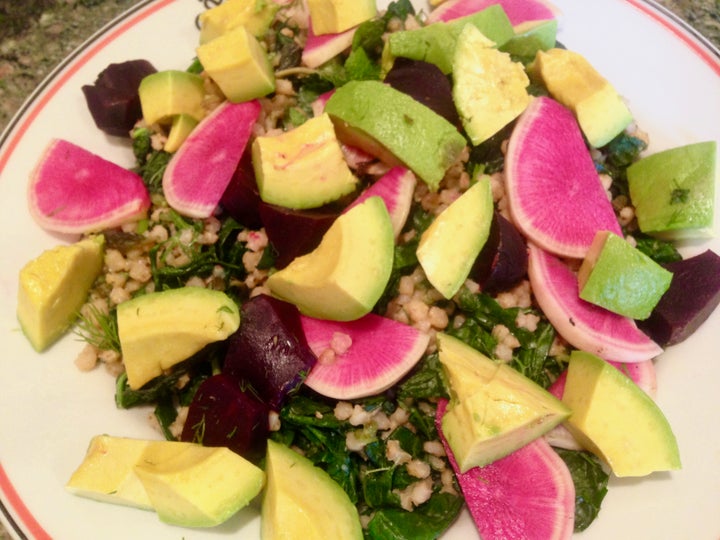 Beet, Celery and Arugula Salad With Brazil Nuts
This was an impromptu dish I made up as part of dinner and to clean out the fridge before leaving town. I hate waste and even more do I hate coming home after to a fridge full of rot. Waste is not sexy. This salad is. Imaging going on low-expectation e-date where the two of you wind up doing in the back seat of a car — translate that into a warm salad, and that's what this was — that kind of happy thrill, with a bold blush of beet, crunch of watermelon radish and Brazil nuts, creamy avocado, the lift of seasonal greens and the satiety of whole grains. It's a salad born for adaptation — use whatever whole grains and greens and nuts you love. Bright to the eye, bright in the mouth with the most amazing array of textures and flavors, sweet, savory, tangy, creamy, crunchy, chewy, — held together barely dressed with a lemon, mustard and dill.
For biggest flavor and texture reward, serve at room temperature, rather than icy cold from the fridge. The whole grains make it sturdy and enduring.
2 teaspoons Dijon mustard
2 teaspoons sherry or cider vinegar
1 tablespoon agave or maple syrup
2 tablespoons fresh dill, finely chopped, plus additional for garnish, if desired
1 cup millet, sorghum or other whole grain, cooked and cooled
3 cups shredded kale, chard, spinach or arugula or other fine seasonal green
1 ripe Hass avocado, sliced
2 watermelon radishes or 4 French breakfast radishes, thinly sliced
4 beets, cooked and cooled, diced
1/4 cup Brazil nuts, chopped or other nuts of choice.
sea salt and freshly ground pepper to taste
In a small bowl, whisk together olive oil, Dijon mustard, sherry or cider vinegar and agave or maple syrup until ingredients emulsify, about a minute. Add chopped dill and give another quick whisk. Set aside.
In a separate bowl, mix together whole grains and shredded greens until fluffy and incorporated. Pour in a few tablespoons of the dressing and toss again. Season with sea salt and freshly ground pepper.
Fill a bowl or a platter with the greens and grains. Channel your inner artist and scatter sliced avocado and radish, diced beets and chopped Brazil nuts on top. Drizzle on a little extra dressing, if desired.
Popular in the Community